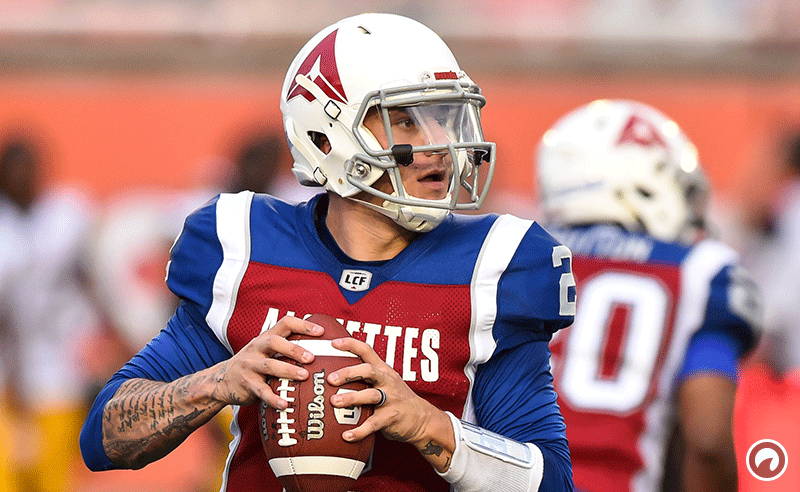 Depending on which side of the fence you sit on, Hamilton's cringe-worthy win over the Montreal Alouettes in Johnny Manziel's CFL debut was either exciting or painful to watch. Manziel certainly has his detractors both above and below the 49th parallel, but all could agree that Montreal's performance at home on Friday was a huge disappointment. When the dust settled, Hamilton came away with a 50-11 win and Montreal's odds to win the Grey Cup ballooned to +5000.
Many analysts believe that it was marketing over methodology in the Als' decision to start Manziel after being on the roster for just over a week. Sure, every No. 2 jersey in the Red Zone, Montreal's team store, sold out, but even a football novice could see that his play options were limited and there was no familiarity with his receivers. 
In Manziel's defense, the Alouettes were dismal as a unit. The former NFL star never had a chance to go to work because he spent the majority of the night running for his life from the Hamilton rush. Stay tuned to this situation because although it seems like it can only go up from here, don't be so sure. 
Edmonton Emerging as Calgary's Biggest Threat 
The Edmonton Eskimos sit second on the odds table at +450 to win the Grey Cup. Watching Mike Reilly go to work every week is a pure joy. In Week 8, Reilly threw for 257 yards and a touchdown as the Eskimos got past a very game Saskatchewan Roughriders team. Every time the Riders pushed, Edmonton had an answer as they were able to push their record to a respectable 5-2, good for second in the West behind the undefeated Stampeders. 
Edmonton leads the league in first downs and has the fewest two and outs of any team. It's no surprise, then, that they are among time of possession leaders with 31:45 per game. Penalties have been the Achilles' heel for Edmonton so far in 2018, an area where they cleaned it up a bit in Week 8, taking just seven penalties for 59 total yards. Much better than the 117 yards in penalties per game they had been averaging. 
is Hamilton undervalued at +1000?
The Hamilton Tiger-Cats opened the season at +350, just slightly behind Calgary, and now have odds of +1000 to win the Grey Cup. Hamilton is arguably the best team in the East Division. After seven games they sit at 3-4 and are in second place behind the Ottawa Reblacks, who defeated them in Week 7, however, Ottawa might be the worse of the two teams. 
The Ti-Cats started the season with five straight games against the powerful West Division and hung in there. They will get a stiff test in Week 9 vs the Blue Bombers in Winnipeg, but if they win that game, you can be sure they will climb back up the odds table. 
Remember, the Grey Cup is played between the winner of the East Division and the winner of the West Division. You can't win the Grey Cup unless you're in it, and Hamilton's chances of being in that game are pretty good. Once you're in, then it's an Any Given Sunday scenario.
Check out the complete list of odds to win the 2018 Grey Cup below:
2018 Grey Cup Odds

| Team | Odds |
| --- | --- |
| Calgary Stampeders | +110 |
| Edmonton Eskimos | +450 |
| Winnipeg Blue Bombers | +650 |
| Ottawa Redblacks | +700 |
| Saskatchewan Roughriders | +900 |
| Hamilton Tiger-Cats | +1000 |
| B.C. Lions | +2000 |
| Toronto Argonauts | +3300 |
| Montreal Alouettes | +5000 |
Odds as of August 7 at BetOnline
Archived Articles
Johnny Manziel will start in Week 8 for the Montreal Alouettes and, to steal a football reference, will have a long field ahead of him as he tries to bring Montreal back into contention with just over half a season to work with.
The Als, Argonauts and Lions are all +2200 at Bovada to win the CFL's top prize in 2018. The undefeated Calgary Stampeders remain the betting favorite, but there's a couple of teams who have proven they may be able to challenge the Stamps when the chips are on the table.
Winnipeg Blue Bombers (+500)  
The Blue Bombers are coming off back-to-back dominant wins over the Toronto Argonauts and will get a well-deserved week off in Week 8. The Bombers have survived starting the year without their No. 1 QB, Matt Nichols, and have thrived since he's returned to form.
Winnipeg has climbed up the oddsboard steadily since Week 3. CFL watchers are looking forward to Week 11 when Calgary and Winnipeg will finally meet for the first time this season. Winnipeg leads the league in average points (34.1), touchdowns (27) and average rushing yards (161.6).
Edmonton Eskimos (+500)
If you're not a regular CFL watcher, you really need to tune in to an Edmonton Eskimos game and watch Mike Reilly pick apart a secondary. His arm should be a registered weapon. The former Central Washington quarterback is in his ninth year in the CFL and has found a permanent home in Oil Country.
Reilly, like Classy Freddie Blassie, is the CFL's fashion plate, but he's also the league's reigning Most Outstanding Player. The six-foot-three QB from Kennewick, Washington has thrown for an average of 343.8 yards per game in 2018, just ahead of Hamilton's Jeremiah Masoli for tops in the league. He has a superlative 96.7 QB rating, completing an unbelievable 48.8 percent of passes of more than 20 yards.
WR D'haquille Williams has been the biggest beneficiary of Reilly's arm, as he leads the league with 672 receiving yards and an average of 19.2 yards per reception.
Check out the complete list of odds to win the 2018 Grey Cup below:
2018 Grey Cup Odds

| Team | Odds |
| --- | --- |
| Calgary Stampeders | +140 |
| Winnipeg Blue Bombers | +500 |
| Edmonton Eskimos | +500 |
| Ottawa Redblacks | +600 |
| Saskatchewan Roughriders | +850 |
| Hamilton Tiger-Cats | +1200 |
| Toronto Argonauts | +2200 |
| B.C. Lions | +2200 |
| Montreal Alouettes | +2200 |
Odds as of July 31 at Bovada
Archived Articles
Through six weeks of the 2018 CFL season, it looks like the West Division is going to reclaim the Grey Cup from Ontario – where it has resided since 2016. The Calgary Stampeders are undefeated at 5-0 and no team has shown that they're at a comparable level at this point.
Stamps are the Class of the CFL
Calgary has not only won, they've done it convincingly with 145 points for and just 46 against. This is why odds continue to creep closer to even for them to win the 2018 Grey Cup, moving from +190 to +160 this week at Bovada.
Until one of the league's other eight teams proves they can play a full 60 minutes against the Stampeders, they are the runaway favorite.
Bombers Looked REALLY Good in Week 6
Winnipeg made the Toronto Argonauts look like a Pop Warner squad at BMO Field, dismantling the defense and stifling the offense. In the process, they saw their championship odds move from +800 to +700.
Chris Streveler looked really good in relief of the injured Matt Nichols early in the season, but Nichols has returned with a vengeance to solidify his spot as the No. 1 pivot in Winnipeg.
The QB from Redding, California has gotten better each time out through three games, and was his best against Toronto in Week 6, throwing for 245 yards on 19/27 pass attempts. After being picked off three times vs B.C. in Week 5, Nichols threw only to his receivers in Week 6 and found them in the end zone twice.
Does Manziel to Montreal Matter?
Apparently, it does. Despite losing their fourth game in five outings to fall to 1-4, Montreal's odds to win the Grey Cup actually jumped from +3300 to +2800 after the acquisition of Johnny Manziel.
How does a team that has won four of its last 23 games acquiring an unproven CFL quarterback make them more likely to win in the eyes of oddsmakers? By playing in the CFL's East Division, that's how. With 13 games remaining on its schedule, Montreal is only two wins from being in first place in the East.
East division-leading Ottawa had to steal a game from the visiting B.C. Lions in Week 6. Trevor Harris didn't look good at all in the first half but was able to capitalize on a fragile Lions' defense in the second half.
Meanwhile, as affable as James Franklin is, the Argos offense was a disaster in Week 6. It's hard to put it all on Franklin because the offensive line was repeatedly proven to be permeable, but 151 yards in the air just doesn't cut it in the pass-happy CFL.
If Johnny (Three Down) Football can reclaim some of his Heisman winning form there's no reason the Alouettes can't make a playoff push. And, hey, once you're in the playoffs, anything is possible.
Check out the complete list of odds to win the 2018 Grey Cup below:
2018 Grey Cup Odds

| Team | Odds |
| --- | --- |
| Calgary Stampeders | +160 |
| Hamilton Tiger-Cats | +600 |
| Edmonton Eskimos | +600 |
| Winnipeg Blue Bombers | +700 |
| Saskatchewan Roughriders | +700 |
| Ottawa Redblacks | +750 |
| Toronto Argonauts | +1400 |
| B.C. Lions | +1400 |
| Montreal Alouettes | +2800 |
Odds as of July 24 at Bovada
Archived Articles
The undefeated Calgary Stampeders (4-0) remain the betting favorite (+190) to win the 2018 Grey Cup. The Stamps are coming off a 27-3 romp of Ottawa in Week 5 and appear to be getting stronger each time out. Through four games the Stampeders have allowed just 38 points, an average of 9.5 per game.
The stellar Redblacks defense was overshadowed by Calgary's defense is this game. Ottawa was held to just 13 net yards in the first half and trailed 20-0 at halftime. Calgary QB Bo Levi Mitchell left the game with the score 17-0 after suffering a lower-body injury. He didn't return vs Ottawa and is questionable for Saturday's game against Montreal (1-3) at McMahon Stadium.
Masoli Continues to Crush
Johnny Manziel really should have tried to catch on with another team. The way Jeremiah Masoli is playing in 2018, Manziel is on pace to get as many snaps as the author of this article. Once again in Week 5 Masoli threw for over 300 yards and is averaging 344.5 passing yards per game, tops in the CFL.
As good as Masoli and the offense has been, Hamilton's 84 points allowed is second in the CFL behind Calgary. The Tabbies D has knocked down 10 passes and forced four fumbles to go with their seven sacks. Hamilton has held opposing offenses to 326.3 net yards per game, also second in the league and tops in the East.
The Ti-Cats are decent value at +450 to win the Grey Cup. Week 6 sees Hamilton (2-2) looking to avenge a close loss to Saskatchewan (2-2) in Week 4.
Right now, Hamilton is the favorite to come out of the Eastern Conference as the top seed.
Grey Cup Champs Hitting Their Stride?
The Toronto Argonauts, who started the season very slowly, have seemed to turn things around during a home and home with Edmonton in Week 4 and 5. Futures bettors can still get the Argos at +900 and this could be as much value as Toronto will offer for the rest of the season.
After defeating the Esks at home in Week 4, Toronto dropped a one-point decision at Commonwealth Stadium in Week 5. Most impressive in these two games is Toronto help Most Outstanding Player and QB stats leader Mike Reilly to just three passing touchdowns in two games. Make no mistake, Reilly still had a massive impact in these games, but he did not dominate the Argos. Reilly's former understudy, James Franklin, is getting increasingly comfortable since taking over the reins from the injured Ricky Ray.  
Toronto (1-3) hosts Winnipeg (2-3) in Week 6.
Week 6 sees Edmonton get a well-deserved bye week. That gives Terrell Owens until July 26 in Montreal to get up to speed.
Here's a look at the odds to win the 2018 Grey Cup entering Week 6:
2018 Grey Cup Odds

| Team | Odds |
| --- | --- |
| Calgary Stampeders | +190 |
| Hamilton Tiger-Cats | +450 |
| Edmonton Eskimos | +650 |
| Winnipeg Blue Bombers | +800 |
| Ottawa Redblacks | +800 |
| Saskatchewan Roughriders | +850 |
| Toronto Argonauts | +900 |
| B.C. Lions | +1100 |
| Montreal Alouettes | +3300 |
Odds as of July 18 at Bovada
Archived Articles
Bo Levi Mitchell and the Grey Cup betting favorite Calgary Stampeders (+190) are the only perfect team in what appears to be shaping up as a very competitive CFL season in 2018. In Week 3 the Stamps hosted the Ottawa Redblacks in Calgary and finally wore down the stingy Ottawa defense, scoring 14 points in the fourth quarter en route to a 10-point victory. Eric Rogers caught his third touchdown pass of the season while lineman Ja'Gared Davis led the Stampeders defense with six tackles and a sack. Calgary has a bye week in Week 4 while Ottawa makes the short drive to Montreal on Friday Night Football.
TiCats Roaring, Manziel Whimpering on the Bench
After losing their season opener on the road in Calgary, the Hamilton Tiger-Cats have clawed back with two straight wins over Western Conference opponents, most recently posting a 31-17 victory over the Winnipeg Blue Bombers in the Ticats' home opener this past weekend. Hamilton QB Jeremiah Masoli, with Johnny Manziel breathing down his neck, is thriving under the pressure of having a former Heisman Trophy winner on the sideline.
As media and fans are growing ever impatient to see Manziel in game action, Masoli continues to impress, going 31-for-41 in the air for 369 passing yards while adding a touchdown. Masoli leads the league after three weeks with 1,045 total passing yards. Meanwhile, Manziel remains on the bench. Ticats receiver Brandon Banks leads the league with 21 receptions, but only one of those has come in the end zone.
Hamilton is paying +375 to win the Grey Cup at Bovada.
In Week 4, the Tiger-Cats will play their fourth straight game vs a Western Conference opponent as they travel to Regina for Thursday Night Football. The Bombers welcome the Lions on Saturday night.
Eskimos Playing Run-and-Gun
Edmonton has both scored and allowed the second-most points in the CFL after three weeks and sits with a 2-1 record. Entering Week 3 the Esks were +700 to win the Grey Cup and after Week 3 are paying +500 futures odds.
Through three weeks, Mike Reilly has thrown for six touchdowns and run for another four, leading the league in both categories. Reilly and the Eskimos will have an excellent opportunity to move to 3-1 as they head to Toronto this week to play the winless Argonauts, who have a new starting QB after a season-ending injury to Ricky Ray in Week 2. The Argos are coming off a bye week.
REDBLACKS Offering Value to Bettors at +1000
The Ottawa Redblacks are +1000 to win the Grey Cup after Week 3. Their defensive corps has proven to be a tenacious bunch, causing plenty of problems for the Stampeders after wreaking havoc on Saskatchewan in Week 2. While Ottawa isn't as deep on the offensive side of the ball as many of the favorites, an appetite for upsets combined with a hungry fan base make the Redblacks a team to watch this CFL season. The Ottawa defense is ranked second in the CFL in points allowed, interceptions and pass knockdowns.
Here's a look at the odds to win the 2018 Grey Cup entering Week 4:
2018 Grey Cup Odds

| Team | Odds |
| --- | --- |
| Calgary Stampeders | +190 |
| Hamilton Tiger-Cats | +375 |
| Edmonton Eskimos | +500 |
| Winnipeg Blue Bombers | +850 |
| B.C. Lions | +900 |
| Saskatchewan Roughriders | +1000 |
| Ottawa Redblacks | +1000 |
| Toronto Argonauts | +1200 |
| Montreal Alouettes | +4500 |
Odds as of July 3 at Bovada
Archived Articles
To quote former Calgary Stampeder Dwayne "The Rock" Johnson, the Stamps "laid the smack down" on the Toronto Argonauts in a Week 2 Grey Cup rematch Saturday night at BMO Field. Bo Levi Mitchell threw for 324 yards and three touchdowns while completing 20 of 22 passes to lead Calgary to an emphatic 41-7 win. Two of those touchdowns were caught by Eric Rogers, who was unbelievable in this one, making five catches for 131 yards. With the result of the game already decided, Argos veteran QB Ricky Ray was injured on a sack that saw him leave the game with a suspected head/neck injury. Thanks to the beatdown at BMO, the Stamps are now +210 favorites to win the Grey Cup, while Toronto slipped from +650 to +900.  
REDBLACKS Open Some Eyes
In Ottawa on Thursday night the Redblacks rode a dominant defensive performance and a 345-yard, two-touchdown gem from Trevor Harris to a 40-17 victory over the Saskatchewan Roughriders. The Redblacks defense was a force in this game, earning four turnovers, including three picks.
In the process, Ottawa saw its odds to win the 2018 Grey Cup go from +900 to +800. The Redblacks will travel to Calgary for a big test in Week 3, which, if they win, is likely to decrease their betting odds once again. Getting them at +800 on Bovada in a weak-looking Eastern Division is very good value for CFL bettors.
Rookie QB Streveler Is Making The Most Of His Opportunity
Keep an eye on Chris Streveler, the six-foot-one rookie backup quarterback in Winnipeg. Streveler comes to the CFL after two years at the University of South Dakota where he was the 2017 Missouri Valley Football Conference Offensive Player of the Year. The rookie was pressed into action after incumbent Bombers signal-caller Matt Nichols suffered a knee injury before the start of the season. Nichols is on the six-game injured list which means this is Streveler's team for the time being. Streveler threw for three TDs in a 33-30 Week 1 loss to the Edmonton Eskimos and followed up his debut with three more touchdown passes and 246 yards passing against the Montreal Alouettes in Week 2.
With Streveler at the helm, the Blue Bombers have climbed above the Eskimos in the odds table and sit at +600 for the Grey Cup title after Week 2. The Bombers remain on the road in Week 3 and will visit Hamilton on Friday evening. The Ticats' championship odds have moved to +350 from +600 after an offensive outburst in Edmonton in Week 2. Jeremiah Masoli threw for 332 yards and three touchdowns while adding 59 yards on the ground, further cementing his role as starter over Johnny Manziel.
Here's a look at the 2018 Grey Cup odds entering Week 3:
2018 Grey Cup Odds

| Team | Odds |
| --- | --- |
| Calgary Stampeders | +210 |
| Hamilton Tiger-Cats | +350 |
| Winnipeg Blue Bombers | +600 |
| Edmonton Eskimos | +700 |
| Saskatchewan Roughriders | +700 |
| B.C. Lions | +700 |
| Ottawa Redblacks | +800 |
| Toronto Argonauts | +900 |
| Montreal Alouettes | +3300 |
Odds as of June 25 at Bovada