I tweeted this, this morning but It's been in the works for a while.  Say goodbye to posts featuring beautiful women in various states of undress at deanblundell.com.  We are launching (soft launch…no pun intended but HARD launch in Jan) a new blog and app and I can't justify making money on objectifying women.  Even though we clearly don't, it doesn't help change the narrative and we have a responsibility to help by being inclusive when it comes to respecting women.
Good News: New site and app are very close for https://t.co/xF21zjwZeF. Sad news: No more 'Babes' section. It cheapens the site and doesn't fit with the brand anymore. We don't need to contribute to objectifying anyone and doesn't promote respect. Sorry/Not sorry? pic.twitter.com/jEmdBqRHAO

— Dean Blundell (@ItsDeanBlundell) December 6, 2018
I got a few 'Why's" but the response has been overwhelmingly positive.
Hey if it gets you back in the mainstream media and makes you guys more accessible maybe helps get you back on radio full time I'm in. I'm sure there are other places to get your chick fix!!!

— Darren Lampman (@LumpyL55) December 6, 2018
Thank you for realizing that and taking action.

— Sarah (@oXo_Sarah_oXo) December 6, 2018
Now I can't say I didn't peruse the babe's section, and I also can't say I didn't post any, but over time I was sort of creeped out by it.  When I started this blog, it was just supposed to be a blog.  I like hot girls, and they were easy clicks and something I thought a blog aimed at 18-54-year-old men wanted to see, so we posted them.
Someone asked me on Twitter if MeToo had something to do with it and while it didn't it's a factor.  And It should be.
I don't want this site to be part of a shitty narrative about women being treated as objects for business.  That's the bottom line.  The truth about content blogs and sites is I could write a dissertation on the moral benefit of society moving toward more inclusiveness when it comes to sexual preference, race or religion or posts a pic of Abigail Ratchford and Abby wins every time.
Still, not where we want to live because as hot and click-worthy as that might be it doesn't help to change the respect/objectification narrative about women in a time where we should all start to grow up and take changing the story about respecting women seriously.
Didn't cave. Analytics says no one cares and unless Abigail Ratchford robs a bank, it's not worth posting a pic of a 20-year-old girls ass anymore. pic.twitter.com/qZYqhXYDD0

— Dean Blundell (@ItsDeanBlundell) December 6, 2018
Plus anyone can do it.
That being said if Paulina Gretzky robs a bank or Jennifer Aniston runs wasted through the streets of New York geezeled on Flakka, you can bet your ass we are posting that.  We do it for men, and I figure newsworthy weird nudity is artfully done or part of a bigger deal, I'll still be there.
Anyway.  If you loved that section, 'Sorry.'
If you didn't 'You're welcome.'   Thinking of started a man meat section next, though.  Payback, really.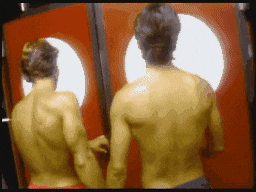 Should be a home run.