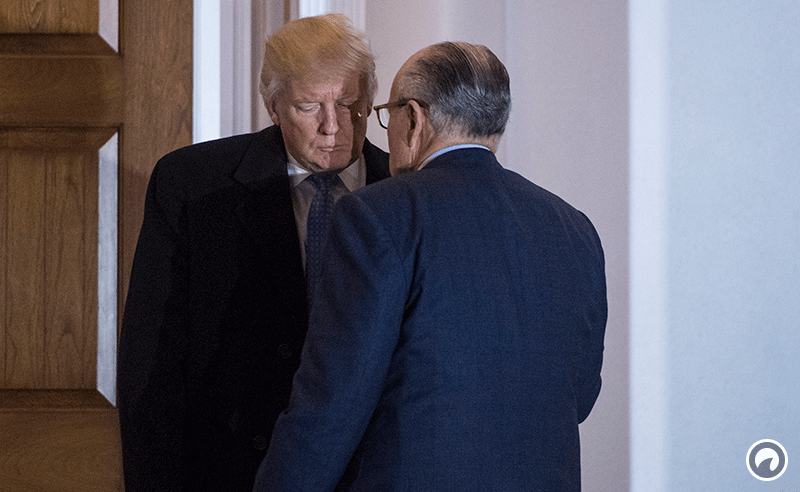 If you're like me, you've had a tough time tearing yourself away from the circus that surrounds the Trump administration. The latest shiny object for onlookers, of course, is the release of private conversations recorded by Donald Trump's former lawyer, Michael Cohen, about hush money being paid for the Karen McDougall story.
We've been tracking the odds of Trump being impeached by the House of Representatives during his first term, -180 at Bovada by the way, and the odds have stayed pretty steady throughout the last couple of weeks.
Will Donald Trump be impeached during his first term as POTUS? Odds as of July 26 at Bovada
Impeachment is Just the First Step
Remember, the above bet is simply on him being impeached, which is akin to him getting charged with a crime. He would still be President until convicted by the Senate, which has never happened in the history of the United States. But hey, it's not like he is averse to Presidential firsts.
Which brings us to the odds of Trump being convicted by the Senate. Like the impeachment bet, there is only a "Yes" option for this bet, you cannot bet "No" on these exotic "action" bets. 
Will Donald Trump be convincted by the Senate during his first term as POTUS? Odds as of July 26 at Bovada
Would Trump Ever Admit Defeat and Resign?
The third prop being offered on Trump not completing his first term as President is "Will Donald Trump resign the Presidency in his first term?" The odds on this are set at +200 for "Yes", again without a "No" bet available. Based on what we've seen from Trump and his deny, deny, deny mantra, this might be the least likely of the three props.
Will Donald Trump resign the Presidency during his first term as POTUS? Odds as of July 26 at Bovada
Archived Articles
Donald Trump is more likely than not to be impeached during his first term as President of the United States, at least according to oddsmakers. As of Tuesday, Trump is -200 to be impeached by the House of Representatives during his first term in office. 
For those who don't regularly gamble on sports, cards, politics, whether the sun will come up, etc. – here's a quick tutorial on what -200 odds means: It means you need to bet $200 on "Yes, he will be impeached" in order to make a $100 profit. Interestingly, there is no "No" bet available on this prop.
If you are thinking, "Hey, only $100 on a $200 bet?" – the betting site, in this case Bovada, believes that they are likely to pay this bet, therefore they use negative odds to mitigate some of their risk and put it back on the bettors.
The Hits Keep Coming
And why wouldn't oddsmakers expect an impeachment? Unless you've been living under a rock for the last couple of years, you've been exposed to the string of "news" emanating from Washington, D.C.
And Mar-a-lago.
And Trump Tower.
Most recently, Trump has threatened the Iranian President with an ALL CAPS Twitter message.
Seriously. All Caps. The same way you digitally yelled at your partner when they forgot to pick up the kids (again) – that is how the supposed leader of the free world has been carrying on international diplomacy.
The reason behind the tweet, however, is what's most troubling to political watchers in the United States. Pundits are referring to Trump's tweet at Iran, and then his subsequent questioning of security clearances for former high-ranking CIA officials, as a shiny object strategy to distract attention from the disaster that was the Helsinki summit with Vladimir Putin.
Could Finland Hel-SINK-i the Presidency?
You remember Helsinki, don't you? No, it wasn't months ago, it just seems that way due to the Ferrari-esque speed of news cycles in 2018. Just over a week ago, Trump met with Russian President Vladimir Putin in Finland and was universally criticized for his performance (or lack thereof).
Upon returning to American soil and with his staff undoubtedly working overtime on damage control, Trump and his staffers settled on this now famous line:
"The sentence should have been, 'I don't see any reason why it wouldn't be Russia" when referring to Russia's alleged interference with the 2016 US election.
Thanks to this Presidency, public relations professors at universities and colleges throughout the world will have case study material for the next 75 years.
Bi-Partisan Criticism
It's happening slowly, but we are starting to see criticism of Trump coming from the Republican party in the last few weeks. Constituents are putting pressure on their representatives as they endure jaw-dropping report after jaw-dropping report.  Like a snowball rolling downhill, the momentum and size could soon become overwhelming and senators on both sides of the floor will be forced to react.
Look, Democrats and Republicans have their differences in their political viewpoints and their beliefs, but one thing all Americans believe in is the union and the global strength of the United States. When the country appears weak globally, especially to the Russians, party stripe doesn't matter.
It really is a house of cards.
Archived Articles
After weekend summits in Belgium and Finland, Democrats and even some Republicans are wondering how and if Donald Trump can avoid impeachment from the House of Representatives during his first term as president of the United States.
For the first time since Trump's election, odds for his impeachment during his first term are -200 at Bovada. In the eyes of oddsmakers, the odds are better than not that Trump won't see the end of his first term.
It's Getting Hard to Ignore the Realities
Political commentators of both stripes in the U.S. are condemning what they view as Trump capitulating to Russian autocrat Vladimir Putin while at the same time appearing to put his trust in the word of Russia's president instead of the U.S. intelligence community. The word "treason" has been used plenty in recent days.
John King, CNN's chief national correspondent, says the meeting with Putin in Helsinki should be referred to as the "surrender summit,"  while even pro-Trump media outlets, like Fox News, are decrying Trump's performance alongside Putin as being weak.
Where is the Line? Has Trump Finally Crossed it?
In the last month, Donald Trump has met with and praised North Korean and Russian dictators Kim Jong Un and Vladimir Putin. In the same time frame, he has chastised and goaded historical allies in Canada and the European Union. He is also dealing with a crisis on United States soil when it comes to immigration laws.
With the Democrats expected to regain control of the House in November's mid-term elections and mounting accusations of treasonous behavior by the current administration, the question is being asked whether the House will act on impeachment.
Other Presidential Impeachments in American History
Two men holding the office of POTUS have been impeached, but not convicted, in the history of the country. Democrat Andrew Johnson, the country's 17th president, was impeached in 1868 while, more recently, Democrat Bill Clinton was impeached in 1998. Both were acquitted after Senate Republicans were unable to get enough votes for conviction.
The most famous should-be but never-was impeachment was of Richard Nixon in 1974. Less than two weeks after the start of the process, Nixon resigned the office of the president rather than face the trial.
Archived Articles
President Donald Trump has found himself in the discussion to earn the Nobel Peace Prize. Several of Trump's most committed supporters in the House of Representatives have sent a letter to the Norwegian Nobel Committee, formally nominating the POTUS for the award.
This nomination is due to Trump's international relations work concerning North Korea.
"Since taking office, President Trump has worked tirelessly to apply maximum pressure on North Korea to end its illicit weapons program and bring peace to the region," the letter reads.
How Can Trump Win The Nobel Prize?
If Trump supporters were planning on betting on the president to win the Nobel Prize – the odds are currently +275 (win $275 on a $100 bet) – then they may want to wait until after the planned summit between the POTUS and North Korean leader Kim Jong Un.
The meeting, which will mark the first time a sitting U.S. president has ever met with a leader of North Korea, is scheduled for June 12 in Singapore. Although Trump and Kim's relationship has been occasionally confrontational, it seems as though the "peace" continues to be the aspiration for America.
If Trump were able to play a pivotal role in the denuclearization of North Korea – along with the recent sanctions imposed on North Korea by the United Nations – then his candidacy for the Nobel Prize will become much more valid.
Will Donald Trump Win The 2018 Nobel Peace Prize?
Odds as of May 10 at Bovada
Will Donald Trump Complete A Full Term As Potus?
Odds as of May 10 at Bovada
Archived Articles
No president has ever garnered the amount of talk and betting as Donald Trump. The 45th POTUS can't go a 24-hour news cycle without becoming the center of some sort of controversy, whether that be the firing of James Comey, his always Twitter rage-inducing stance on foreign policy or his inability to condemn Nazis. 
Of course, this all means that there are plenty of betting odds concerning the future of Trump's tenure at 1600 Pennsylvania Avenue. From finishing his first term as president to possible impeachment, you can find the list of ever-expanding Trump prop bets right here.  
You can also get odds on who will win the 2020 United States presidential election by clicking here. 
Donald Trump Exit Date
Odds as of January 10 at Bovada
2018 +250
2019 +400
2020 or later -150
Will Donald Trump Complete A Full Term As POTUS?
Odds as of January 10 at Bovada
Will Donald Trump Be Convicted By The Senate In His 1st Term?
Odds as of January 10 at Bovada
Will Donald Trump Be Impeached By The House In His 1st Term?
Odds as of January 10 at Bovada
Will Donald Trump Resign The Presidency In His 1st Term?
Odds as of January 10 at Bovada