I must preface this blog by admitting that I have considered myself a Trojan since the day I was born. I've had countless family members attend the University of Southern California, including both of my parents, and in May of 2019, I joined them all as a proud graduate of the university. I say this because, similar to my obsession to my hometown San Diego Padres, I always find myself overly optimistic about USC, specifically their football program.
However, I attended USC during a 4 year stretch where we had an on campus gynecologist charged with multiple accounts of sexual assault, the college admissions scandal headlined by Lori Loughlin (aka Aunt Becky) paying coaches to pretend her daughters were athletes to gain admission into the school, and, on a lighter note, the worst football season in my lifetime when they failed to reach a bowl game in 2018 by going 5-7. Having lived through that, my usual optimism has changed to me just expecting the worst, even when I desperately try to convince myself that things are as good as they used to be.
Over this past weekend, USC posted a flashy video to announce the launch of BLVD Studios, which is an in-house creative lab meant to capitalize on the NCAA's recent rule changes in regards to student-athletes profiting off of their name, image, and likeness. Personally, I loved every second of the video because to me it was a sign that USC's football program was getting back to what made them so successful during the days where Pete Carroll, Matt Leinart, and Reggie Bush were the biggest stars in Hollywood. USC shouldn't run from the city they're located in and shouldn't run from what makes the city such a special place. And that's why when I first saw the video come across my Twitter timeline, I got fired up! What 5 star high school recruit wouldn't want to come to Hollywood and have the opportunity to use this to grow their brand and not just be able to play football at the highest level, but to profit off their likeness better than they could at any other program in the country?! But as I said earlier, I knew I shouldn't have gotten my hopes up…
One day after releasing the video, USC's Athletic Director, Mike Bohn released this statement: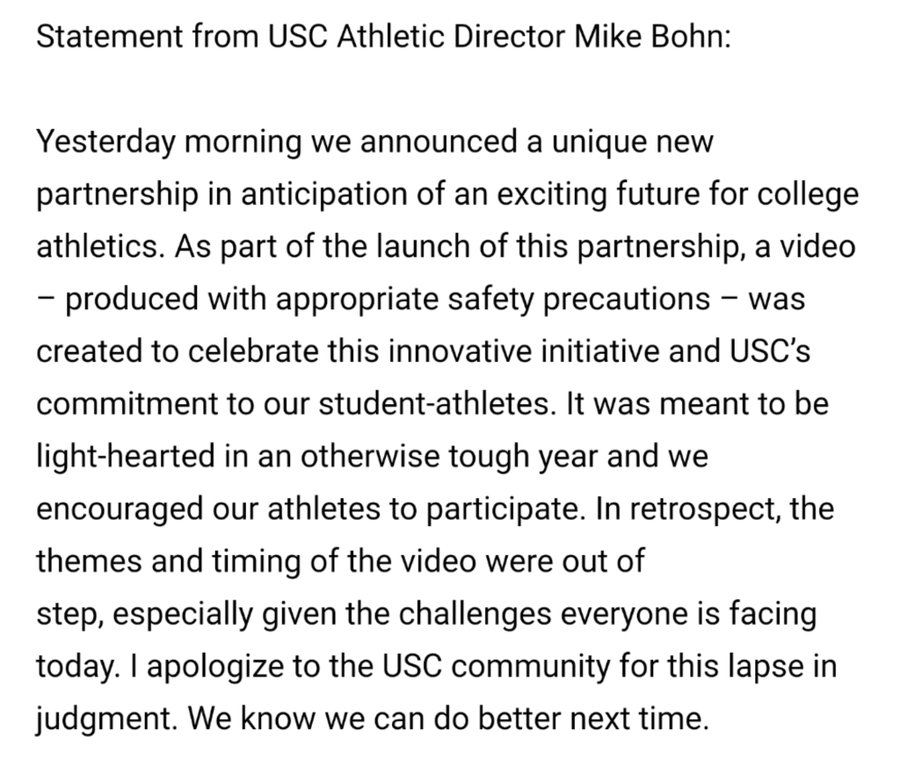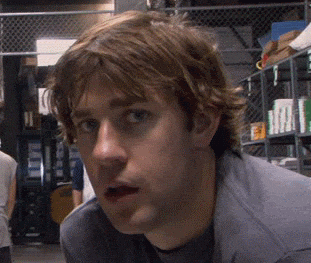 Obviously, I understand that the Coronavirus pandemic is a serious one that doesn't appear to be leaving our lives anytime soon. I also understand that it's affected way too many lives in the world and it's something everyone needs to be sensitive of whether you've been directly impacted or not. But what I don't understand is how the USC Athletic Department could go on and make this video and not expect that they would receive backlash for having coaches and players not wearing masks and not be more prepared to handle the backlash when it came. In my mind USC had two options here: 1. Release the video and respond to the backlash with the facts that the appropriate safety measures were taken or 2. DONT RELEASE THE VIDEO. I'm a HUGE fan of new AD Mike Bohn and what his department has done since taking over for most useless AD in history (Lynn Swann) almost one year ago but this was a clear miss and it's caused outsiders to laugh at the Trojans once again.
Despite these off the field distractions, USC kicks off their 2020 season this Saturday against Arizona State and I fully expect the Men of Troy to win by at least 3 scores to begin what will be a dominant perfect season to start off a decade where we will see USC reenter the conversation as one of the top programs in the nation.