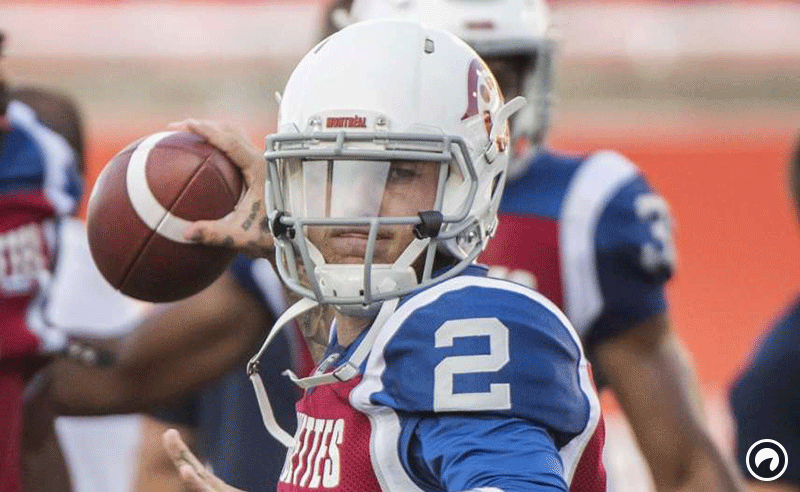 It's the week we've all been waiting for! Johnny Manziel will get his first regular-season snaps in the CFL! Ironically, his first start will come against the team that he was with for the first six weeks of the year, as the Hamilton Tiger-Cats visit Montreal on Friday night.  If you went with the expert picks in Week 7, you were a happy bettor on Sunday morning, as our expert went 4-for-4.
The OVER hit in three of the four games on the schedule last week, bringing the stats on OVER/UNDER to 12-15 in 2018.
Below you will find our Week 8 expert pick for each game:
Hamilton (-7.0) vs Montreal (+7.0), Total 50.0
This is the game that's going to get all the attention in Week 8 as Johnny Manziel finally starts a CFL game for the Montreal Alouettes. Manziel will go head-to-head with Jeremiah Masoli, the guy who kept him on the sideline and is averaging 319 passing yards per game for Hamilton.
The Ticats are just one game better in the standings than Montreal at 2-4 vs 1-5, but they've had a tough stretch to open the season, finally playing their first game against the East Division last week.
Hamilton has been the betting favorite in each of its last four games but has only won one of those: June 29 vs Winnipeg. Two consecutive losses to Saskatchewan and then a six-point setback to Ottawa in Week 7 has upset the apple cart a little bit.
Still, Hamilton deserves to be the favorite vs Montreal in Week 8. The Ticats are second in the league with 394 net yards per game, 141 more than Montreal is accumulating. Hamilton is holding opponents to an average of 335.7 net yards per game, while Montreal is last in that category as well, with an average of 415.3 yards against.
The way Montreal's defense was picked apart by Mike Reilly in Week 7 doesn't bode well for Manziel's success in his debut. Masoli is much better on the ground than Reilly, who was able to rush for 26 yards himself in Week 7. The spotlight in this game will be on Manziel, but look for Masoli to take it from him, yet again.
Pick: Hamilton -7.0
Ottawa (-6.0) vs Toronto (+6.0), Total 48.5
Toronto will trot out its third starting quarterback of 2018 to host the East Division-leading Ottawa Redblacks on Thursday night. McLeod Bethel-Thompson will make his first-ever CFL start at home for the Argos.
He really is an unknown. MBT has been a backup and practice squad guy through multiple leagues for the last seven years. He was signed and cut and signed and cut nine separate times in the NFL, including three times with the San Francisco 49ers alone. He never got a snap in the NFL but has more transactions on his record than a Yonge & Dundas ATM.
It hasn't come easily for the Ottawa Redblacks this season, but they've managed to win four of their first six games. The Redblacks are 12-2 ATS in their last 14 road games and I think that will continue on Thursday. Ottawa is allowing an average of 21 points against and with Toronto debuting an unproven QB, this number will likely stay intact or shrink.
Pick: Ottawa -6.0
Saskatchewan (+7.0) vs Edmonton (-7.0), Total 52.5
Saskatchewan and Edmonton will hook up for the first time in 2018 in the late game Thursday night. The teams split their two meetings last season, with the visiting team winning SU and covering the spread each time.
Edmonton is coming off a 44-23 win in Montreal last weekend and will play its fourth game at Brick Field at Commonwealth Stadium this season where the Eskies are 2-1. The Eskimos are averaging 28.7 points per game and allowing an average of 24.7 points.
Penalties have been a bigger issue than the actual on-field opposition this year. The Eskimos lead the league with 704 yards in penalties compared to just 458 from this week's opponents, the Roughriders.
Saskatchewan has had a tough time producing offense, with just 303 yards of net offense per game. Conversely, Edmonton is averaging 436.8 yards in net offense. The Riders have four passing TDs all season – Reilly had four passing TDs last week.
Saskatchewan has been scrappy on defense all season, but it won't be enough to stop the Edmonton attack.
PICK: UNDER 52.5
B.C. (+11.5) vs Calgary (-11.5), Total 50.5
The undefeated Calgary Stampeders welcome the B.C. Lions as these rivals meet for the first time in 2018. Calgary's success on the year has seen the Stamps open with some big spreads, so I'm going to take the totals approach on this one.
Travis Lulay is the X factor in this game. After missing 309 days with an injury, he returned in Week 5 to pull off a come-from-behind win over the Blue Bombers. He was remarkable in his second outing as well, a Week 6 loss to Ottawa. The Lions had Week 7 off and Lulay should be in midseason form when B.C. arrives at McMahon Stadium. He's already averaging 325 yards per game in the air and has thrown for three touchdowns through two games.
Bo Levi Mitchell has been equally as impressive for the Stampeders. He's thrown for 12 touchdowns, just one behind Mike Reilly for the league lead, and has the best TD/INT ratio among CFL starters, throwing just four picks.
Calgary's defense leads the league in yards and points against, but I don't think they've had to deal with anyone at the level of Travis Lulay yet, and I predict this game is going over 51.5 total points.
Pick: OVER 50.5
You can also head over to our CFL Picks page to see what the OddsShark Super Computer thinks about this week's games. 
Archived Articles
There are four games on tap in the CFL in Week 7, and Johnny Manziel isn't slated to start either of them. Mike Reilly WILL start in Montreal this week, and he's the player to watch. Meanwhile, Winnipeg plays their seventh straight as B.C. have their second off week. I'm sure the Blue Bombers are just fine with that after their performance against the Argos in Week 6. Just hitting their stride, a week off would do nothing to help.
While UNDER has been a consistent bet in the CFL this season, three of the four games in Week 6 hit the OVER, bringing the 2018 OVER-UNDER split to 9-14.
Below you will find our Week 7 expert pick for each game:
Edmonton (-10.0) vs Montreal (+10.0), Total 48.0
Johnny Manziel will not start for Montreal at home on Thursday but the Als have indicated he is likely to see some field time vs the Eskimos. What a shakeup this must be to the existing roster in Montreal, not to mention the psyche and confidence of injured starting QB Drew Willy. It appears game planning for the Esks visit has been put on the back burner heading into the Week 7 game. Vernon Adams will make his first (and probably last) start of the year for Montreal on Thursday.
Reigning Most Outstanding Player and current passing yards leader Mike Reilly has to be licking his chops at the opportunity to capitalize on a struggling team. Reilly has thrown for 1,648 yards and nine touchdowns through five games.
The Alouettes defense is allowing an average of 275.8 passing yards against and has surrendered a league-high 12 passing touchdowns against. This looks like a fantastic matchup for the Esks.
PICK: Edmonton -10.0
Toronto (+10.0) vs Winnipeg (-10.0), Total 53.5
This is the second game of a home and home but the spread has jumped significantly from the +2.5/-2.5 line from last week. The Blue Bombers laid the hammer down on Toronto and came away with a 38-20 win at BMO Field. The scoreline makes this look closer than it was as Toronto scored 11 points in the last minute of the second quarter when the Bombers took a quick nap.
The Argos defense had no answer for Matt Nichols and Andrew Harris. Winnipeg picked up 245 yards in the air and another 184 on the ground in a pick-your-poison attack that had to make Mike O'Shea and Blue Bombers supporters smile ear to ear.
Conversely, Winnipeg's defense easily held Toronto in check, consistently blowing up the matchup on the line of scrimmage and held the Toronto offense to 151 passing yards and just 23 rushing yards.
PICK: Winnipeg -10.0
Ottawa (+6.0) vs Hamilton (-6.0), Total 55.5
First place in the East Division is on the line at Tim Horton's Field Saturday night. It's Week 7 but this will be the first in-division game for the Tiger-Cats, who have escaped a difficult opening swing vs the West Division with a 2-3 record. Hamilton is 1-1 at home and is coming off a home loss to Saskatchewan in Week 6 – a game they led 17-7 at the half before 21 points against in the third quarter sunk them. Hamilton managed just a field goal in the second half.
Jeremiah Masoli hasn't thrown a touchdown since the third quarter of Hamilton's Week 3 game against Winnipeg, their only home win this season. Week 6 was the first time in nine games that Masoli didn't throw 300 yards.
This is a close matchup. Hamilton has scored an average of 23.2 points per game while Ottawa has scored 22.8. Hamilton has allowed 23 points per game, Ottawa is just eight-tenths of a point better at 22.2.
In fact, as you look through the statistics through the first half of the year, the teams are pretty close on all fronts. Hamilton is susceptible to the rush, allowing the most rushing yards against on average at 139.2 per game, however, Ottawa doesn't run the ball much, just 20.2 times a game. This lends to their 34 two and outs, just three behind league-leading Montreal.
PICK: UNDER 55.5
Calgary (-6.5) vs Saskatchewan (+6.5), Total 47.0
Calgary head to Regina on a five-game winning streak that has shown no signs of slowing down. Interestingly, just as Hamilton has yet to play an in-division game, neither has Calgary. They've defeated Ottawa twice, Hamilton, Toronto, and Montreal so far this season. One will have to question if they are as battle-tested as the Green Machine as they head to the most hostile visiting stadium in the CFL.
The stats are on Calgary's side: a +101 point differential and they lead the league in most defensive categories while residing at or near the top of the list in most offensive categories. Saskatchewan (3-2) has a -5 points differential through their first five games and is middle of the pack, statistically speaking.
Chris Jones has made some interesting decisions with his QB situation, although Brandon Bridge seemed to take the ball and run with it (literally and figuratively) in Week 6 vs Hamilton. The Toronto-born quarterback passed for 165 yards and one TD and ran for another 17 yards on five carries. Saskatchewan has won two straight entering play in Week 7.
PICK: Calgary -6.5
You can also head over to our CFL Picks page to see what the OddsShark Super Computer thinks about this week's games. 
Archived Articles
There are four games on tap in the CFL in Week 6 with the Edmonton Eskimos on a bye week. UNDER has been a consistent bet in the CFL this season with 13 of 19 games hitting the UNDER through five weeks. The league has seen a lot of lopsided games early in the season resulting in lots of double-digit wins paving the way to a 13-5-1 ATS mark for teams that won SU.
Below you will find my Week 6 expert pick for each game:
Saskatchewan (+10.5) vs Hamilton (-10.5)
Our consensus data has Saskatchewan covering +10.5 in the Thursday night game and I tend to agree.
The Riders are coming off a bye week and in Week 4 defeated Hamilton 18-13 in Regina. Saskatchewan's defense has proven a tough nut to crack this season allowing just six offensive touchdowns through four games.
Hamilton will have something to say about that as Jeremiah Masoli goes for a CFL record for most consecutive games with 300 passing yards in Week 6. Despite the teams totaling just 34 points in Week 4, the total for Thursday's game is set at 51. I'll be taking the UNDER here.
Pick: UNDER 51 (-110) 
B.C. (+7) vs Ottawa (-7)
The Redblacks are tough to beat at home and they are the favorite Friday night against the Lions. This is the first of two meetings this year between these teams. Ottawa won both meetings last season by seven and five points respectively.
Neither team is flashy on offense, so expect the defenses to be the story of this game. Unfortunately for Lions fans, their defense hasn't been all that strong this season. The B.C. defense has surrendered an average of 27.3 points per game along with 397 yards of net offense — near the bottom of the CFL in both categories.
Conversely, the Redblacks have been tenacious, especially at home. Ottawa was easily handled by the Stampeders in Week 5 and are looking for redemption in front of the faithful lumberjacks at TD Place Stadium. Despite surrendering 27 points last week, they are still averaging just 21 points against. 
Pick: UNDER 53 (-110)
Winnipeg (-2.5) vs Toronto (+2.5 )
Call me crazy, but I like the Argos in this game. They are coming off two impressive performances against the powerful Edmonton Eskimos and James Franklin has looked good since replacing the injured Ricky Ray.
The spread is only +2.5 for the Argos to cover, so why not get some real value and just take them on the moneyline? That's what I'll be doing. Winnipeg hasn't had much success since the return of starting QB Matt Nichols. He has one TD pass and three interceptions in two games since returning. It's not a quarterback controversy yet, but Chris Streveler was much better in relief during Nichols' injury.
Picks: Toronto on the moneyline (+110) and ATS (-115)
Calgary vs Montreal
Lines have not been released for this first vs worst matchup on Saturday night. As long as the spread isn't too outrageous, I'll feel comfortable betting on Calgary. The Stampeders are 4-0 and have covered the spread in each of their victories. Montreal has been the worst team in the CFL allowing over 400 yards and 30 points per game.