DISCLAIMER THAT I AM NOT ANTI VAXX: THE VACCINE WORKS, SAVES LIVES AND IS A GOOD OPTION IF IT IS SOMETHING YOU WANT TO DO. I ALSO TRUST SCIENCE
Hi everyone, my name is Chris Rooke, day-oner here at DeanBlundell.com, Head of Production, a fun guy and I am unvaccinated
(pause for boos and dirty looks, and middle fingers)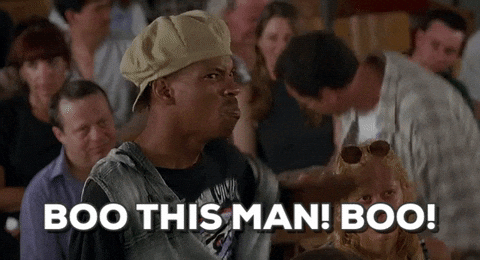 I am not going to reveal my entire medical history on this blog as to why I am unvaccinated, I just know that I have spoken to two doctors and have a specialist appointment on February 10th to try and figure out what the fuck is wrong with me.
As most of you who follow this website know, I got Covid last week. DUN DUN DUNNNNNN.
It wasn't fun by any means but neither is the flu or strep. I chatted with my doctor and he checked in on me every few days to make sure I was all gravy. Today's conversation with him, however, got my brain moving. He called asked if I had any symptoms to which I replied just a little Covid dick, to which he replied "what?" and I said never mind and laughed.
He then asked how my mental health was. I said "good doc, I hate human beings because of the politics behind this pandemic but 'good.'" I followed up with, "Why do you ask?' His next statement shocked me. He said, "Chris, I just wanted these vaccine mandates to end ASAP. 75% of my appointments are for mental health issues, depression and suicidal thoughts from people who can't get vaccinated, won't get vaccinated or get vaccinated and are having regrets."
Unvaccinated Doesn't Mean Anti-Vax
He went on to explain a lot of people have legitimate medical reasons causing their hesitancy to get the vaccine, and there isn't enough info on some ailments at the moment for him to tell them it is safe. However, the government has made it so impossible to get exemptions, that all of these people are in limbo and it's not their fault. Much like myself.
Now before you attack me for a "poor me, pity party" article, I don't give a flying fuck either way. This Pandemic has shown me the true colours of a lot of people, and I am fine with not seeing anyone or participating in big group events because most people would judge me. They would think they are somehow superior because they got the jab. I don't hold them at-fault for this. It's been conditioned in their brain that they are, by the government and also the media.
The Collateral Toll
Listen, does it suck I can't take my wife on the honeymoon she so desperately deserves after dealing with a cancelled COVID wedding for 2 years? You bet your ass it does. Do I feel like a failure of a husband for not being able to take her out for dinner on our anniversary or her birthday? YUP. Have I almost caved 30 times to just roll the dice and get the jab. 100%.
She's a rockstar and understands. She's told me to go through the proper channels, and we will do those things when the time is right. Even though deep down I know it affects her.
The Hypocrisy Portion
Now let's dive into the hypocrisy, shall we? Both extreme sides of this debate are wrong. The aggressive, unvaccinated people telling kids they are going to die and protesting outside of health officials' homes are wrong. The aggressive pro-vaccine people who want to have all unvaccinated people shipped to Northern Ontario to work camps and chained to the support beams in their basements never to be let out again are also wrong. In this pandemic, we have completely lost our compassion for others.
The big argument I've seen from the pro-vaccine side is to do what's best for your friends, neighbours and family and get the jab. Yet those same people are shouting from rooftops to make unvaccinated people's lives hell and to segregate them for society. Does that sound like caring for your neighbour to you?
Think of the human toll and the mental health toll it's taking on every, vaxxed or unvaxxed. Take a look in the mirror before you make that next comment. You should feel for all humans and understand they might have reasons you're unaware of for not getting vaccinated or very important reasons to get vaccinated. If they don't want to get it they aren't Chris Sky and Adam Skelley and if they do want to get it they aren't sheep.
Questions for my medical community though, not a single person has been able to answer my question as to why a negative covid test isn't sufficient to show you don't have covid. I'm pretty sure, unvaxxed or not, when you get covid, the first thing you do is take a PCR/Rapid Test to see if you have Covid or not. So why take away that option? Seems a little political to me. No?
Prime Minister Trudeau…
We all know what his comments were in regards to the unvaccinated. I won't repeat them. I had no idea that because I can't get the vaccine right now, I apparently also hate women and black people? Super weird side effect, right? In my original post I hammered Trudeau for being in blackface, which was wrong and low hanging fruit. We need to hold our PM to higher standard than Ricky in his basement because you know he runs the country and has a ton of influence. His comments were dangerous any way you slice it, he needs to be better and not generalize.
We're still in this Together
Listen, I'll wrap this up. Get the jab or don't. Do what's best for your current situation, but there is NO need to make people feel less than human because of the choice they make. Let's make a deal. You guys stop thinking all unvaccinated people are Chris Sky and we'll stop thinking pro-vaccine people are all Justin Trudeau. Deal? Seems fair, I think. Another editors note, this article is not just for people who did not get vaccinated. I know people who are fully vaxxed are also dealing with severe mental health problems. You've done everything right, listened to the science and our government and we are still no better than we were last March. It's frustrating and I am here for you and need to start the conversation that mental health matters.
We all need to get through this together and a little compassion and understanding can go a long way. If it isn't hard enough to avoid contracting Covid, why make it even harder for people in this horrible time? For god sake end the mandates, let unvaccinated people show proof of a negative covid test, let the selfless citizens who are triple jabbed go do their thing. Let's get on with it wisely and practically so we can all get back to normal TOGETHER. Shall we?
Rookie