Perfect matchup between @NHLBlackhawks & @ArizonaCoyotes Corey Crawford makes his 1st start since December 27th and the 'Yotes have not scored 5 on 5. Make a case for both sides 🙃

— Daren Millard (@darenmillard) October 18, 2018
It's the single worst time to have a slump. Lose four of five in January and media in your city or division may take notice but toss that gutter ball down the first two weeks of the National Hockey League season and basements across North America are blogging predictions of a catastrophic season.
I look at the win column every day and cannot help myself from searching out any remaining zeros. I become obsessed with the last team to record a victory and how long it takes them.
This season 4 clubs have played Antelope to Lion's teeth. Wounded from the start, Detroit knew a peaceful sleep would be rare. St.Louis and Arizona have at least won once but are grouped with Florida in suffering slow starts that threaten much higher expectations.
History has taught us optimism cannot buy off a terrible launch. An opening month face plant attracts questions, doubts and criticism like chum excites Great White Sharks at the Farallon Islands. The Key is to get out of the water as fast as possible.
The Red Wings have suffered a couple of bites. Arizona is using the deadman float strategy and by quiet, while the Blues and Panthers are telling each other that everything is going to be O.K. This as 18-foot man-eaters circle them.
Detroit is done. No first aid kit is equipped to stop this amount of bleeding. This was not an unexpected predicament for Ken Hollands group, so that will cause the Sharks to swim off for more challenging prey.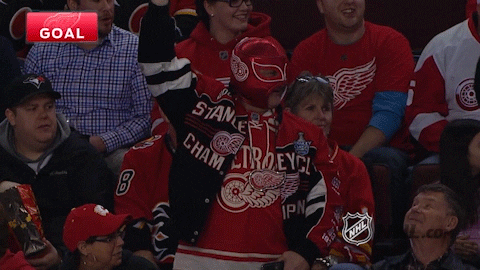 I thought I did hear the Red Wings mumbling something like Jack Hughes before it slipped below the surface.
Arizona knows the damages these White Sharks can do. Last season the Coyotes lost the opening 11 games. Rick Tocchet's group failed to win in regulation until the middle of November.
It won't be like that again.   Antti Raanta is healthy and as a result is a legitimate number one goaltender. I think it's a positive indicator Arizona was able to win without scoring five on five in the first four outings of the season.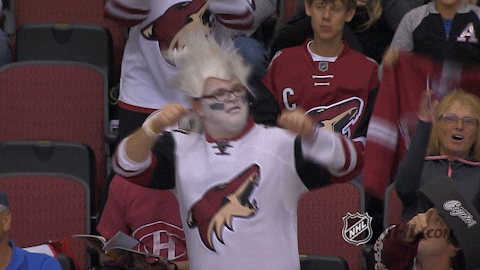 I am not saying Arizona will make the playoffs. However, the defensive side of the roster will create an opportunity to compete in the West.
Two years after self-destructing so systematically you wondered if it was being done on purpose the Florida Panthers are once again in need of rescue. A 2 game suspension to Mike Matheson hasn't helped, nor has the old goalie going down with a month-long injury forcing Roberto Luongo gives way to James Reimer. Inconvenient as they are the Panthers are deeper and experienced enough to handle a 0-2-2 start. Florida will be back on the boat laughing about the encounter with the fanged fish in no time.
Pettersson broke Matheson's ankle with a deke and so like all good hockey men, Mathesson got embarrassed and took it out on Dekey Pete with a rough hit pic.twitter.com/M6jUBXnM3r

— Wyatt Arndt (@TheStanchion) October 14, 2018
St.Louis was always going to be interesting to watch. The better of the two Blues goalies last season is on a different team, and it will be a few more years to feel the benefits of the Paul Stastny deadline deal. This franchise acknowledges it has stepped back from championship aspirations. That doesn't justify a single victory in the first half-dozen. Bad luck, poor play and a lack of execution partnered to drag the team down. Individual high-end talent alone should mean St.Louis can calm down. Vince Dunn is an excellent example of a  player blossoming. If Jake Allen can provide a foundation, the offensive side will toss Mike Yeo a life-preserver.
None of these four qualified for the Stanley Cup Playoffs last year. Detroit is the only club destined to miss again soothed by the potential of a lottery win. Expectations are much higher for the Blues, Coyotes, and Panthers.
It's been a painful but recoverable start. A few wins and you won't even be able to see the scars.
@DarenMillard