Maybe DC will get it right and finally start a proper run of connected DC stories with the launch of "The Batman?"
Delayed, pushed, moved around, and now finally here, the long-awaited arrival of Matt Reeves' version of the caped crusader is finally upon us!
Starring Robert Pattinson (That Vampire movie), Zoë Kravitz ("Fantastic Beasts: The Crimes of Grindelwald," "Mad Max: Fury Road") as Selina Kyle; Paul Dano ("Love & Mercy," "12 Years a Slave") as Edward Nashton; Jeffrey Wright (the "Hunger Games" films) as the GCPD's James Gordon; John Turturro (the "Transformers" films) as Carmine Falcone; Peter Sarsgaard ("The Magnificent Seven," "Black Mass") as Gotham D.A. Gil Colson; Barry Keoghan ("Dunkirk") as Officer Stanley Merkel; Jayme Lawson ("Farewell Amor") as mayoral candidate Bella Reál; with Andy Serkis (the "Planet of the Apes" films, "Black Panther") as Alfred; and Colin Farrell ("Fantastic Beasts and Where to Find Them," "Dumbo") as Oswald Cobblepot it appears Warner Bros has gone all in!
As Co-Host of the Kids on the Escalator Podcast and basically the only DC fan on this Network, I finally get a chance to have my due with one of the most beloved characters in all of comics!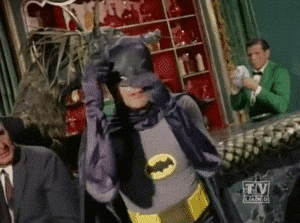 To say I'm stoked is an understatement and we got to talk all about it this week on the show with fellow Dean Blundell Network Podcaster Rob Furnish of the Talkin Bud's Podcast!
Plus we discussed our favorite Toronto Maple Leaf players of all time, who we'd like to see on the team from the past and so much more! Batman and Leaf talk? Sounds like a winner to me!