Hey there boys, lets go eh bud!  It's me Bradley Kevin Marchand. You probably know me as Marchy, B-rad, Noses Malone, Nose Cuervo, or Ratatouille. And if you don't know me then you're just some beer league pigeon who ain't worth my time. Firstly, I'm gonna address a few obvious elephants in the room for the boys.
Ya bud, this is my real nose. I did not steal it from a Toucan.
And YA BUD, I have a tattoo on my body that says 'Starley Cup Champians'.
I know, I know but when big Z pins you down in the dressing room with a tattooing needle, you kind of just gotta let him do his thing. He's such a beaut. Anyway, the other thing I'd like to address is the little oopsie I did last night involving me, colossally fucking up basic hand-eye coordination. Like, primitive motor skills.
You may have seen it on every television and website across the entire planet. Seriously, as if blowing a 3 goal lead to the Flyers wasn't enough, my brain just kind of went off for a line change as I skated toward the puck. You know like when your computer is about to turn off because you've watched too much weird porn and the blue screen comes up and you're like "AHH WTF?"
That's what was going through my brain boys. I was just thinking of how fucking awesome Monster Energy drinks and Barstool Sports are and then before I knew it, I was halfway to the net without the puck. Back in the dressing room Pasta was like "Hey Marchy what happened?" And all I could think of was that time I hit my head really hard off of something:
I think my bucket landed on Mars after that hit, but I can't remember. Honestly, I can barely remember to not lick people on their mouths and faces half the time. The boys are always like "Marchy, bud, you can't lick the flight attendant!" and "Marchy – you can't lick the pilot either!" Fuck boys! What am I supposed to lick?? Sometimes you just wanna celly by placing your tongue on the face and neck of a Buffalo, NY Uber driver so you can taste his musk!
In all seriousness, this is the show. It's Chel City baby and plays like my turbo biff last night can and will happen. It's part of the game boys, but you move on one period at a time.
People like to hate on me but the Haters can get deez nutz am I right boys? A lot of them are jealous of how short I am, how big my nose is, the cool booster seat Legal Seafood gives me when the team and I go out to eat there. They just want to be me but they can't because mostly everyone is taller than me. It's funny. Bergie asked me today how I was doing after skating past the puck during my shootout, and I was like 'you know what bud? Im good'. I'm handling it with grace and fucking poise, boys.
What people don't realize boys, is that I'm as laid back as it gets. Yesterday I was at Starbucks and the lady called my name. She gave me a Vanilla Soy Latte and I asked for a Vente flat white. So I politely called her a peasant, told her to go fuck herself bud and speared her in the junk. She was two seconds away from wearing that Latte, but I was able to control myself. AND I managed to only lick 3 strangers on the subway later in the day.
I ended up missing the train because I walked into the side of the train and not through the door. Guess it's a theme these days. Missed the door, missed the puck and I'm missing the all-star game because the NHL is a bunch of cucks, and they don't want to see me and the boys wreck shit. Tuukka told me the reason I didn't get invited to the all star game is because no one likes me and that the fans would rather watch me dropped into a volcano full of rabid lions, but he's Finnish and I don't believe that bullshit, or understand it either. (His accent is hilarious) Anyways boys, gotta go hit the gym.
If I go early I can beat all of the little brats and their MILF moms that go for their Gymboree classes. They get mad when I hog the bouncy balls. But fuck em' eh boys?
Speaking of the boys, here's me and the crew rolling into Jack Edward's house party.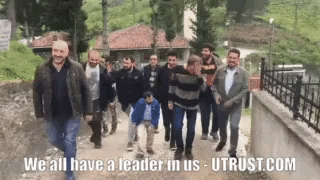 I got kicked out for licking his wife and his mother on the mouth and ear. That's showbiz baby. Marchy, out.
Ed. Note: This piece is intended as satire.