Please.  Please tell me this guy isn't insane and a 12 foot Bigfoot violently masturbating at his back door actually happened.
In this clip, you get to experience the fear in Peter's eyes as he recounts the deadly, semen filled close encounter of the worst kind.
After perusing his YouTube channel, unfortunately, he's probably insane.  Dude's name is Peter Caine and claims to have the only frozen Bigfoot (severed) head which looks like a prop from Lord Of The Rings.
"Not everything in my life is a joke!"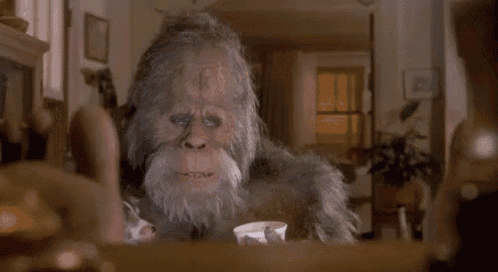 There are days I wish my life was this simple.  To have enough money and time on your hands to make a bigfoot head out of spare parts and some old stuffed animals would be the greatest way to go through life. Being oblivious is the key to happiness.  I've never been more convinced.
Guys like Pete have no regard for the reality handrails most of us hang on to for dear life.  He doesn't feel the need to pay a cable bill or balance a checkbook.  Pete would rather spend that precious useless time recording videos about horny apemen spilling a quart of jizz on his lawn.  That's what gets you paid.