Vlad Jr. looks like he's giving a shit this season.
Sights from (🎥 #BlueJays) camp in Dunedin, Florida.

INF Vladimir Guerrero Jr. pic.twitter.com/k67ZrRU4pb

— Hazel Mae (@thehazelmae) February 22, 2021
Vlad Guerrero Jr. said he's lost 42 pounds. He admitted he has reported to #BlueJays camp in the past out of shape. He spent the winter working on his quickness, weight loss and building strength.

— Kaitlyn McGrath (@kaitlyncmcgrath) February 24, 2021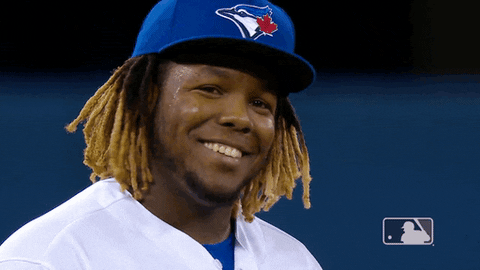 Nah, dude.  Well done.  Losing weight is a huge commitment and he's got to feel better after dropping 42 lbs in three months.
As someone who's gained and lost 40+ pounds a few times, day-to-day living is a million times better 42 pounds lighter.
The only thing that's preventing Vlad from taking up the mantle of MLB superstar is Vlad.  It's easy for us armchair douchebags to make fun of a professional male athlete with man tits at the age of 24 but it's hard to shake old habits when you've grown up eating and doing anything you want.
Injury and inconsistency were huge motivators for him to get fit in the offseason and says he feels great about the changes he made and the work he put in to shed the weight.  Coaches have noted how much better he's moving too, which happens when you lose 40 pounds.
But the commitment to being the best version of himself speaks volumes to Jay's fans.    
ESPN: "I came to spring training out of shape for a couple of years," Guerrero said through a translator Wednesday from Blue Jays camp in Dunedin, Florida. "One day at my house in the Dominican I just sat down and thought about all this. I decided right then that I was going to get ready, I was going to prepare myself, I was going to work very hard for this year. I did, because my main focus is just to be ready and help the team win."

A slimmer-looking Guerrero said he now feels stronger, quicker, and more resilient.

"I worked very hard on my legs because I really wanted to trust my legs," he said. "Before, I wasn't getting to ground balls. Sometimes at the plate I couldn't stay back enough on the ball.

"I feel quicker in all aspects of my game right now," Guerrero added. "Running the bases I feel great. Before I would feel a lot of fatigue after taking ground balls. Now I can take 50, 60 ground balls and I'm feeling good."

"He met his goals," Montoyo said. "He had a great offseason. All his work, it paid off. He looks really good."

Guerrero, who turns 22 in March, hit .272 with 15 home runs and 69 RBI as a rookie in 2019. However, he hit his final home run on Aug. 16 and looked tired down the stretch, eventually missing time with a sore right knee.

Guerrero dropped weight before spring training in 2020, but gained it back after the COVID-19 pandemic shut down baseball for several months. Last November, Guerrero told a Dominican newspaper he had apologized to his Blue Jays teammates after showing up overweight for summer camp when baseball returned in July.

"For the last couple of years, they knew I was coming here out of shape," Guerrero said Wednesday. "I didn't prepare myself very well and I felt like at that moment that my teammates needed an apology from me."
I love this kid.
"I didn't prepare myself very well and I felt like at that moment that my teammates needed an apology from me."
Personal accountability?  An apology for coming into camp fat followed by the willpower to do something about it for yourself and your teammates?
Put Vlad down for 50+ bombs and 100+ RBI in 2021 and start engraving his name into the AL MVP plaque.  The kid completely gets it and I want to see him mash in his new skin-tight uniform while hovering at first base like the Greyhound he is.
Imagine the protection he'll get in that lineup with Springer, Semien, and Bichette then factor in his new body and hunger to be the player we all know he can be and it's impossible not to be excited for the Blue Jays 2021 season.
Vladimir Guerrero's video to Vlad Jr. is absolutely chilling 🙌 pic.twitter.com/PPIWdxTGH1

— Kent Murphy (@ReaIKentMurphy) November 25, 2019