Hope.  This is a big pool of hope you need to bathe and splash around in on this beautiful Friday if you're a sports fan.
TSN: Professional sports teams in Ontario are one step closer to returning to action.

The Ontario provincial government announced Friday it is enacting an emergency order that will allow athletes from professional sports teams in the province to start training at their club facilities, effective immediately. The order covers NHL, NBA, MLB, MLS and CFL clubs that play in the province, but it is up to each league to decide how to proceed. Amateur athletes and those who play in lower-tiered professional leagues in Ontario have not received the same level of clearance.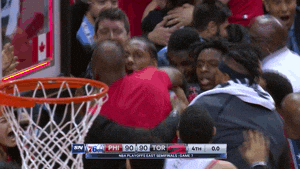 The Raptors are the first team to release their practice guidelines and training and before you get too excited, it's going to be a slow burn until Gov't officials give teams the green light to resume regular workouts and practice.  But, it's a start and that's aaaalll we need right now.
The guidelines of the return for the defending NBA Champs are stringent but at least they've opened their practice facility and players have been told to head back to Toronto to prepare for a late May-early June return.
Yesterday Shug posted a piece on the NHL's imminent return to a 24 team Stanley cup playoff format so we all knew something was in the works.   When the NHL got the go-ahead to plan their return it was a matter of time before Ontario granted a special order for all Toronto teams to cautiously begin ramping up as well.
HUGE Report: NHL to resume directly into 24-team Playoff Tournament
If the NHL and NBA return to action, here's what you'll see.
-Best of 3 series
-More playoff teams and big upsets
-No fans in the stands
-Regional or centralized locations hosting the majority of play to 'control variables re player safety.
-The Ottawa Senators on the golf course using individual carts
I'm taking a clean slate perspective into anything we get from the NHL and NBA into whatever type of format they decide to return to.
VERY welcome news on a Friday so turn that frown upside down, Sporty Spice.  We're almost there.