Keep in mind, it's only Tuesday.
Global: The government is bringing forward an amendment to make it "crystal clear" that content individual users upload to social media sites like YouTube and Instagram won't be regulated by Bill C-10, according to Heritage Minister Steven Guilbeault.

He confirmed the news in a statement sent to Global News on Monday, following pushback from politicians and experts alike who warned that proposed changes to the Broadcasting Act could infringe on freedom of speech.

"We also want to make sure that the content that people upload on social media won't be considered as programming under the Act and that it won't be regulated by the CRTC," Guilbeault said in the statement.

"And that's why we will be bringing forward another amendment that will make this crystal clear."
I guess I won't have to spill the beans.
I think that's something that still needs to be dealt with.  I also think the CRTC and the CBSC should be disbanded if traditional media wants to save their dead assets (radio, tv, print).
CRTC appointments are made just like all political appointments are made.  By colluding with others to load membership with people who favor a specific party/traditional media owners to serve their relational interests.
But a win is a win, and the only reason common sense won, is Canadians spoke up.  Did I threaten big media and the CRTC/CBSC with receipts of how fucking crooked big media/CRTC are?  A little.  I still plan on telling you stories of back-scratching and payola but now I don't have to be angry when I do it.  It'll be more like a hobby instead of a mission.
Hey, remember when the guy who created the bill was asked to explain it?
This is what happens when you put a guy whose professional claim to fame is climbing the fucking CN Tower in charge of online content. @s_guilbeault couldn't properly narrate a kids book, FFS. pic.twitter.com/oRtLyN8LEI

— Dean Blundell (@ItsDeanBlundell) May 2, 2021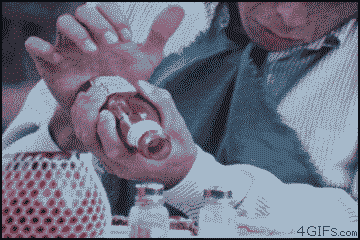 Never send the village idiot to save the village.
Well done, CANADA.  You just told big media and the government to eat shit and I couldn't be more proud.
DB