Sometimes when life deals your terminally ill, meth-addicted wife lemons, you throw an assisted suicide party with meth, sex, and some 80's metal.
Source:  A man reportedly told authorities he gave his ailing wife methamphetamine and they had a "death party" before she died.
The husband said he did not get his wife medical help because she did not want to die in a nursing home, according to criminal charges filed against him.
Duane Johnson, 58 was arrested without incident and was charged Friday with felony counts of theft and receiving stolen property.
He reported just before noon Thursday that his wife, Debra, was dead in their home in the town of less than 200 people south of New Ulm.
The first Brown County sheriff's deputy on scene observed the words "Death Parde God Hell" written in red spray paint on the front door, according to a court complaint.
Duane Johnson came out naked, yelled that his wife was dead, and ran back inside. The deputy found him in a bathtub and he said he was trying to cleanse little white and black "things" from his skin.
He told authorities his wife had been in a nursing home and she begged him to take her home to die.
Investigators learned from the New Ulm Medical Center that Debra Johnson had been at a transitional care center but her husband removed her against medical advice. She previously had two heart attacks, had diabetes and high blood pressure. She also reportedly had mental illnesses and was on anti-psychotic medication.
Duane Johnson told authorities he and his wife had a "death party" for the final days of her life. They had been "rocking out" to their favorite song: Quiet Riot's "Metal Health." They took methamphetamine and she stopped taking her medications, he said.
The man said his wife couldn't eat or drink so he said he used snow to wet her mouth. He said she had convulsions but she wouldn't let him call for help, so he held her to keep her from hurting herself. He said they had sex fewer than two hours before she died and she stopped convulsing and was more at peace.
After she died, he said he washed her and wrapped her in linen "like the Bible told me to do."
Duane Johnson allegedly told an investigator he had 47 guns, many of which were stolen.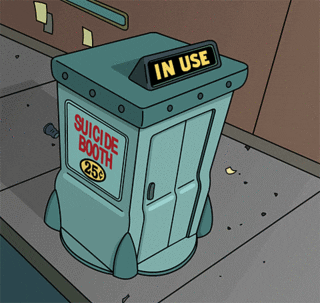 Yunno what?  I'm pretty good with everything here except the stolen guns and ammo, and I actually think (despite the fact he looks like Pennywise, sans makeup and teeth) Duane was trying to give his wife a peaceful, drug-filled finish line at her request.  No more blood work or pills.  No more tests and trips to the hospital and neverending worry about waking up tomorrow.
Duane and Mrs. Johnson decided to do a fatal amount of meth, have some sex and go out with a bang.  They took the bull by horns and wrestled that fucker to the ground and had steak tartar.  There isn't a terminally Ill drug addict who wouldn't give 21 meth pipe salute to the Johnson's and their decision to party right into the afterlife.
And don't judge.  I believe more than ever, people who suffer from the absurdity of life/mental illness/debilitating disease should be allowed to decide when and how they check out without judgment.   A skydiver might not pull the chute, a Dr. might OD and a meth addict might do meth, have some sex and finish off with a couple of seizures.  Makes sense, doesn't it?

RIP Debra.   I hope you tripped balls right through the gates of heaven.   Tell your husband in a dream not to buy under-ripe bananas.
…and 'parade has two 'A's Duane.  Not that it matters.