What does it mean when someone overspends for an asset and starts selling off furniture, kitchen equipment, statues, and staplers while refusing to pay rent, employee expenses, OR severance after firing over half their workforce?
I don't know for sure, but this doesn't sound good.
NY Post: Twitter has been skipping rent payments on its San Francisco headquarters and putting up office supplies for auction under new CEO Elon Musk as the social media company looks to strengthen its financial position, reports said.

Twitter hasn't paid rent on its San Francisco location or any of its global offices for weeks, three people close to the company told the New York Times.

Musk and his advisers are hoping to renegotiate the terms of lease agreements due to their smaller workforce after mass layoffs, the paper said.

The move was just one of the cost-cutting measures by Musk after he paid $44 billion for the social media company in October.

In early November, Musk admitted Twitter had seen a "massive drop" in revenue.

The company is also refusing to pony up a nearly $200,000 bill for private charter flights made the week that Musk took over, the Times reported, according to a copy of a lawsuit filed in New Hampshire. 

Musk's team is also considering what could happen if the company didn't follow through on paying severance to the thousands of people laid off from Twitter since Musk came aboard, sources told the Times.

About 7,500 staffers worked at the site before Musk started slashing about half its workforce.

Originally, Musk decided the company would dole out at least two months of pay and another month of severance pay to US-based workers in line with federal and state labor laws, but now Musk's team is discussing whether it should pay some of those months, the Times reported, citing two sources.

Many former employees are still waiting for paperwork that formalizes their departure from Twitter, five people told the Times.

Twitter is also reportedly putting industrial-grade kitchen equipment, office supplies and electronics from its San Francisco office up for sale.
LOL. it gets better:
Some of the items listed include a 41-inch-high Twitter bird statue, a sculpture planter, chairs, projectors, televisions, desks and espresso machines, according to the listing from Heritage Global Partners.

The San Diego-based company, which is handling the auction, placed the details of the sell-off over the weekend with bids that will start being accepted in January, the San Francisco Chronicle reported.
Nothing says, "We're sustainable, and things are great," like auctioning off all the chattels that came with a 44 billion dollar vanity purchase five weeks ago. While he's busy dodging rent, severance, and child support payments for Grimes…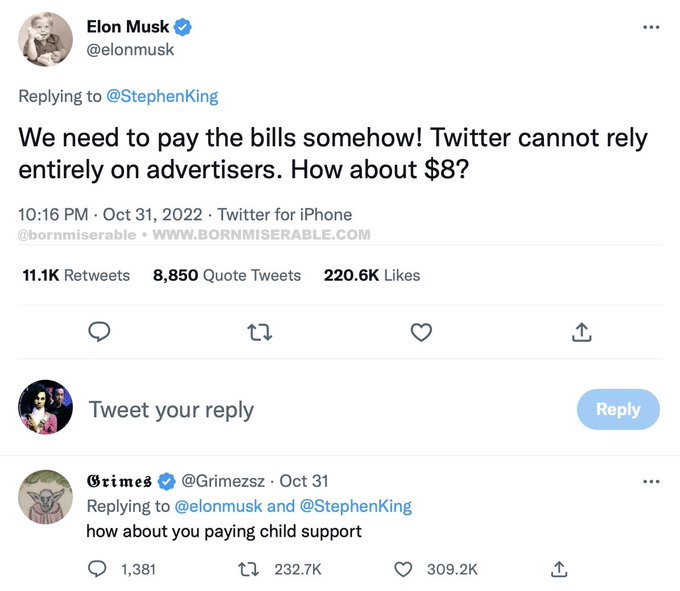 …he's nuking accounts and tweets critical of him and his legitimate failure(s).
Worst part is I just noticed the spelling mistake. It was meant to say field mouse, not filed mouse. So to clarify, Elon must be hung like a "field mouse."

— Lovey Dovey 💉💉💉💉🇺🇦 (@LoveyDovey829) December 14, 2022
Us too:
I guess that means I can RT this 😂 https://t.co/f7Z5z2psdG

— Mayada (@BahubeshiMayada) December 14, 2022
He also nuked the account that followed his private jet (@Elonjet) despite that information being publicly available and legally accessible.
It looks like @elonmusk has killed the account that was tracking the location of his jet (using publicly available information) @ElonJet pic.twitter.com/75FDm5eu2M

— Donie O'Sullivan (@donie) December 14, 2022
NY Post: The Florida college freshman who operated a Twitter account that monitored Elon Musk's private jet flights blasted the tech mogul as a "full-on hypocrite" after learning the account had been suspended.

Jack Sweeney was alerted to the suspension of the @Elonjet account by The Post when reached early Wednesday morning.

"This is insane," 19-year-old Sweeney told The Post. "My phone's going f–king nuts."

Musk, who pledged to allow the @Elonjet Twitter handle to continue operating after he acquired the social media site in late October, has apparently reversed himself.

Sweeney told The Post that Musk erred because now he is about to get negative publicity for his decision to go back on his pledge to allow unfettered speech on the platform.

"He really is asking for it because it's just going to get worse in the news," Sweeney predicted. "He's going to be called a full-on hypocrite."

When asked if he also thinks Musk is a "full-on hypocrite," Sweeney replied: "Yeah, it would seem so."
TESLA stock hit a 52-week low today, and investors are starting to talk lawsuits, so that can't be great, either.
Receipts:
•New Twitter Hate Speech Increase: https://t.co/tE0BDZgmSF
•Top 100 Advertiser Decrease: https://t.co/aVhhTX9LPz
•Tesla Stock Decrease: (literally just look at Tesla stock ticker this year)

Now watch as bigots respond that these receipts are invalid—because reasons

— Qasim Rashid, Esq. (@QasimRashid) December 8, 2022
Elon doesn't have a Twitter/Tesla/Space X problem. Twitter/Tesla/Space X has an Elon problem. His solution seems to be bundling it together like your cable/cell bills but encouraging people on Twitter to Play video games while driving around in his Fire Hazard/Tesla.
Even works with keyboard & mouse

— Elon Musk (@elonmusk) December 14, 2022
Tesla, doing what Teslas do. pic.twitter.com/oEbLOR4dDI

— jamie (@gnuman1979) December 12, 2022
Example of Tesla on fire no. 438:

Los Angeles, Thanksgiving 2022:

Tesla: Yeah, that happens sometimes.
So. Which color would you like now? pic.twitter.com/YUhI5w1foq

— Ton Aarts (@ton_aarts) December 9, 2022
It seems that @ElonMusk is no longer satisified with selling expensive Roman Candles on wheels with Tesla. He is almost daily setting his 44 billion $ investment in Twitter on fire as well. One just prays that none of his Space X rockets suffer a similar fate. pic.twitter.com/UTiKQzCUlS

— Ron walker (@Runnerron13) December 14, 2022
I had never considered buying an SUV until apartheid Elon blew up Twitter. Now I'm in the market for anything but a @Tesla.
Also, I'm not into cars that spontaneously combust. https://t.co/N4JpRRXJDB

— M and M 🐀 ☮️ (@MichelleMousta1) December 12, 2022
Seeing @elonmusk run Twitter is like seeing a Tesla catch fire in slow motion. #ElonIsDestroyingTwitter pic.twitter.com/AJgwvbasMZ

— Floris Pijnenburg (@FMPijnenburg) December 13, 2022
What a time to be alive.
DB