New England Patriots fans have all known that the day would come when Tom Brady would no longer be the starting quarterback of what has been the most dominant team in all of professional sports since 2002.  We begrudgingly awaited TB12's retirement, grateful for the 2 decades of immense success, but we did not think that his departure from Foxboro would occur in free agency.  Tom Brady, the greatest quarterback in the history of the game, was to retire a Patriot.  Instead, Brady will begin next season at 43 years of age, taking snaps from the line of scrimmage for the Tampa Bay Buccaneers.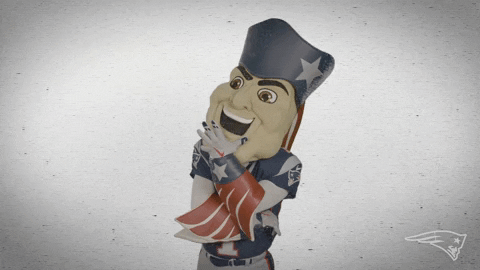 Much has been written about the deterioration of Brady's and coach Bill Belichick's relationship, such as the fiasco involving Jimmy Garoppolo, as well as Brady's personal health guru Alex Guerrero.  Likewise, the analysts and ex-players on the NFL Network have spoken ad-nauseam about Brady's dissatisfaction with the way he's been treated by Pats football operations.  I'm not going to get into that here.  I merely want to pay tribute to player responsible for the success of the franchise.
Along the way there have been excellent players who have contributed to the success of the Patriots organization.  Athletes such as Willie McGinest, Rodney Harrison, Ty Law, Vince Wilfork, Tedy Bruschi, Mike Vrabel, Troy Brown, Deion Branch, Richard Seymour, Logan Mankins, Wes Welker, Randy Moss, Rob Gronkowski, Danny Amendola, Julian Edelman, Stephon Gilmour, Kyle Van Noy, Adam Vinatieri, and Stephen Gostowski have all had remarkable impacts on the success of the franchise.  I'm certain that I'm missing some names there but that's just off the top of my head.  The Pats have built the reputation of having a revolving door when it comes to their player personnel.  However, the one constant in the locker room throughout all of the years of consistent victory has been number 12.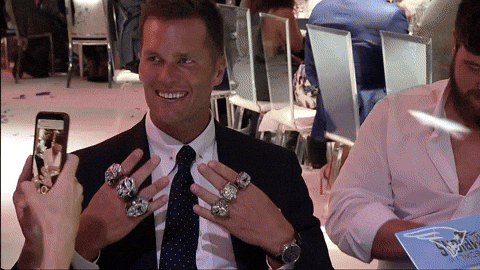 Here is a list of major records that Tom Brady holds:
Most regular season wins (219)
Most playoff wins (30)
Most passing touchdowns, postseason included: (614)
Most touchdowns thrown to different receivers (77)
Game-winning drives, postseason included (58)
Division titles (17)
Playoff games started (41)
Playoff touchdown passes (73)
Playoff passing yards (11,388)
Super Bowl appearances (9)
Super Bowl wins (6)
Super Bowl MVPs (4)
Super Bowl touchdown passes (18)
Super Bowl passing yards (2,838)
Brady is still chasing several other major records which are within his reach this upcoming season, and some if he plays 2 full seasons.
Pats fans will remember TB12 for both his composure under high pressure situations as well as his unmatched intensity on the field.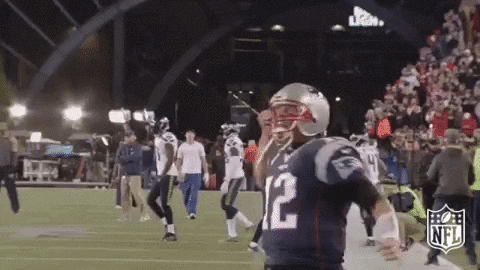 Along with 6 Super Bowl wins (should have been 7), he's led the team to the big game 9 times, was SB MVP 4 times (should have been 5), and gave us both the greatest performance by a QB in a Super Bowl (2018), and along with many heart-stopping 4th quarter comebacks, the greatest comeback in Super Bowl history (2017).
I'd bet my last buck that Brady consulted with long-time rival and inevitable first-ballot Hall of Fame player (eligible in 2021) Peyton Manning about finishing his career in another locker room.  Manning was able to do it right by joining a Denver Broncos team that was championship-ready.
The Buc's aren't quite what those Broncos were, but as far as targets for Brady to throw to it is a much needed upgrade from what the Patriots offered last season.
Thanks for the last 20 seasons Tom.  It was a fairy-tale story.  The improbable underdog selected at 199th overall in the draft.  The man who was not the most "athletically gifted," but who's determination to be the best coupled with his unmatched competitive spirit led to his steady rise, and inevitable crowning as "the greatest of all time."
I speak for every Pats fan here when I say wouldn't it be the greatest internal conflict for us all if we were to be lucky enough to see the Patriots vs the Buccaneers in next year's Super Bowl?
As a Pats fan you have to route for your team.  But after everything Brady has done for the organization (team-friendly salaries included), isn't there a part of you that wants him to succeed?
Who would you route for?