Jenny from the block has a new hobby.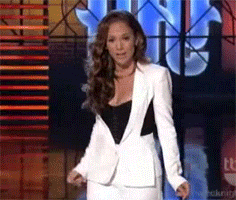 Source:  The crime movie Hustlers, which arrived in theaters Friday, has already gotten a considerable amount of hype. Part of that has to do with its celebrity-studded cast of women, including Constance Wu, Jennifer Lopez, Cardi B and Lizzo. There's also the film's source material, a 2015 New York magazine article by Jessica Pressler about a group of strippers who embezzled Wall Street bankers, and its writer-director Lorene Scafaria, a woman filmmaker helming a movie with Oscar buzz.
But when Hustlers premiered at the Toronto Film Festival last week, Lopez's grand performance as veteran stripper Ramona focused on a scene where she's introduced to the audience through a sultry, intense pole dance to Fiona Apple's "Criminal."
Lopez and Hustlers choreographer Johanna Sapakie edited the song down to the two-minute version heard in the film and worked together on the accompanying pole dance. But Lopez actually began pole-dance training two-and-a-half months prior to shooting, training rigorously with Sapakie two to three times per week, with no dance double.
Even with Lopez being a world-class dancer throughout her career, training for the pole in such a short amount of time was challenging. According to Scafaria, Lopez called up her co-star, the rapper and former stripper Cardi B, ahead of her scheduled training to ask for advice. When Lopez asked if Cardi was good at pole dancing, she responded, "I'm great at it now!"
"From the moment we started talking about it, [Lopez] knew that it would require a bit of a transformation," said Scafaria.
Speaking of transitioning, here's JLO showing off her moves:
How Jennifer Lopez trained to pole dance in #HustlersMovie pic.twitter.com/7Q8sOW0NXh

— Insider (@thisisinsider) September 13, 2019