That's awesome.  He must have had a BLAST.
Evander Kane bankruptcy filing also includes:
• $1.5M gambling loss last yr
• 7 family dependents
• 6 active suits, Centennial Bank seeking $8.3M
• Monthly income of -$91,131.1
• $1.2M credit to Sure Sports
• $1.88M counterclaim against woman in 2016 battery suit #SJSharks https://t.co/pdBDl2kjKJ

— NHL News (@PuckReportNHL) January 12, 2021

How is it possible to spend 30 million in two years? How?? Evander Kane managed to blow exactly that much money since signed an extension for $49 million in 2019. Explains why he's chasing YOU TUBERS for fights.
🗣 @LoganPaul pic.twitter.com/IUU6cwvYit

— Evander Kane (@evanderkane_9) December 2, 2020

Kane has been in the league for 11 years making $53 million and his deal with the Sharks was supposed to be "the deal' that set him up for life and it almost never happened because he was such an an enormous asshole in Winnipeg and Buffalo before settling in with San Jose.
Waiting for that answer @jakepaul https://t.co/EVe52HamTO

— Evander Kane (@evanderkane_9) November 30, 2020
$1.5 million in Gambling debt means he has a gambling problem.  7 dependants means he can't say no to his friends and family.  3 homes means his ego is bigger than his bank account AND now begging Jake or Logan Paul for a fight makes sense.  He needs the money.
Depending on how much is mortgage payments were, car payments etc, Kane probably figured he could get away with financing his life instead of paying for it and those payments add up.  Throw in 100k per month gambling, some hangers on (50 k per month), and the tax bill on top all these sweet cars and private jets, Kaner's broke.
You can roll like Jay Z when you get paid like Jay Z and 7 million/year won't cut it.
The sharks gave Kane $12 million UP FRONT when he signed making is $30 million in debt that much more impressive…he blew through $12 million ON TOP of the $30 million he owes.
Effectively, Kane has spend $42 million 2 years into his 7 year deal that paid him $49 million – total.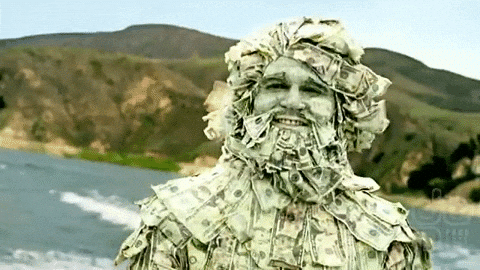 Filing for bankruptcy (in his case) is a greasy way to protect him from people he owes. It's legal, but greasy, especially when you've been a complete asshole with your money.
Still, Kane's spending is historic.  Like Mike Tyson/Antoine Walker historic and deserves to be mentioned when we're laughing about professional athletes who blew the kind of money we'd kill each other to have.
Well done Evander.  Leave some for your kid next time.