This Friday Five is a tribute to the home run. I don't know about you, but I love home runs. Dingers, bombs, taters, moonshots, whatever you like to call 'em. Small ball and stringing together base hits is the offense that baseball purists dream about, but there's nothing sexier in baseball than a walloping moonshot that clears the bases and the outfield fence. Some people like to smash beer cans on their head after a couple of beverages, or jump through tables, but you could just sit me down in front of a TV and put on a Youtube home run compilation and I couldn't be happier. Tom Glavine was speaking nothing but facts when he said that chicks dig the long ball.
The Blue Jays have had a bunch of power hitters since 1977, which made this a tough Friday Five to put together. There have been some great home run mashers over the years, but in order to make this list players needed to have had a power stroke for more than just one season. Shawn Green's 1999 campaign in which he hit 42 bombs is one of the best single-season totals in franchise history, but it wasn't sustained to the same degree as these guys. Adam Lind is in the same boat. This countdown features only the best power hitters in Blue Jays history, the pound-for-pound greatest at hitting the shit out of a baseball. Surely there won't be any controversy over who made this list and where.
#5: Fred McGriff
Fred McGriff's career was as close to Hall of Fame-worthy as it gets. The first baseman retired with 493 big league homers, and who knows, seven more might have made all the difference. McGriff bounced around throughout his 19 years in the Majors, spending five of them with the Jays before being dealt to San Diego in exchange for Joe Carter and Robbie Alomar prior to the 1991 season. I'd say trade that worked out pretty well for Toronto.
McGriff was one of the premier power hitters of the 90's, at a time when most of the guys that compared to him were later found to be juicing. I have Fred on this list because he had three consecutive seasons of 34+ homers when he was with the Jays. You might think a guy like Vernon Wells is more deserving because he had more home runs across a longer Blue Jays tenure, but McGriff was twice the power hitter Wells was. He also has the highest on-base plus slugging percentage (OPS) amongst all Jays. On top of that, I had to include Fred McGriff to remind you that his nickname was Crime Dog, one of the best nicknames in the history of nicknames.
#4: Vladimir Guerrero Jr.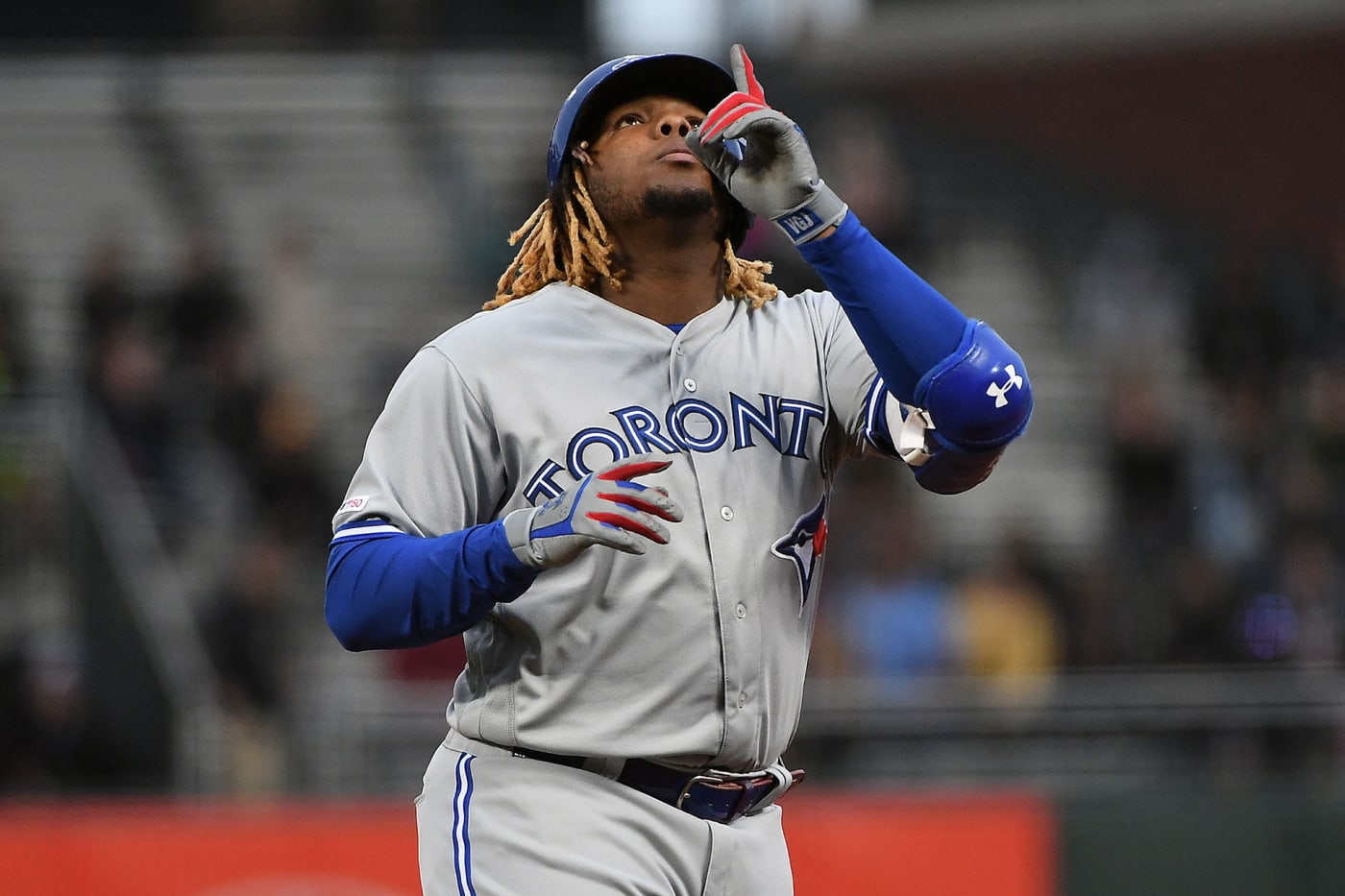 I'm sure some of you think it's too soon to credit Vladdy Jr. with being one of the Jays' best power hitters of all-time, but have you watched him at all this season? He's got 39 home runs this season, and there's still a month left on the schedule. Vladdy is on the shortlist of best home run mashers currently in the Majors, and even if this is only his first full big-league season there's no reason to believe he won't continue to Plakata at an incredible clip for the next decade-plus. His exit velocity is off the charts.
THERE'S THAT VLAD STRENGTH 💥 #PLAKATA pic.twitter.com/e8X1Pkzmxc

— Toronto Blue Jays (@BlueJays) August 31, 2021
You simply can't deny that this kid isn't one of the best power hitters you've ever seen in a Blue Jays uniform. And he's only 22 years old. We're lucky to have the pleasure of witnessing this kid's greatness. He might hold the top spot of this Friday Five when it's all said and done.
#3: Edwin Encarnacion
I miss Edwin's parrot. Seeing him circle the bases with his arm sticking out like a large bird was perched on it was so awesome. The home run parrot made 239 appearances while Edwin was in a Blue Jays uniform, including five seasons of 34 or more bombs. When I think of what it means to be a slugger, I think of Edwin Encarnacion.
Culminating with EE's walk-off blast, the 2016 Wild Card game was one of the best, most sweat-inducing games in franchise history. Edwin's game-ending, extra-inning blast cemented his Blue Jays legacy, but he was already one of the best power hitters this club has ever seen well before that moment.
#2: Jose Bautista
Just like how Joey Bats found himself the runner-up for Friday Five of best facial hair, I have him as the second-best power hitter in franchise history. This is gonna be contentious, I know. The guy holds the Blue Jays single-season home run record, hitting an insane 54 blasts in 2011. It might just be the greatest individual campaign in franchise history.
Bautista is my favourite Blue Jays player ever, and he's one of the best sluggers of his generation. His six postseason homers tops the rest of the guys on this list, and while he deserves credit for hitting some big-time bombs including the one off that bum Sam Dyson in 2015, clutch doesn't factor into a hitter's raw power. Giancarlo Stanton might be the strongest human to ever swing a bat, regardless of how many times he's struck out in big moments while wearing the pinstripes. If we're simply talking greatest hitters in club history, Joey Bats might be #1. But when it comes to power and mashing baseballs, no Blue Jay has done it better than…
#1: Carlos Delgado
When you look at the all-time numbers you see that Carlos Delgado is well-deserved of the title as best power hitter in Blue Jays history. He never had a 54 bombs in a season like Joey, but no Blue Jay has had the sustained, pound-for-pound power that Carlos Delgado had. He has the most home runs in Blue Jays history with 336, and clobbered 473 of them across a 17-year career. In case you forgot, Delgado hit FOUR bombs in one night in 2003, only the 17th player in Major League HISTORY to do such a thing. I wish I was at that ballgame.
Delgado takes the edge over Bautista because he had an insane amount of home runs across an insane amount of seasons. He had 25+ bombs in all of his nine full seasons with the Jays, hit 30+ and slugged above .500 in eight of those seasons, and had five in which he hit over 35 taters. Bautista, on the other hand, had only four seasons with more than 30 homers, but by no means am I discrediting how great of a hitter Joey Bats was. Delgado was just a more powerful hitter. And also one of the worst Hall of Fame snubs in sports history. It's absolutely ludicrous that he didn't receive even 5% of the vote on his first ballot.