Russians.  It's always the Russians.
You didn't think this fucking stupid app was created for free so people could have fun, did you?
Alguien está listo para su nueva etapa como entrenador 👀

LeBron James se sumó al #FaceApp 👴#NBAxESPN 🏀 pic.twitter.com/lf8yu8dBYt

— Sportscenter en español (@SportsCenter_nt) July 17, 2019
😂😂this #FaceApp is crazy man pic.twitter.com/IoKLSNFyIs

— ONOME (@MeetOnome) July 17, 2019
NYPOST:The eerie FaceApp photo filter, which uses AI to digitally age your face, has gone viral, with millions on social media sharing their sagging simulacrum, including celebs such as Drake, the Jonas Brothers, and Kevin Hart.

However, experts warn that the free "old age filter," created in 2017 by developers at Wireless Lab in St. Petersburg, poses security concerns that may give them access to your personal information and identity.
Us waiting for the photos of the new puppy litter to come through #FaceApp pic.twitter.com/PpVKDLoDOf

— Queensland Police (@QldPolice) July 17, 2019
UK-based Digitas strategist James Whatley said on Twitter, "You grant FaceApp a perpetual, irrevocable… royalty-free… license to use, adapt, publish, distribute your user content… in all media formats… when you post or otherwise share."

That means they can also use your real name, your username or "any likeness provided" in any format without notifying, much less paying, you. They can retain that material as long as they want, even after you delete the app, and you won't be able to stop them. Even those who set their Apple iOS photo permissions to "never," as Tech Crunch points out, are not protected against the terms.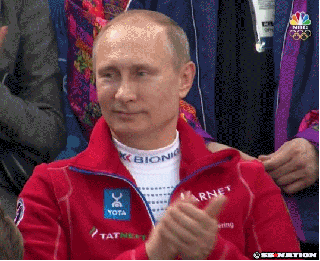 Kritzer and I podcasted about how brilliant the Russian Spy Machine is today.
#109 DeanBlundell.com Podcast With Daren Millard Ft Graham Kritzer and Matthew Barnaby
Do you have any idea how impressive a feat it is to get the entire fucking PLANET to fall for this gloriously fun face-swapping/spy scam?  If Putin were an artist he's Da Vinci.  If he played hockey, he's Gretzky.  Putin is the Michael Jordan of foreign espionage and I happen to appreciate it more than most based on this strategy being legal.
So go ahead, a spy for the Russians by sending your mom a picture of yourself 30 years into the future.  Meanwhile, I'll be here pointing this shit out if you'd like to avoid the end of the world as we know it.