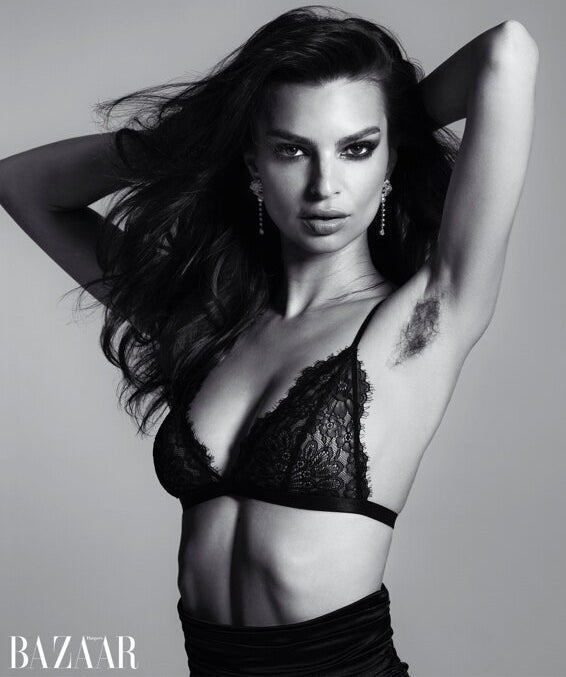 I'm really trying to be open-minded to this female armpit hair movement but even as I'm typing this I had to scroll down a bit so I didn't have to see Emily's bush.
Full Disclosure: I hate hair.  It grosses me the fuck out.
The hair on a brush?  I feel sick.
Hair in the drain of the shower or a wad in my sink?  I get sick.
Fuller disclosure:  I'm basically hairless.  Blame my Norse/Mega-British heritage but I'm fair, therefore I have ZERO hair where others do.  Everyone asks me if I shave my legs and I don't and for some sick reason, it's a point of physical pride with me.
Maybe that's why this grosses me out cuz I really dig why she did it.
HuffPo: "Women can and should be able to wear or represent themselves however they want, whether it's in a burka or a string bikini," Ratajkowski wrote.

She added that feminism ― in its simplest form ― is about choice.  

"Young women are ripped apart from every angle as they grow up," Ratajkowski wrote. "In the era of selfies and social media, they are prone to immediate feedback and criticism. More than ever, they are doubting and questioning everything about their identities. The one thing they can have is their own choice."
Right?  There's nothing to disagree with other than the aesthetics and that's 100% subjective so the problem with women's armpit hair is entirely mine.  Therefore I have no problem saying I'm also 100% out if armpit hair makes an appearance on the first date.  No question.   If I don't find it sexy.  I don't care what anyone thinks and I've done the mental math so hippies don't start hammering me with comments about being an asshole.