The Monday MMA Update is a weekly (duh) post covering all things mixed martial arts occurring the weekend prior.  It is accompanied by The Friday MMA Update that covers any MMA news from throughout the week, as well as previewing the next weekend's events.  If you are a fan of human-on-human combat in any and all forms, you are in the right place.

As much as I would love to tell you I was too high to remember to do the Friday MMA Update, I simply didn't have internet access to put anything of substance together, so please forgive me.  To make up for it, here's that Ronda Rousey GIF everyone creams their pants over: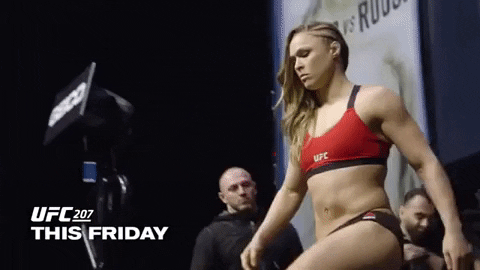 Ummmm….what were we talking about again?
Oh, right!  MMA Update…cool.
Former tuf star wakes up from coma after emergency surgery
In a scary turn of events, former Ultimate Fighter competitor Angela Magana (11-10) fell into a coma after an emergency spinal surgery.  MMAJunkie.com has video of Angela both prior to and after waking up from the coma and they are hard to watch, as she voices concerns about the anesthesia that is going to be used.  Here is the video after she awoke from the coma:
MMAJunkie.com has the full story here.
THe reem barely breaks a sweat in russia
UFC Fight Night went down in Saint Petersburg, Russia and was a fun card to watch for those who were looking for some MMA action this past Saturday.  Headlining the event was everyone's favourite flying Dutchman Alistar Overeem (45-17-1) taking on the hometown hero Aleksei Oleinik (57-12-1) in a 5-round affair.  As for how the fight went, it was kind of like your Dad lets you hit him just enough to make you think you have a chance of beating him up, right before he knees your face into an oblivion.  That's kind of how Overeem treated his fellow veteran here.  Sorry for the lack of an English translate:
Walt Harris gets popped by usada…kinda
Following Walt Harris' (11-7-1) split-decision victory over Andrei Arlovski (27-12-2) back in December 2018, Harris tested positive for anabolic agent LGD-4033.  His win was changed to a no-contest and after conducting a full investigation, USADA has determined that it was the fault of a tainted supplement.
While Harris could have been suspended as long as two years, he cooperated with USADA on "with information about a dietary supplement product he was using before and at the time of the relevant sample collection," per USADA.

This info helped demonstrate that Harris unknowingly ingested a prohibited substance through a tainted supplement, and USADA thus reduced his penalty.
See ya Friday…if I'm not too busy with Ronda Rousey GIFs, that is.