Now I see why Pamela Anderson loves him.  He's the only human being in the world dirtier than Tommy Lee.
Assange's Ghost Writer Andrew O'Hagen dished on how much or a fucking pig the low life hacker was in person aaand it gross.  No wonder Ecuador shoved him out the front door.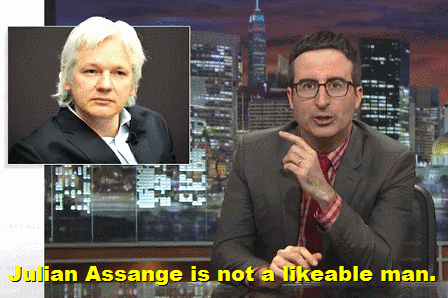 "I noticed he tended to eat pretty much with his hands," novelist and one-time Assange ghostwriter Andrew O'Hagan wrote for the London Review of Books. "People in magazine articles say he doesn't eat, but he had three helpings of lasagne that night and he ate both the baked potato and the jam pudding with his hands."
"In all that time, he didn't once take his dirty plate to the sink," he added.
In his book Inside WikiLeaks: My Time with Julian Assange at the World's Most Dangerous Website, Daniel Domscheit-Berg described Assange as a liar who constantly tormented his cat, and who had zero manners when it came to food. "Julian often behaved as though he had been raised by wolves rather than by other human beings," he wrote. "Whenever I cooked, the food would not, for instance, end up being shared equally between us. What mattered was who was quicker off the mark. If there were four slices of SPAM, he would eat three and leave one for me if I was too slow." Domscheit-Berg also described Assange's penchant for eating raw meat and sucking "one lemon after another."
Earlier this year, WikiLeaks sent an email to a number of reporters, instructing them that it was "false and defamatory" to write more than 100 statements about Assange, including that he "drinks to excess" or that "Julian Assange does not use cutlery or does not wash his hands."
During his interactions with Assange, O'Hagan noted that "history was full of messy characters exercising their rudeness and eating with their hands while changing the world." 
As if that weren't hackerish enough, one of Assange's host families who harbored Computer Santa said he flat out refuses to flush the toilet after he takes a shit. Hot stuff.
I'm a massive proponent of free speech and freedom of information but Assange is nothing more than a bearded weirdo who leaves upper deckers, eats lasagna with his hands tortures his cat.  I hate cats too, but cat torture seems like it's the sign of a character flaw.  Assuming all the other weirdness like shitting on the walls and licking spam off peoples plates, is normal.
If you set aside all that stuff, several rape charges, all the lives this greezy fucker put in danger and colluding with Russian intelligence, you might be able to find a free speech martyr in that white bag of hair.
I'm looking forward to watching what Julian Assange eats with his hands when he gets to North America.