Your guess is as good as mine, kid.
Bright Side?
Maybe it was a pin or tag or sticker she failed to remove after buying those pants.
Dark Side:
She felt something move and with surgical precision, she "rooted"…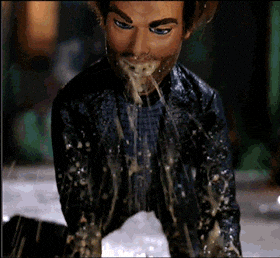 it out and wants to see what it was.  That's a high test zone, too.  That area is the fulcrum for all the things we do/emit and rarely gets the air or sanitary care it deserves on humans willing to do that in public.
She reminds me of the German Soccer Sniffer, Joachim Low.  Dude was a Beauty.
Maybe I should call this post 'Wait till you get home" because I always come back to the one immutable truth about people that do gross shit.
It's fine, just 'wait till you get home.'
You're welcome.