*Full disclosure.  We fucked up the feature picture of Jason Stamp.  We totally call people out when they fuck up if they're not accountable for mistakes that matter.  Even though we're a blog, the right picture of the guy you're calling out seems pretty important so we apologize to the dude we were told it was.  Our bad.  Several of our users (who'll obviously remain anonymous) have confirmed  this is future former Officer Jason Stamp.  
Shitty picture, but I'm about 98% 99.999% certain this is the Dick Wheel from the Barrie Police Service who beat the ever-loving shit out of that 20-year-old skateboarder, yesterday.
Hey, @BarriePolice. You might want to take this fucking goof's badge away. While you're 'looking into this', I'm going to make him famous. pic.twitter.com/djs19exXBy

— Dean Blundell (@ItsDeanBlundell) February 5, 2021
Video: Hey, @BarriePolice, We're Going To Make This Abusive Cop, Famous
I've reached out to Barrie Police and they have directed me to the Chief of Police who hasn't responded yet but Sarah was incredibly nice and said it's been a 'busy day'
No shit
Turns out Officer Jason Stamp knows a thing or two about bullying.  He's the Bullying Coordinating Officer for about 8 Schools in Barrie which doesn't sound ideal.
(If he doesn't get put on leave they should probably not let him get too close to kids on skateboards, cuz he, seems, TRIGGERED.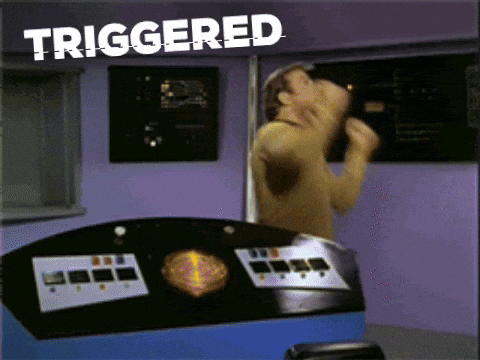 Listen. WAY more cops DON'T smash unarmed kids' heads off the pavement than ones that do. We just never see those videos. Making vague generalizations is the stuff of morons, so call out this asshole based on the merits of what this asshole did. Don't paint every cop with the old asshole brush. It's cheap and makes you look stupid.
If this was indeed Officer Jason Stamp, he's an embarrassment to the uniform and the profession.
According to eyewitnesses, after Officer Jason Stamp of Barrie Police ticketed the 125 lb skateboarder, Officer Jason Stamp CHOSE to follow, then beat the ever-loving shit out of this young man.
His infraction? Bad attitude after being ticketed for skating through a red light. That's it, that's all.
There are no excuses on the planet to explain the force Officer Jason Stamp used to change the course of this young man's life. ZERO.
The fear in that kid's voice is almost as haunting as the sound his head made when Officer Jason Stamp slammed the kid's head off the fucking pavement.
In fact, Officer Jason Stamp is such a good cop/guy, he had his 6 figure salary reduced by 10% for something in 2019 according to an excellent journalist friend of mine Rob Gill (@vote4robgill).  Hard to imagine, huh.

I don't care if they fire this guy, I care that Barrie Police send a message to other bad actors like Officer Jason Stamp. You can't take out your inner frustrations on people you are paid to protect and serve.
That's what TRUE pussies do. Cowards hurt those who can't defend themselves and Officer Jason Stamp is a grade A, fucking coward who can't be trusted to operate with human decency which is the singular purpose of day-to-day police work – dealing with humans.
News outlets already covered this hours before you tweeted this. Maybe you should have looked first yourself.

Cop didn't like the kids attitude after ticketing him which resulted in the video seen.

The officer clearly could not control themselves from a little talking back..

— EOR (@helloimeor) February 5, 2021

Kimberly Greenwood is the Chief of Police at Barrie and my understanding is she's an incredibly decent person with a terrific track record of doing the right thing, so let's hope that continues.
You can email her at [email protected] to share your thoughts.  She'd love to hear from you.
DB
PS: If you're one of the OTHER attending officers, take heart.  I'll make sure you get famous, next.