Does anyone like Mike Milbury personally or professionally??
Jake Muzzin torqued his neck after being cross-checked in the back by Pierre-Luc Dubois falling into a Columbus player's leg.
Muzzin was stretched off after being injured on this play. pic.twitter.com/J3swVxgweB

— Sportsnet (@Sportsnet) August 4, 2020

That's what's called a 'neck stinger' but it's his neck so the Leafs took every precaution stretching Muzzin off to prevent any further damage. To be honest, I was shocked the NHL seemed to be taking a neck/head injury seriously.
While Leaf nation was holding its breath, noted Leaf hater and all-around asshole Mike Milbury used the long, concerning in-game break to suggest Jake Muzzin wasn't really hurt, he was just looking for a whistle to give the Leafs a breather.
Mike Milbury says Jake was just looking for a whistle.
Class act that Mike Milbury. Real Gentleman of the game… pic.twitter.com/n46j04L2e5

— Dean Blundell (@ItsDeanBlundell) August 4, 2020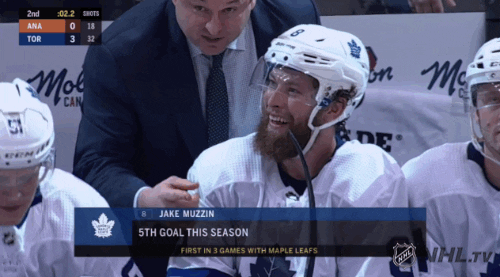 Jake Muzzin has played with broken teeth, feet, toes, fingers, and orbital bones only to find out after the season was over so I don't think mike's calling Muzzin a pussy.  I think Mike thinks it's a clever rouse to slow the game down which speaks to how much he still hates the Toronto Maple Leafs AND how he has the sensitivity of a serial killer.
To make matters worse for Leaf Psychos who watched that play with blue and white rose-colored goggles, Bubois won't face supplementary discipline for the cross-check because it was a hickey play and you can't hold an in-person hearing for 'Muzzin's Momentum'.
Pierre-Luc Dubois won't face any supplementary discipline for his cross-check on Jake Muzzin yesterday.

Viewed as a freak play that had a terrible outcome.

— Chris Johnston (@reporterchris) August 5, 2020
He's a relic whose bias shows with every Leaf broadcast who couldn't analyze a fucking crayon.  He's also hated by hockey's left and right so I don't know why he's even doing games.  I guess useless and unlikeable plays in the States.
Muzzin is OUT for the rest of the series according to the Maple Leafs and Mike Milbury should be shot into the Sun from a cannon.
Maple Leafs' Jake Muzzin discharged from hospital, out for rest of series vs. Blue Jackets. https://t.co/Pfo85yjnLZ pic.twitter.com/nRHL4kg8HN

— theScore (@theScore) August 5, 2020
FYI: Apparently the answer to my first question is, 'No one'.