Newsflash: Donald Trump is dumber than dumb but the round table verbal blowjobs from his dinner guests are laugh out loud funny.
Honest to God, everyone in that room suckhole's this guy so hard, it's must listen.
It's 1 hour 23mins long and worth every goddamned second of your time but dinner starts at 4:15.
Here's the quick summary.
-Igor Fruman records for a few minutes as everyone finds their seat.
-Fruman and Parnas are sitting directly across from Trump and Trump Jr.
-Trump yammers about Trade, Baseball, his election win, his polls
-Russia/Ukraine gas, killing/firing an ambassador and private deals
-Trump gets lit up when Parnas tells the table former Ambassador to Ukraine, Marie Yovanovitch has been badmouthing Trump and she has to go.
-Trump gets pissed and goes on his 'take her out' rant.
-Blah Blah, more oil, and gas, some dumb shit about Turkey and Trump unfiltered non-sequitur senile ramblings (which is pretty funny.  If he wasn't such a dirtbag, Trump would be a fun guy to hang out with).
Good News…there's way more coming according to Parnas's Lawyer, Joeseph Bondy who's not fucking around.
Lev Parnas's attorney, Joseph Bondy, tells @andersoncooper that his client is in possession of more recordings of President Trump, some of which they've sent to the House Intelligence Committee, and which they may release to the public. https://t.co/cKFCK1u2yk pic.twitter.com/PCc9jYaJNB

— Anderson Cooper 360° (@AC360) January 26, 2020
When you're sewering the President of the United States, you don't lead with your best stuff especially after the President called Parnas a 'Loser' and 'Groupie' last week.   Parnas will leak clip by clip, video by video, each one more incriminating than the next until Republican Senators have to impeach Dickfarm Don and his yeast infection of a family goes straight to jail.
I'm hoping for one of those old school, 15th-century French public executions so the American people get their pound of flesh and guys like me can jump up and down on the couch with my Trump mask on watching our DeanBlundell.com analytics page go to the moon.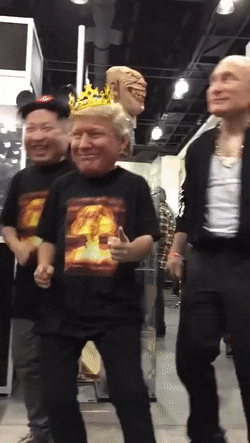 In the words of my friend and fellow blogger/podcast host Shawn Matthias, "Let's Go!"
D