If you're a hockey fan then I have good – no – GREAT news for you.
Former Hartford Whalers coach and the world's current largest producer of hot, useless wind, Pierre McGuire has been demoted from NBC's no.1 NHL team, having been replaced by former Philadelphia Flyers' goalie Brian Boucher.
According to NBC Sports, Pierre will now find himself between the benches of the 'late game of a doubleheader.'
Ouch.
Big Ouchie bro.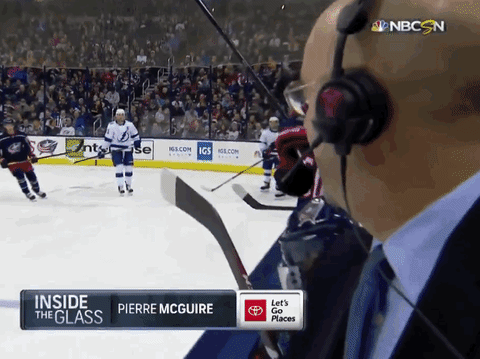 Our dear friend Pierre is quite the polarizing individual. Some people like him, billions of people do not like him.
If you're like me, you either turn the channel when he's on, throw something at the screen when he's on, or throw your television down the stairs when he's on.
Pierre started his career in Pittsburgh, winning a cup as an assistant coach in 1992 before moving on to coach the Hartford Whalers where he led the team to a triumphant 23-37-7 record.
McGuire was canned by the Whale before the season ended after being found to have provided the Edmonton Oilers with confidential coaching evaluations, prepared while he was still coach of the Whale. Upon his dismissal, Pat Verbeek (the Whale GOAT) said and I quote "it's the best thing that could have happened to the Whalers." Before going onto say that his teammates had no respect for him, and that Pierre was mocked throughout the league.
Yeesh. Not a very ringing endorsement, Pierre!


McGuire has always been a tough sell, on both sides of the border. His broadcasting style and technique is one that could only be described as awkward and cringe-worthy and confusing. He routinely blurts out the weirdest factoids that nobody in their right mind would ever give two solid shits about. "Oh really Pierre?? John Carlson played PeeWee hockey for the Ohsweken Junior Buzzer beaters?" Didn't need to know this during the middle of an Evander Kane/Ryan Reaves tilt. He is also very forward about his intentions with Sidney Crosby.
McGuire's schtick is all kinds of exhausting. Just google 'Pierre McGuire sucks' and you'll be entertained for days. But far be it for me to solve the McGuire issue as the McGuire broadcasting debate is a debate as old as the Parthenon, pre-dating dinosaurs and other old shit. Just look at this forum thread from 5 years ago. If you didn't bother to click on the link, it's literally a forum dedicated to finding out how and why Pierre McGuire is employed.
When Pierre is not busy annoying the ever-loving Christ out of you , me, and our pre-deceased ancestors, he's busy pestering actual NHL players.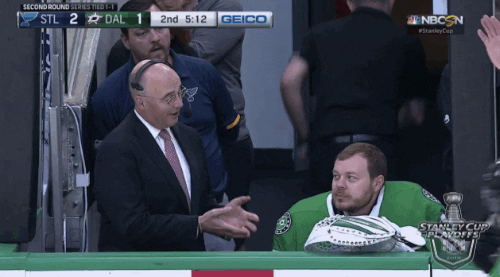 Former NHL'er Mike Commodore had a very, um, direct interpretation and assessment of Pierre's broadcasting stating: "That's it. I want to watch, but I can't take it any longer. Pierre McGuire ruins it for me. Too much useless info and ball sucking."
Too much ball-sucking.
And if pissing off former and current NHL players wasn't enough, Pierre made sure to isolate the female Olympian portion of the audience by mansplaining the shit out of hockey on national television to USA team member Kendall Coyne.
"Tampa's going to be on your left, Pittsburgh's going to be on your right … we're paying you to be an analyst, not be a fan tonight."

Pierre McGuire with a cringe-worthy exchange with Kendall Coyne Schofield (H/T @NHLBlinn). pic.twitter.com/sdaWBGd4DJ

— Cristiano Simonetta (@CMS_74_) January 31, 2019
After being utterly murdered and cremated on Twitter, Pierre responded to his massive brain-diarrhea by saying "My excitement got the best of me." Jesus Christ. This isn't sex Pierre.
Look, you hate to see someone lose their job or get demoted. It's not a good feeling, and I'm sure Pierre is down in the dumps. But this is a big win for those who need less Pierre McGuire on their television screens, and for those who couldn't care any less in what Podunk Northern hell-hole Jake Allen played Minor Atom hockey.
It appears that NBC may have finally realized what most of us have already come to know: Pierre McGuire es no Bueno.