Let me start this off by saying that the jerseys in the cover photo are NOT on my top five all-time Toronto Blue Jays list. I simply made those '04-11 jerseys the first ones you'd see because I knew it'd piss off some fans. If you were one of those people, GOTCHA!
Those jerseys are not included in this week's Friday Five because frankly they are terrible. My friend tried to get me to put those at #1 and I nearly blocked his number. Some fans who are my age might have fond memories of these jerseys because they're the ones the Jays wore when we were growing up, but nostalgia can be quite deceiving. These jerseys ain't it.
This week's Friday Five does have some great jerseys, however, because the Blue Jays have rocked some fantastic threads over the years. I might be biased but I truly think they're one of the best-dressed franchises in MLB history. I'm sure you already know that but this list really put into perspective how sick some of their uniforms are both past and present. Screw those pinstriped New Yorkers.
If you have any problems with this list, you can redirect your complaints to [email protected] Obviously a list like this is super subjective, but I think I nailed it. It wasn't an easy one to make, but I'm hoping that you won't be too perturbed with this top five, and if that's the case then re-read the first sentence of this paragraph.
5. "New Blue" Powder Alternates (2020-present)
Now recency bias might play a factor in adding these brand spankin' new blues to the top five, but come on. These are pure heat. Powder threads are a huge part of the Blue Jays' history and while these ones might not be as nice as the OG's (more on those later), they are undeniably nice.
On top of that, they hit different under the Rogers Centre lights. The boys wore these in the first two Jays games I went to since they returned home, and they are just so clean. George looks great in them. Vladdy looks great in them. And I bet they'd look even better in October.
4. Road Greys (1989-96)
I might be one of the biggest fans of the Jays' grey jerseys. Even the ones they currently wear on the road are super sleek in my opinion. I think that the "Toronto" script on the front looks great.
But out of all of their road greys the ones they wore from '89-96 are the best ones, and definitely worthy of an entry into the Friday Five. The bird logo beneath the script, and the blue on the top of the bird's head really pops on these ones. The Jays were wearing these when they brought the World Series north of the border in '92, so they have that going for 'em as well.
3. Road Powder Blues  (1979, '81-'83, '86)

While the current powders slap, the ones that they wore on the road in the early days are even better. The Jays had several reiterations of the powder road jerseys, but these ones are the best in my opinion because of the "Blue Jays" script rather than "Toronto" from '77-78, and the rounded lettering looks nicer than when they were squared in other years.
I prefer button-downs more than the pullovers in general but these ones with the bird smack dab in the middle are awesome. I won't comment on the interesting elastic waistbands/belts they had back then, but it matches the sleeve trimming nicely. Even Danny Ainge with his dorky haircut looks like a ballplayer in these sweet powder blues.
2. Royal Blue Alternates (2012-Present)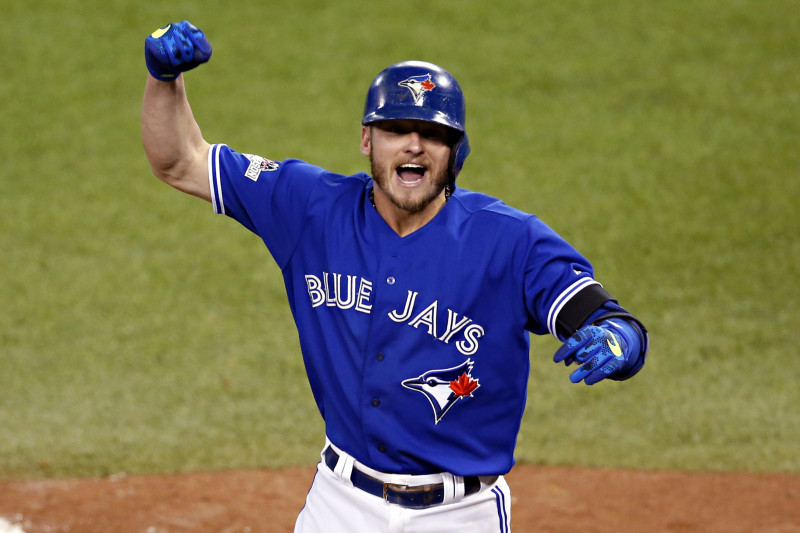 The Jays' current alternates are hands down the best non-powder blue jersey in the league. No doubt. It's got everything that makes the whites so nice but the royal blue just pops. While the new blue powders are all the craze, the regular blues have slapped since the club first wore 'em in the 2012 season. Just about any rebrand to move away from the black would've been received well, but seeing these blues when they first came out felt like Christmas morning for the entire fanbase.
And to top it off these jerseys have so many great moments attached to them. The Bat Flip. The Donaldson Dash. Edwin's epic walkoff Wild Card bomb. All in these sexy royal blues. I feel like these jerseys might be underrated at this point.
1. Home Whites (1989-96)
I'm not old enough to have seen the Jays wear these, but I have a great story about 'em. When I was studying abroad down South my buddy and I went to the Mall of Louisiana. We were heading to Astroworld in Houston that weekend and my friend who I met on exchange wanted a cool jersey to wear. He's from Sweden and couldn't have been more of a fish out of water in Baton Rouge, but we told him that a jersey is appropriate attire to a concert like this one. So he was gonna get a Los Angeles Dodgers jersey customized with his last name, but it was gonna take too gahdamn long. We weren't gonna wait in this mall for two hours while this Pro Image employee making seven bucks an hour stitched my buddy's 10-letter last name on the back. So we looked at the retro baseball jerseys and I found this exact Jays jersey with Joe Carter's name and number on the back. The worker was nice and said she'd let us use her 30% off employee discount, so I told my buddy he had to buy this sweet jersey. He had no clue about baseball but I told him that Carter is one of the most famous players on my home team so that convinced him. He heads to the cash thinking he'd get 30% off on this $190 jersey, but when the employee scanned it it came out to $19.99. NINETEEN DOLLARS AND NINETY NINE CENTS!!! For a legit Mitchell & Ness Jays '93 throwback jersey. It turns out the item wasn't selling well (shocker, we're in Louisiana. No one knows who Joe Carter is) so it was marked alllllll the way down. I couldn't believe it, and immediately went and bought one for myself. Could you IMAGINE telling friends from home the deal I got on an authentic throwback Joe Carter jersey? I shoulda bought the entire supply and sold them at 50 bucks apiece when I get home. One of the best jerseys in Toronto sports history and it cost me a 20 dollar bill.
Anyway, these home whites have everything going for them. The "Blue Jays" script in the dark blue with a great font. The sleeve trimming with both blues. And that bird logo is the best. It's also the home jersey they wore during their best seasons, including Carter walking off the '93 World Series. All-time moment for this franchise and it's fitting they were wearing their all-time best jerseys.