Jeff Bezos is a fucking BOSS with a capital B.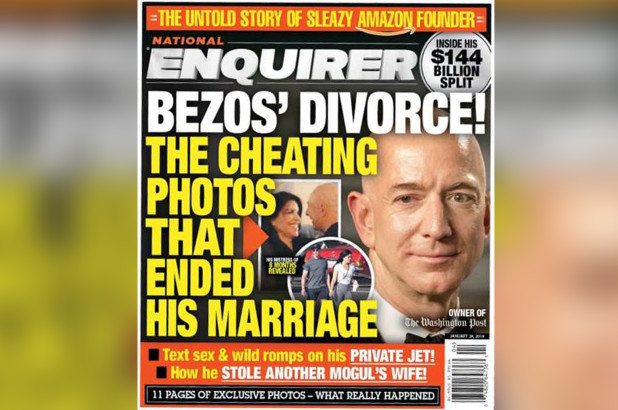 Today, Bezos published a blog in Medium outlining a blackmail attempt by AMI (National Enquirer) owned by none other than Trump's bestie David Pecker (I love the name).  David Pecker was granted immunity by Robert Mueller in return for flipping against Donald Trump, handing over the details of catch and kill stories for the hot chick and the porn chick.  Immunity also included Pecker handing over a 'Trove' of damning Trump stories to boot.
SO, The Washington Post is owned by Bezos (who is 100% hands off re editorial), is prepping a story about AMI (The Enquirer) doing some super shady shit with The Saudi Crown Prince/Trump/AMI.  Pecker 😉 is scared shitless so he just threatened the worlds richest human who happens to be getting divorced and doesn't give two fucks.
Source:  Something unusual happened to me yesterday. Actually, for me it wasn't just unusual — it was a first. I was made an offer I couldn't refuse. Or at least that's what the top people at the National Enquirer thought. I'm glad they thought that, because it emboldened them to put it all in writing. Rather than capitulate to extortion and blackmail, I've decided to publish exactly what they sent me, despite the personal cost and embarrassment they threaten.

AMI, the owner of the National Enquirer, led by David Pecker, recently entered into an immunity deal with the Department of Justice related to their role in the so-called "Catch and Kill" process on behalf of President Trump and his election campaign. Mr. Pecker and his company have also been investigated for various actions they've taken on behalf of the Saudi Government.
Some sweet bread crumbs here from Bezos too.  Dude is so powerful, and I'm so envious of him right now.   What comes next reminds me of that seen in Batman: The Dark Knight, where Morgan Freeman eats that accountants head after threatening to expose Wayne enterprises as Batman's RD/Personal Piggybank.
Makes sense.
In addition to the "below the belt selfie — otherwise colloquially known as a 'd*ck pick'" — The Enquirer obtained a further nine images. These include:

· Mr. Bezos face selfie at what appears to be a business meeting.

· Ms. Sanchez response — a photograph of her smoking a cigar in what appears to be a simulated oral sex scene.

· A shirtless Mr. Bezos holding his phone in his left hand — while wearing his wedding ring. He's wearing either tight black cargo pants or shorts — and his semi-erect manhood is penetrating the zipper of said garment.

· A full-length body selfie of Mr. Bezos wearing just a pair of tight black boxer-briefs or trunks, with his phone in his left hand — while wearing his wedding ring.

· A selfie of Mr. Bezos fully clothed.

· A full-length scantily-clad body shot with short trunks.

· A naked selfie in a bathroom — while wearing his wedding ring. Mr. Bezos is wearing nothing but a white towel — and the top of his pubic region can be seen.

· Ms. Sanchez wearing a plunging red neckline dress revealing her cleavage and a glimpse of her nether region.

· Ms. Sanchez wearing a two-piece red bikini with gold detail dress revealing her cleavage.
Bezos, to his credit, continued to save everyone time (genius) by basically saying "publish away you cheesy fucks, I'll out you before you do it and let the chips fall where they may.  BTW, my wife already knew."
In the AMI letters I'm making public, you will see the precise details of their extortionate proposal: They will publish the personal photos unless Gavin de Becker and I make the specific false public statement to the press that we "have no knowledge or basis for suggesting that AMI's coverage was politically motivated or influenced by political forces."

If we do not agree to affirmatively publicize that specific lie, they say they'll publish the photos, and quickly. And there's an associated threat: They'll keep the photos on hand and publish them in the future if we ever deviate from that lie.

Be assured, no real journalists ever propose anything like what is happening here: I will not report embarrassing information about you if you do X for me. And if you don't do X quickly, I will report the embarrassing information.
A wise man once said to me "Never threaten someone with more to lose than you."  David Pecker is now going to jail for violating the terms of his immunity deal.   Jeff Bezos is now known as a goddamned wrecking crew who is no different than anyone else who was banging his friend's wife
Human.
Tomorrow's cover: Amazon CEO Jeff Bezos dropped bombshell blackmail allegations against the National Enquirer on Thursday https://t.co/lMdAFYxCpB pic.twitter.com/rd84iidfS7

— New York Post (@nypost) February 8, 2019
Life is so simple for Jeff Bezos.  I'll tell the truth and keep working because there's no fallout because he's worth 250 Billion.
David Pecker is worth 12 million.
Bezos divorce and affair is out, and no one gives a shit.
David Pecker could go to jail.
Place you're bets.
Could be the greatest all-time dick pic ownership, power moves since Draymond Green copped to putting his wiener on Snapchat a few years ago.
If you need to see it, HERE YOU GO, but I wouldn't look at it because it's huge.
Draymond Green: "We're all one click away from placing something in the wrong place. I suffered from that this morning."

— Michael Lee (@MrMichaelLee) July 31, 2016
Let's go over Bezos day:
He just started an investigation into Saudi relationship
Chicks know he's the wealthiest man in the world, not afraid of a little cock shot and nailed his best friends wife
He just destroyed David Pecker's Life And Put Jared Kushner in jail
He's STILL boning his friend's attractive TV reporter wife tonight, and he's still worth 250 billion.