Vince retired today after 22 years, blah blah blah bitty, blah, blibidy fuck it.
I HATE seeing tweets tagging Vince with 'OoHh, I cAn'T WaiT tO seE FiFteeN in THe rAfTers"
If Vince Carter's 15 doesn't go into the rafters in Toronto I am going to lose it.

— Greg Sampson (@gsampsonsports) June 25, 2020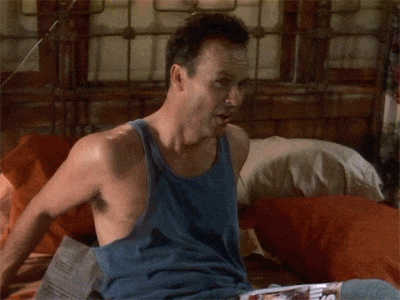 Here are a few exchanges I had on Twitter today along with some references which should be extremely easy to follow, that explains, IMO, why retiring Vince's number or recognizing him in any other way other than a seat wave 'clap', is Judas level shit.
Know this: I absolutely think Vince is a Hall Of Famer but he also Absolutely wouldn't be if he didn't play in four different decades for 87 different teams (w no championship…Nada…Zero). But there is no WAY his number should be retired and it 100% should NOT be raised to the rafters.
(This thread may appear negative, but I'm not. I just hate Vince Carter)
I may have voiced my opinion of him in a light-hearted post today, titled:
Vince Carter Officially Retires And I Don't Give A Shit https://t.co/bpLW7wbBGP

— Dean Blundell (@ItsDeanBlundell) June 25, 2020
I posted that this morning and the cavalcade of tweets from you, and the memories of the decade of embarrassment started to come back and the following Twitter exchange cemented in my mind, Vince Carter should be no more than a trivia question and a fond memory (like Dave Keon only, deserved)
Those are the only stats I think of when someone congratulates Vince or says he was an 'All-Time Raptor'.
Pure bullshit.

— Dean Blundell (@ItsDeanBlundell) June 25, 2020
Voila. #ScrewVinceCarter https://t.co/vnvpVEWJr7 pic.twitter.com/k0eZzjmDLO

— Dean Blundell (@ItsDeanBlundell) June 25, 2020
You know they are gonna celebrate him and raise his banner at the ACC. They should put his NC diploma and the date he received it on display along with the box score. He set us back a decade and no one can convince me otherwise.

— Jamie Leece (@RainmakerJL) June 25, 2020
Thant's right.  Vince hated you, destroyed your NBA team (T-Mac helped) and you want to have an indelible memory of that hanging over your franchise forever?
HE TIPPED OFF THE OTHER FUCKING PLAYERS BECAUSE HE WANTED THE RAPTORS TO LOSE TO THE SONICS JUST BEFORE HE WAS TRADED TO NJ, FOR FUCK SAKES.
Voila. #ScrewVinceCarter https://t.co/vnvpVEWJr7 pic.twitter.com/k0eZzjmDLO

— Dean Blundell (@ItsDeanBlundell) June 25, 2020

Are you serious?  That's the guy you want to reward???  What about Jose Calderon?  He was a 'Better Raptor than Vince.  Should he get a banner?  You're goddamned right he should if Vince gets one.  Fuck, they should retire the name 'Jose' and the number 8 if they retire 15.
Vince is top 20 in points, top ten in 3's and a bunch of other useless stats along the way with 8 different teams and I can guarantee you Vince carter wouldn't be a consideration NBA HOF had he not prolonged his roadshow for 22 years.  If Vince cut bait after 15 years, he's not a Hall Of Famer.  Not even close.
Part of me thinks he stayed so long because he knew he wouldn't win a championship so he stuck it out for some kind of participation hardware.
— Dean Blundell (@ItsDeanBlundell) June 25, 2020
Oh, and he treats people like shit.
I used to Valet park in downtown Toronto during his Raptor days. We treated him like gold, but despite that he was by far the stingiest and least appreciative pro athlete we ever dealt with. No one missed him when he left.

— Scott Blue (@ScottycBlue) June 25, 2020

Someone is inevitably going to comment 'let it go. We just appreciate him for what he was… A great Raptor."
No, he fucking wasn't.
He was an electric Raptor who pretended to have compound fractures on a monthly basis and hated this franchise, city and fan base so much, he demanded a trade leaking plays to opponents during games. I can't stress that enough to the Vince apologists.  DOn't get caught up on the ROY and the dun contest.  He took Toronto to the second round of the NBA playoffs and hated you for all the support.
He cheated on you actively with no condom and never showered. That's the sexual equivalent of what's happening here and some of you want to hang a picture of him about the family mantle??  Disgusting.
As a matter of fact, I'm willing to bet he faked his last play as a Raptor which is how he influenced the trade out of Toronto, btw.
'Yeah, Let's retire his number because he had some big games and he's the greatest dunker of all time.'
Grow up.  JYD was a better Raptor than Vince and you know it.
Vince Carter had a really good, really long, NBA career and in the process stole ten years of championship-caliber NBA basketball from Raptor fans.
The End.