Eugene Melnyk is the best.
(He threatened to sue us a year ago so I say that every time I write a story about him because it never hurts to grease the wheels)
Hey Eugene, your team looked dangerous at the end of the year.  Well done.
---
CBC: Billionaire Ottawa Senators owner Eugene Melnyk and his girlfriend thought they had an answer, according to recently filed lawsuits obtained by CBC News: charter a $500,000-a-week superyacht in the Bahamas to spend the Christmas holiday with friends and family. 

The yacht voyage began Dec. 22, when Melnyk, 61, and girlfriend Sharilyne Anderson set sail on the Dream from Nassau, intending to spend the first five days together before friends and family joined after Christmas. 

From the start, it appears, they didn't hit it off well with the superyacht's captain. 

He was "an odorous, ill-tempered man who was curt and dismissive with the guests and outright angry and abusive to the crew," claim the two lawsuits, filed in the United States last month by Anderson and another plaintiff. The captain "was easily flustered and overwhelmed and seemed completely unfamiliar with the area, the crew or the vessel."

It got worse when Melnyk told the British skipper they wanted to head through an inner, more protected passage from Nassau down to a chain of Bahamaian islands known as the Exuma archipelago. 

The captain "appeared angry and resentful that a charterer would deem to intrude on his alleged specialized knowledge, experience, and authority … and sought instead to punish the charterer and his party for their insolence through intentionally piloting the yacht into the open ocean," both statements of claim allege. 

Without the protection of the Bahamian islands, the yacht was pummelled by the full force of the Atlantic, leading to a "harrowing 10-15 hour ordeal" where Eugene Melnyk and Anderson "became violently ill, vomiting throughout the night," the lawsuits allege. 

The boat then spent a few days in calmer inner seas before picking up the rest of its passengers, including Melnyk's mother, Vera Melnyk of Barrie, Ont. But they, too, were subjected to "violent bouts of vomiting and illness" because of the captain's "intentional and reckless conduct," the lawsuits say. 

Finally, on New Year's Day, the private Caribbean cruise was set to end. The lawsuits claim that passengers had planned to disembark at Exuma island and fly home, but that the captain refused to let anyone off the boat, citing the rough seas. 

Instead, it's alleged he insisted on sailing the 18 hours all the way back to Nassau, through open ocean once again, an act of "false imprisonment" that resulted in "panic attacks, trauma, fear of death by drowning [and] fear of boarding vessels of any kind."
It's almost like Eugene can't do anything without it resulting in a fucking lawsuit.  Maybe he's a target, but this story is so Eugene it hurts.
For a group who claims they were abused and held hostage, they certainly left a wonderful thank you note.
I'm a fairly thoughtful guy but if I was falsely imprisoned on a week long sailing trip from hell, I wouldn't be leaving a thank you note.
I just did a quick Google 'Eugene Melnyk lawsuit search (which should be turned into a drinking game) and the first page is to die for.
It sounds like the seas were a little rough and some rich people got seasick so they want their money back, and then some.  HOWEVER, these claims have to be proven in court and maybe the Melnyk Group has a legit claim.
I doubt it, but let's wait and see before we assume this is another skeevy cash grab by a cash strapped owner.  OK?
Eugene deserves to be heard because he's probably a great guy who never does anything wrong.  Or he just tried to bogey a free vacation.
I'm not passing judgement and I hope Eugene gets his day in court.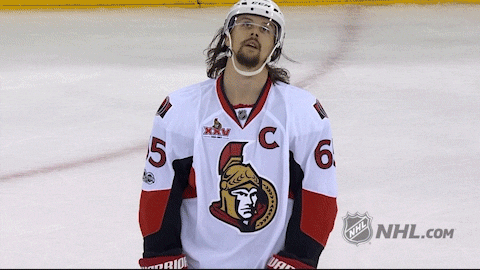 DB