I don't want to start this blog by demeaning drive-thru workers in Florida, but he flashed a fisher price badge for cheap Wendy's burgers for two years??
This is one way to get on the Florida man list and land behind bars. A 57-year-old Florida man (Jesse Stover) has been charged with impersonating a law enforcement officer to get a discount at his local Wendy's. Yep.

According to police, on Monday, officers responded to the Wendy's restaurant on Commerce Parkway in Bunnell, regarding a disturbance call.

During the investigation, witnesses alleged, asked to be given a law enforcement discount for the purchase being made.

Stover was asked by the manager to provide his law enforcement identification. He quickly flashed a gold-colored badge to the Wendy's staff and demanded the discount again.

When the request was denied, an argument ensued and police called.

During the argument, Stover told Wendy's staff he was not a police officer but worked for the DEA as an undercover agent.

During the investigation, officers learned Stover was a regular customer at this Wendy's and regularly demanded the discount for over two years.

Stover was placed under arrest. When Officers searched Stover, they found the badge used to impersonate a law enforcement officer in his wallet.

It was seized as evidence. The badge was actually a concealed weapon permit badge, which closely resembled a police badge.
I get it for two years. Wendy's menu prices have increased 30% over the past two years, and if you're on a fixed income, you look for a little financial edge.
I don't blame Mr. Stover. He doesn't look like he's going hungry, AND he probably has a few extra bucks from 2 years of discounts on Wendy's spicy chicken sandwich combos (easily the best chicken Sammy in the game).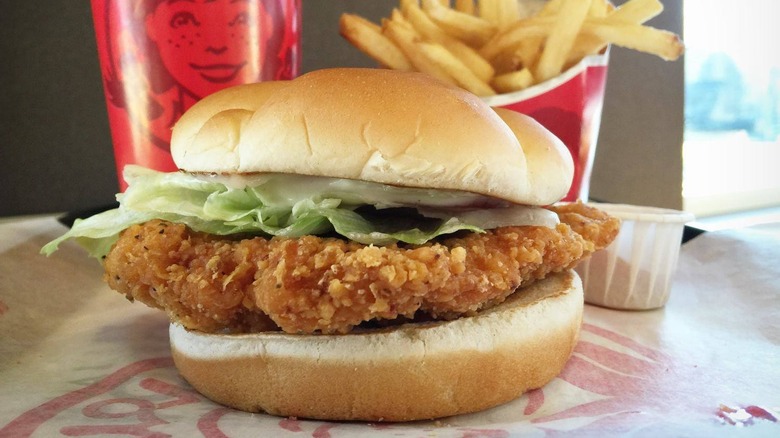 He'd be a free man if he just left instead of demanding his discount. Free to jazz any of the 1200 Wendy's locations staffed with other Wendy's employees who don't give a shit about discounting fast food because it's not theirs.
I had that conversation with my son yesterday. He works in retail, and I asked him what he'd do if a customer stole something or demanded a bogus deal.
His answer:
"Give it to them. All of it. Everything they want. I don't get paid $20 an hour to be a cop or put myself at risk. I'd help them load their gym bags."
Wise beyond his years.
I know these Wendy's employees felt like heroes, but no one should give a shit about wrecking their night at work over a fake cop discount for a burger?
Good talk.
DB
PS: The cartoon representation of the actual "Wendy"? Fake news. I'm more disappointed than angry.