We here at Dean Blundell love a good prank. For instance, Dean pretends that he has gotten rid of all the fruit flies in this office, and we pretend to believe it. "Good one Dean, got us again!"  Also Dean is wearing socks with shower sandals today. That has nothing to do with anything, but it needed to be pointed out.
Today, I am providing you, the good reader a video of some dudes who have taken out the regular horn in their truck and replaced with a horn from a freight train. They then proceed to drive around the city and honk at strangers.
The results are in, and they're amazing. The fun starts at the 3:05 mark of this video.
The reactions are priceless, and the people look and sound like they are NPC's in Grand Theft Auto V.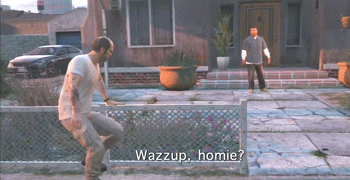 Today train horn guys, we salute you!