Source: A woman is in a 'grave condition' after a brown bear tore her off her arm and then ate it during a Christmas party at a Russian guest house.
The angry beast grabbed her outstretched hand as she fed the wild animal through the bars of its cramped cage.
The unnamed 53-year-old woman is now in intensive care following the attack in the Russian city of Achinsk.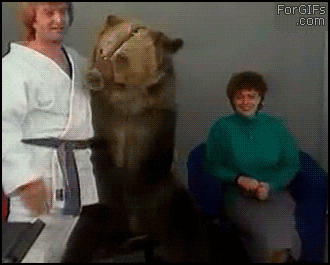 She suffered huge blood loss and underwent emergency surgery on the stump of her arm.  The wild animal is kept caged as entertainment for visitors to a guest house – where it cannot hibernate in winter or roam free.
Its victim was an employee of the small hotel who had been drinking at a Christmas party when she boasted to other guests how she could feed the beast.
'It ended in tragedy for the woman as the bear took its revenge on being held captive – and ate her arm for its festive meal,' said a local.
You only need to watch 5 minutes of bears attacking people to know to feed a bear anywhere, is stupid.  Entertaining for others, but stupid.
Bears go from Zero to honey badger in less than a second.  When a Bear of any kind attacks It's like a coke high kicks in on a 1000 pound killing machine and unless you have a fucking bazooka, forget it.
The Grizzly Bears bite registers around 1250 lbs per square inch.  By contrast, the human bite is around 150 PSI.    The Bear pulled the woman's arm off like a drumstick on an overcooked turkey and good for the bear.  Normally I value human life over an animals life but the Karma of a taunted caged wild animal forced to endure the torture of a bunch of drunks poking the shit out of it is too good to be true.
Russia is fucked.  They treat bears like shelter animals.
Bears riding sidecar in bikes are the big thing in Russia right now.  The really responsible ones wear a muzzle.