I'm guessing his 'I did this before, so how stupid would it be for me to do this again' defense won't work.  
NEW: R&B singer R. Kelly, charged with aggravated sexual abuse, angrily denied the accusations in a new interview with @GayleKing, insisting the claims are "rumors" & "not true."

Kelly has pleaded not guilty; see the first clips here & watch @CBSThisMorning Wednesday at 7a ET. pic.twitter.com/5yT1QwPsIq

— CBS Evening News (@CBSEveningNews) March 5, 2019
Oprah's Wife Gayle King bravely sat down for an emotionally charged interview with R Kelly that aired on CBS This Morning and Gayle deserves all the journalism awards:
WATCH: R&B singer @RKelly, charged with aggravated sexual abuse, angrily denies the accusations in an explosive new interview with @GayleKing.

"Whether they're old rumors, new rumors, future rumors, not true."

Watch more only on @CBSThisMorning Wednesday. pic.twitter.com/7qvmpKw4iq

— CBS This Morning (@CBSThisMorning) March 5, 2019
It's hard for R Kelly to battle wits with a 2nd grader and Gayle ate his heart in this sit-down and I love her for it.  I talked about it in a post about Trudeau yesterday, but thank Christ for women.  They ain't scared.
Brought to tears!! R Kelly breaks his silence on the allegations against him to Gayle King. Full interview airs tomorrow on CBS #RKelly#TheSpit pic.twitter.com/ttssBT8uh7

— TheSpit (@Thespit100) March 6, 2019
I was scrolling around looking for more video's I came across this still of a seemingly upset R Kelly trying to show Gayle the back of his hand and she doesn't give two shits.  Great pic.
It sounds like he got some really bad PR advice too.  Bringing up how stupid would you be to have sex with underage girls after getting in trouble for having sex with underage girls is laughably stupid.  What you'd expect from a dude who can't read or write.    He reeks of desperation and his victim mentality is a dead giveaway if you're wondering if there's a chance this is true.  The answer is 100 percent yes.
Wow. Gayle Kings composure in front of #RKelly is stunning.
Her interview with him airs Wednesday on @CBSThisMorning pic.twitter.com/bFSVNaxXsZ

— David Begnaud (@DavidBegnaud) March 6, 2019
The pig looks rattled and that's a really good thing.  He's doing what most pedophiles do when they get caught.  Trying to make himself the victim and it's an embarrassing look for Big Sexy.
Big Sexy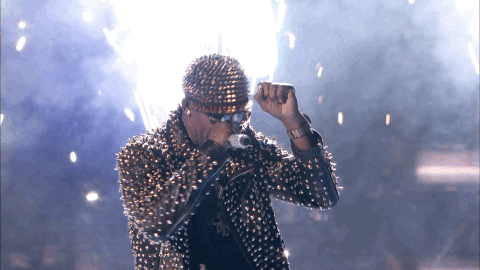 Big Pedophile
Big Sexy
Big Pussy
Maybe this is the year radio bans R Kelly AND Michael Jackson's music.  Wouldn't that be nice?  For the memory of both to fade into an embarrassing footnote of a name like 'Hitler' that we all pretend not to hear.  That's what I hope happens with Trump too. I sincerely hope we make it a thing where we vilify the memory of pedophiles to the point the mention of their name makes you puke.
I don't know if R Kelly and MJ are both guilty, but one thing I know for sure, they're both totally guilty.
And it's an R Kelly post so you know what that means??