Sort of a shitty move by the employee but he was following company protocol of not serving people when they pull straight up to the window.  He should have been fired but not because he refused to serve a deaf person.  If you can't figure out if someone's deaf when they pull into a drive-thru after a thorough explanation you are too stupid to fold taco's and make fountain drinks.  There didn't appear to be any intentional malice toward the deaf man.
My Great Grandmother and Grandfather were deaf, and when we grew up, deaf people were referred to as deaf and dumb.  Deaf, because they were deaf and 'Dumb' because they couldn't speak.  Look it up before you crush me for being insensitive.
My Grandmother always scared the shit out of me because she used to make a bunch of weird noises when she was mad or happy, talking, etc.  I always assumed that's what dumb meant — someone who made a bunch of strange noises.
One day what my deaf Grandma was visiting, my friend Kyle's mom came over to pick him up and tried to speak to my Grandmother who was watching us at the time.  When I informed Kyles Mom that my Grandma was 'deaf and dumb' she told me I was a little asshole for saying she was stupid as well as unable to hear.  Kyle was never allowed over again after that which worked out because the little fucker always stole my dad's change from his change jar that he kept at the front door, which was dumb.
I'm sure some deaf people are dumb.  They can't hear, but it doesn't mean the deaf community is immune to the law of averages when it comes to stupid people.  Like my friend Shane.  He shot himself in the eye with a BB Gun in the 11th grade looking into the barrel to see what was in the other end.  He still deaf, was always dumb and now he's blind in one eye.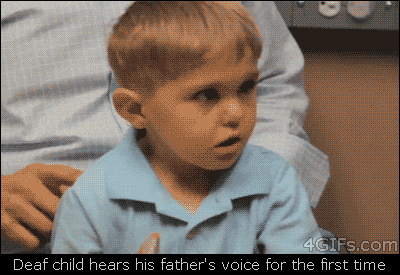 If you're ever feeling shitty, type 'hearing for the first time' into the YouTube Machine.   It's some of the most uplifting stuff online.  Right up there with anything by Dr. Pimple Popper.