These kinds of people show up for a Trump Rally.
So the Trump 2020 kickoff in Orlando is right on schedule. (via @wsteaks) pic.twitter.com/VgOATxkY3C

— Amee Vanderpool (@girlsreallyrule) June 18, 2019
I'm watching CNN and they're covering the Trump Rally right now.  He's kicking off his re-election Campaign tonight in Orlando and when they panned to the crowd it looked like a trailer park AA meeting.  Or a place where white meth heads get together to hide from their families and do meth.
Trump fans line up for re-election rally. More: https://t.co/KtmzYmYUPH pic.twitter.com/Xi0mbxubTl

— Reuters Top News (@Reuters) June 18, 2019
I still don't get it.  I don't share a concept of any reality where someone finds Donald Trump believable.  Not one.  It's impossible for me to respect a human being that likes this man.  I can't.
It doesn't amaze me that some people like him, It astonishes me SO MANY people like him.  It's only when I see the quality of the human being that likes Donald Trump do I get it.
I voted for @realDonaldTrump in 2016 & I'm voting for him, again, in 2020.

My biggest issue is illegal immigration.

I'm voting for Trump because democrats choose illegal aliens over American citizens. #TrumpRallyOrlando pic.twitter.com/ZylMEtJGfw

— #ThePersistence (@ScottPresler) June 18, 2019
It's like a cranky white people zoo exhibit. #OrlandoRally #Trump2020 pic.twitter.com/lSrgIgLOsy

— Amee Vanderpool (@girlsreallyrule) June 18, 2019
These videos out of Orlando for Trump's 2020 launch are something else-you should also know that it has been pouring rain there and this is an outdoor event. (Via @politico) pic.twitter.com/lGRxrZFZt7

— Amee Vanderpool (@girlsreallyrule) June 18, 2019
In my opinion, the average Trump zealot has the IQ of a muffin.  Trump himself is also incredibly stupid and like Forrest Gump once said, 'Stupid is as stupid does' so WHAMMO, everywhere he goes, his army of shit heads follow because he's the leader of the shit head parade. A stupid magnet, if you will.
It's common sense so I shouldn't really be surprised Trump's fan base is huge.  He makes the below average person feel normal.
I.E. Mike Pence looks like fucking Stephen Hawking
"…leading voices in the Democratic Party advocate late term abortion and even defend infanticide…"

Sometimes abortions are necessary to save the mother or ease the suffering of a fetus who won't live long and no one is trying to murder infants. So false. #TrumpRallyOrlando pic.twitter.com/XPKEjZD6ae

— Amee Vanderpool (@girlsreallyrule) June 19, 2019
Members of the white supremacist Proud Boys group have been stopped from reaching anti-Trump protesters. pic.twitter.com/c3wXFhMIcM

— Philip Crowther (@PhilipinDC) June 18, 2019
I think the very notion of white supremacists going to the same rally I'm headed to would be enough to make me turn around.
I thought when I got older I'd have a vested interest in politics.  I'm surrounded by friends who are politicians or do work for those politicians.  I also have friends who help get politicians elected to provincial and federal offices.
They all lie and they all choose to support politicians who align themselves with their own business interests and rarely if ever has anything to do with serving the public.  Every party is the same.  Conservative/Republican to Liberals/Democrats, there's no difference in any one party's motivating purpose.  Power, money, and influence.
We have an election coming up in Canada in a few weeks.  I don't care who you vote for and you shouldn't care who I vote for.  You're supposed to vote with the party and/or candidate you want to win but how can you?
Trudeau was proven a fraud who treats women poorly.  He lies, hides behind his majority government and can't answer simple questions.  He's basically the Brick Tamlin of world leaders.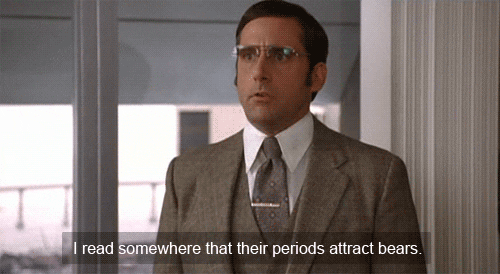 Tell me I'm wrong.
A reporter asked Justin Trudeau how he and his family are cutting back on plastics.

His response:" We have recently switched drinking out of plastic waterbottles aa umm aa um um aa plastic a a um paper um a um a a um aa drink box…"

October can't come soon enough.#cdnpoli pic.twitter.com/8sfVyj2ywD

— Kirk Lubimov (@KirkLubimov) June 10, 2019
Andrew Scheer is an evil dick farmer with dimples.  I heard a great story from a politician friend of mine the other day.  Andrew Scheer's campaign told Doug Ford to stay the fuck away from Scheer from now until the Federal election in the fall because Ford is too cancerous.  They were cool with taking a picture together to fight the carbon tax and meet 100 times until it mattered.  Nice huh.
I guess that's why it's never been more important to me to just control what I can in my little corner of the world.  It leads to complacency for me and that means I won't be voting for anyone this year.
Do I really want to go down to a hockey rink in the fall to stand in line to cast a vote when that vote nets you crooked assholes with different last names?  No.
It's different in the States.  Scheer and Trudeau are both hucksters but Trump is dangerous.  Any vote not for him is a great vote.
In Canada, voter apathy has driven every election since the '70s.  30 percent of the country votes so that means 30% decide who's in charge for the rest of us.
Now I know why.  As much as our forefathers fought for our right to vote they also fought for our right not to if you're turned right the fuck off by who to choose.
I'd vote for Melania if I could.  Big time.