Source: The European Tour's creative video content the past few years has become the stuff of legend, seemingly covering all angles. Tour pros have been pranked, fans have been pranked by tour pros, tour pros have tortured themselves with all-day hole-in-one challenges, and maybe most famously, Francesco Molinari and Tommy Fleetwood "slept" together after their celebrated Ryder Cup partnership. So after compiling so much good content, the tour decided to make a video focusing on the creation of content. And once again, it's brilliant.
Dubbed The Content Committee, Fleetwood is back leading a fivesome of deadpanning golfers as they sit in a board room and attempt to come up with ideas for videos that will go viral.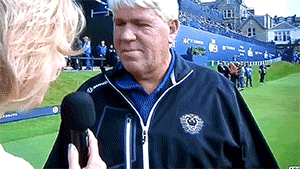 Big John loved it and so do we . This video opens the door into the personalities of the Euro's and gives us a sense of why they are such a closed knit group of buddies who love to beat the shit of the Americans.
Patrick Reed has no friends, and this video is hilarious, enjoy: