Before I read this, I've been wondering if problem drinkers will turn into problem THC infused NA Beer drinkers.
The questions I have (I would think) are natural to ask considering my history.
I quit drinking a year and a half ago.  I've talked about it a bunch here.  I do however use Cannabis medically and recreationally from time to time for anxiety and sleep.
So, herein lies the question: Can people who can't drink, drink weed-infused beer by the bucket?
I've never 'Greened Out" as they say and I don't use it as I used to used booze but I wonder if it helps deal with that missing fun factor a lot of people experience.
I drink Non-Alcoholic beer from time to time and I'll use Cannabis on the on weekend too.  Putting them together seems like a no brainer and easily accessible to communities where alcohol isn't an option.
Source: Across the country, brewing companies ranging from corporate giants such as MolsonCoors to smaller craft brewers such as Toronto's Cool Brewing and Hamilton's Collective Arts Brewing are dipping their toes into the pot water. 
"If you're looking at buying a recreational beverage, you could choose beer, wine or spirits or coolers. Or you could choose something infused with cannabis. You're fighting for share of stomach," said Kevin Meens, head of corporate development at Cool. The Etobicoke-based brewery has already been making hemp-infused Millenium Buzz beer for years. Now, though, they've applied to Health Canada for a licence to extract THC and CBD oils from dried pot plants, which they would then be able to infuse into drinks.
Whatever those drinks are, however, they wouldn't contain any alcohol: mixing booze and pot will still be a no-no come October. That means the drinks produced could be anything from fruit juice-based concoctions to de-alcoholized beer.
'Cannabier' is it's now called can come in all your traditional flavors (stout, ale, etc), comes with no alcohol and is far healthier than regular beer.
According to the makers of the worlds first commercially available Cannabier 'Two Roots' says 'Cannabier' a fraction of the calories and is more akin to a Gatorade in nutritional value:
Cannabier is actually a healthy alternative to more traditional alcohols. According to the Two-Roots company, non -alcoholic beer resembles some of your favorite sports drinks, packed with electrolytes and carbohydrates. Infusing the drink with CBD and THC, these components add another level to the drinking experience.
Any rec or medicinal Cannabis user will use it because they're tired of smoking or it's just a different delivery system.  People who've turned from alcohol for addictive reasons are probably asking if it's safe to use.  I'm here to plant my Cannabis seeds firmly in the wellness sand to say "you bet your Alaskan Thunderfuck Shatter, it is!"
In a 2014 study the in Journal Of Neuroscience basically found those who swapped Cannabis for booze as part of treatment for alcoholism, found a success rate 50% higher than those not being treated with Cannabis, in some form.  There are now a series of rehab facilities who treat DT's and withdrawal with Cannabis and use it to wean people off alcohol, cocaine, and heroin among other serious chemical drugs and opioids.  The Cannabis community has developed a strain that masks all the pain killing effects of Oxy and Percs with zero side effects or addictive properties.
In the United States, last year opioids killed over 70,000 people and 90,000 people died due do to something alcohol related.
Canada?  4000 people died of opioid OD (11 per day) with booze responsible for just under 5000 deaths but a whopping 100,000 hospital admissions.
Weed related deaths?
Zero.
Zip.
Squat.
Dog Balls.
A scientifically based DEA decision dictates a human would have to consume about 1500 pounds of weed or 40,000 joints to approach fatal THC toxicity levels.  Anyone that tells you otherwise is a born again Christian with no friends who think they're doing The Lord's work.
So here we are.  Should we or CAN WE drink weed beer.  I say fuck, yeah but it's up to you and where you're at.
After a couple of years off, I'm happy I don't drink but happy I smoke.  I'm comfortable enough with my boundaries based on experience developed through where I've been and what I've done. I know I can't drink.  I know I can smoke.  There's no inner struggle for me.
I can justify hammering my pen before bed to slow my mind get me to sleep.  I can justify smoking a joint with my friends at poker.  It would amaze you how many extremely successful people do this.  I'm not saying you'll be broke if you don't smoke pot, but, you get it.
CONCLUSIONS
If I know It's not humanly possible to OD of Cannabis and I enjoy it, based on my current moderate use, there's no reason a nondrinker who uses Cannabis can't enjoy a few Cannbier's with the fella's after playing 18, or at the cottage for the long weekend.  Cannabis has dozen's of proven health benefits, booze has ZERO.
Who knows, it might centre the shit out of you and turn you into a billionaire pothead like Jimmy Buffet too.
It almost seems to good to be true so be careful.  And let me know if you've tried a Cannabier in the comment section.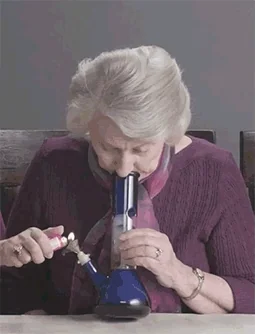 Good news.  We should see these gifts from the THC Gods by late October in Canada.