A monster is lurking beneath the streets of a quiet seaside town in Devon.
A gargantuan fatberg 64 metres long has been discovered blocking a sewer running along the seafront in Sidmouth.
What, do you ask is a "Fatburg"?
So glad you asked. Before I explain, put down that piece of ground up Cow you were about to munch on, and go easy on the extra cheese curds and gravy you were about to add to your greasy potato fingers.
The huge mass, called a "Fatburg" is roughly the size of six double-decker buses, is made up of a conglomeration of congealed grease and oil, and is brimming with food waste, wet wipes, nappies, condoms and other refuse.
It is expected to take two months to remove, according to South West Water, who said it was the largest they had ever come across.
SWW's director of wastewater, Andrew Roantree, said: "It shows how this key environmental issue is not just facing the UK's cities, but right here in our coastal towns.
"It is the largest discovered in our service history and will take our sewer team around eight weeks to dissect this monster in exceptionally challenging work conditions."
Sidmouth Town councillor Paul Wright told The Independent: "We're quite surprised by the sheer size of the thing. I thought I misheard last night when I heard the size, but it's 60-plus metres.
"The question that sprung to my mind was when did they last check the sewers? It hasn't grown overnight. It could be absolutely ancient. It could be the oldest fatberg as well as being so long. It's quite incredible."
South West Water has assured the public the discovery poses no health risk to swimmers in the seaside town, and work to remove the blockage is due to start on 4 February.
Sidmouth's discovery is however not the largest fatberg ever found in the UK. In 2017, a titanic 250-metre-long fatberg was revealed to have been spawned in sewers beneath Whitechapel, in east London.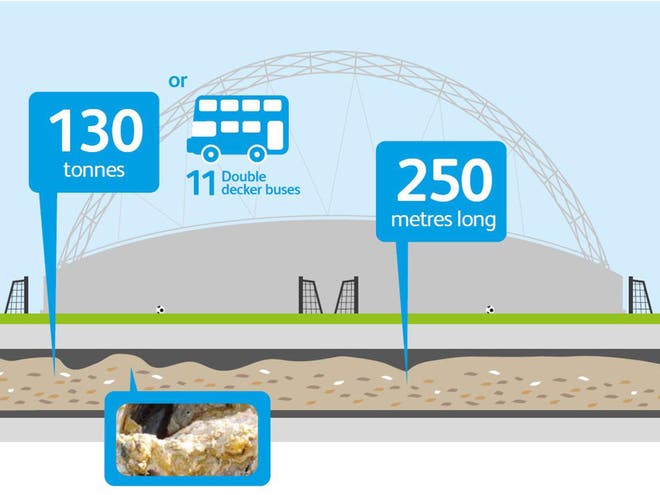 I have three kids… so I have witnessed some repulsive stuff that can come out of them at times. I thought I had experienced first hand the worst, but I cannot fathom what that must be like up close. Wet Wipes, Nappies (Diapers), Condoms, Sanitary Napkins, Food Waste… i'm gagging just trying to type all that.
Some poor bastard who works at UK Water will have to wear heavy breathing apparatus and dive into this thing to start breaking it up into pieces to remove! Get this, the town is even considering displaying a piece of this thing in their Museum to try to teach people about the consequences of their laziness.
So next time you're thinking how shit your job or circumstance is just think about the UK Water divers and what they are literally up against at the moment.