Source  –  A Pennsylvania man allegedly defecated on another person during a road-rage incident Friday, state police said.
Authorities didn't say what prompted Henry George Weaver to lose more than his temper during the morning roadside argument in Heidelberg Township, WFMZ reported.
Weaver, 69, was charged with harassment.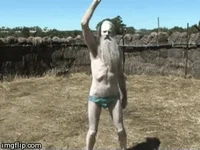 "I've put up with it for years," Henry Weaver, 69, told lehighvalleylive.com of his irritable bowel syndrome. "You get worked up and you're going to have to go … I couldn't control my bowels. And he was right there. And it's just as simple as that."
Weaver says he was on his way to a doctor's office Friday morning when another driver pissed him off by pulling out in front of his car — so he followed the guy to an intersection and the pair got out of their vehicles and into a heated argument.
The duo didn't get into a fist fight — but they did get close, putting the other man in the line of fire when Weaver suddenly dropped a deuce on his pant leg.
"He was right against me," Weaver told the outlet. "I had to drop it. … He just got me worked up. Something was going to happen. I could have easily have missed him if I had turned around but it happened then."
"I'm not proud of it," he told lehighvalleylive.com. "I messed up. It happens."
Oh, the poor old fucker.   He can't stop shitting when he gets angry.  He's like the worlds oldest and shittiest automatic Pez dispenser.
I'd be on valium my whole life.  I'm fucked in the head about so many things.  Large groups, people crying, funerals, messy houses/hoarders, sharks, sushi, asshole drivers among other things, make me physically angry/sick for some reason.  No Idea why.  Shitting myself is up there as a fear too.  Imagining every time I tweaked, shitting my pants is almost too much for me to think about.
Dude, smoke dope for the rest of you're life.  You unlucky bastard.