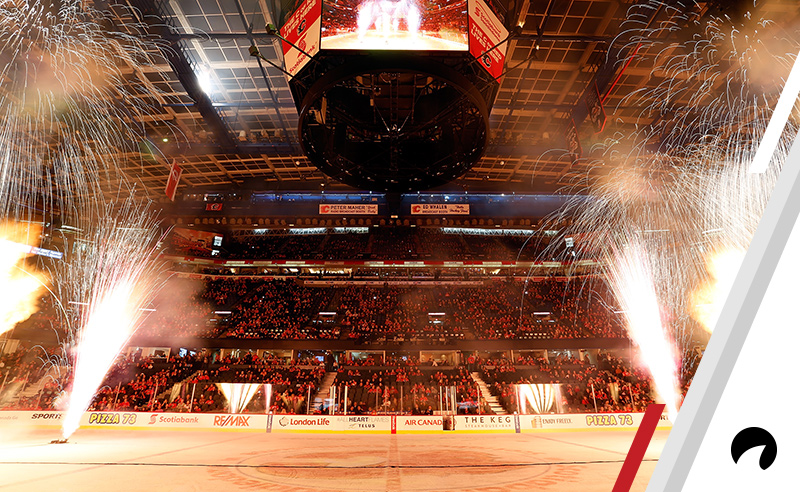 The preseason is underway on the ice, which means the 2018-19 NHL season is drawing near, and sports bettors looking for some alternate wagering opportunities for the upcoming campaign are in luck.
Parity is everywhere in hockey, so predicting what's going to happen before the year begins is tough. But online sportsbook Bovada is gearing up for the new season by releasing OVER/UNDER point totals for every NHL team.
Lightning, Leafs and Jets projected to have big years
The Tampa Bay Lightning (O/U 107.5 points), Toronto Maple Leafs (O/U 106.5) and Winnipeg Jets (106.5) have the highest OVER/UNDER numbers in the eyes of oddsmakers, which is not much of a surprise. On the heels of its third trip to the Eastern Conference finals in the last four years, Tampa Bay is returning largely the same roster and is an extremely popular pick by many pundits to capture the second Stanley Cup in franchise history.
The Leafs are the standalone Cup favorites, as the addition of John Tavares to an already talented team has Toronto fans dreaming of a parade down Yonge St. in the not-too-distant future. Winnipeg ran into a Vegas Golden Knights buzzsaw in the Western Conference finals last year, but the Jets look like they're for real and figure to be a contender in the West for the foreseeable future.
Senators, Red Wings and Rangers fans could be in for a long season
A year and a half removed from an appearance in the conference finals, things couldn't have gone worse for the Ottawa Senators. The Sens, who have the lowest season point total on the board at 70.5, are in a tailspin right now, and as of September 12 the team had yet to trade its disgruntled superstar defenseman Erik Karlsson. It's going to be an extremely tough season for Senators fans, and I expect the UNDER 70.5 number to get a significant amount of traction at the book.
The Senators' O/U 70.5 points total is the lowest in the NHL.
The Red Wings and Rangers are not in the same state of disarray as the Sens, but things are not exactly peachy in Detroit and the Big Apple either. The Red Wings were praised for their draft by snagging Filip Zadina and Joe Veleno in the first round and made a few moves in free agency by bringing back Thomas Vanek and signing Jonathan Bernier to back up Jimmy Howard, but the club is still projected to finish near the bottom of the standings. Detroit and New York possess the lowest point total on the board at 75.5.
Looking for more hockey betting information? Head over to our NHL page. Here's a look at the shop's full list of odds.
OVER/UNDER 2018-19 NHL Regular Season Points
2018-19 NHL Regular Season Points

| Team | 2017-18 Season Points | 2018-19 Projected Points | OVER | UNDER |
| --- | --- | --- | --- | --- |
| Vegas Golden Knights | 109 | 97.5 | -115 | -115 |
| Montreal Canadiens | 71 | 79.5 | -115 | -115 |
| Washington Capitals | 105 | 97.5 | -115 | -115 |
| Pittsburgh Penguins | 100 | 102.5 | -115 | -115 |
| Philadelphia Flyers | 98 | 97.5 | -115 | -115 |
| Edmonton Oilers | 78 | 90.5 | -115 | -115 |
| Colorado Avalanche | 95 | 89.5 | -105 | -125 |
| Carolina Hurricanes | 83 | 85.5 | -145 | +115 |
| Buffalo Sabres | 62 | 80.5 | -135 | +105 |
| Boston Bruins | 112 | 101.5 | -115 | -115 |
| Arizona Coyotes | 70 | 81.5 | -145 | +115 |
| Ottawa Senators | 67 | 70.5 | -115 | -115 |
| Los Angeles Kings | 98 | 92.5 | -115 | -115 |
| St. Louis Blues | 94 | 96.5 | -135 | +105 |
| Winnipeg Jets | 114 | 106.5 | -115 | -115 |
| Vancouver Canucks | 73 | 77.5 | -115 | -115 |
| Toronto Maple Leafs | 105 | 106.5 | -110 | -120 |
| Tampa Bay Lightning | 113 | 107.5 | -115 | -115 |
| San Jose Sharks | 100 | 97.5 | -115 | -115 |
| New York Rangers | 77 | 75.5 | -125 | -105 |
| New Jersey Devils | 97 | 91.5 | -110 | -120 |
| Minnesota Wild | 101 | 95.5 | -115 | -115 |
| Florida Panthers | 96 | 94.5 | -120 | -110 |
| Detroit Red Wings | 73 | 75.5 | -110 | -120 |
| Dallas Stars | 92 | 94.5 | -115 | -115 |
| Columbus Blue Jackets | 97 | 97.5 | -115 | -115 |
| Chicago Blackhawks | 76 | 84.5 | -115 | -115 |
| Calgary Flames | 84 | 93.5 | -115 | -115 |
| Anaheim Ducks | 101 | 96.5 | -115 | -115 |
All odds courtesy of Bovada as of September 12