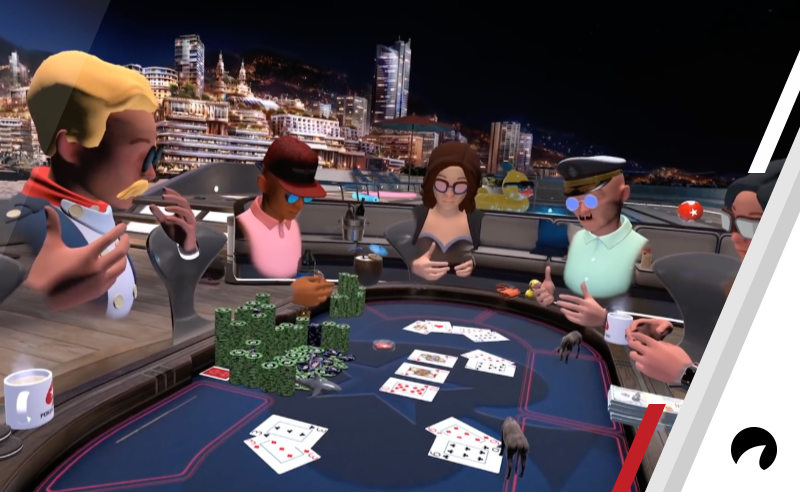 The world's biggest poker site is set to introduce a brand-new way to play cards thanks to software that utilizes cutting-edge virtual reality tech.
PokerStars VR is a free-to-play social poker game designed from the ground up to work with VR platforms such as the Oculus Rift, HTC Vive and Stream.
The goal was to create a more immerse poker experience complete with the ability to handle chips and cards like you would in real life along with studying players for tells or chatting in real time.
The app, which was co-developed by Lucky VR, is currently in a closed beta of roughly 100 players with plans to release it to the general public before the end of the year.
Potential for Twitch Poker Streaming
While the main PokerStars.com poker client will remain the primary application for serious real-money poker players, PokerStars VR will offer a unique tool for streamers on twitch.tv.
A fully realized 3D poker table and experience should — in theory — be more interesting for viewers to follow the action.
Thanks to voice commands PokerStars VR will also more-closely simulate a real-life poker game that would happen in a casino.
"Poker is about interaction," explained Severin Rasset, director of poker Innovation and operations at PokerStars.
"It's been bringing people together for well over a century. We're really excited to invest in the next generation of the game and to give players the opportunity to meet in a brand new virtual reality dimension."
PokerStars VR will also feature exotic locales, fully developed three-dimensional avatars, voice commands, integrated social media and more.
Poker is actually a near perfect fit for virtual reality because the player remains stationary in a traditional game. Video games that simulate running or walking can sometimes make gamers nauseous because their eyes are telling them they are moving but their body is, in reality, stationary.
History of 3D Poker
Online poker and fully-realized 3D graphics actually have a bit of a rocky history together.
When the online poker boom occurred in the early 2000s there were a large number of developers that focused on giving players fully developed environments that were similar to something you might find in a high-grade video game.
Operators like PKR offered 3D tables along with fully customizable avatars complete with virtual accessories like card protectors, drinks and hats.
By and large the online poker population rejected the more advanced poker clients in favor of faster, simplified designs that featured a flat design with less of a reliance on real-world poker.
It helps that simplified online poker software can run on almost any modern computer regardless of graphics card or RAM. Lightweight poker software also works extremely well on smartphones and tablets.
It remains to be seen as to whether PokerStars VR will catch on, considering you'll need a VR headset and a computer that can actually run it but at the very least it will likely find some popularity amongst Twitch streamers.
There's a good chance PokerStars VR will never be converted to real-money games and will instead exist as a promotional vehicle for the company.
Here's a video demo of PokerStars VR: