Source:  Vegetarians may be healthier than meat-eaters – but they are also more miserable, say researchers.
Those who cut meat from their diet experience more negative feelings, have lower self-esteem and see less meaning in life, a study found.
The authors conclude that vegetarians may be less 'psychologically well-adjusted', suggesting teasing by omnivores may be to blame.
Researchers asked 400 vegetarians, meat-eaters and 'semi-vegetarians' to record their feelings over a fortnight. Of the three groups, vegetarians experienced the most negative feelings and enjoyed social occasions least.
Vegetarians scored 4.62 for self-respect and meat-eaters 5.33, where a lower score was worse. They were also more likely to be depressed and unsatisfied with their life, the study found.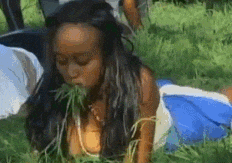 Surprise, surprise.  Vegetarians are a miserable sort who hate life and blame meat eaters for their sad existence.
I ran into a vegetarian the other day at a Burrito joint.  After ordering a chicken and shrimp burrito (extra hot with a shit pile of jalapenos), she asked if I wanted to try a meat-free option.
"Not at all" I replied.
"Are you vegetarian?" I queried, still confused that she suggested I didn't want what I ordered.
"Yes, and I'm much happier since giving it up.  You should try it," she said.
"I'm good, thanks," I said.  "You can double the meat now please."
A) I'm unsure how she determined I needed to try becoming a vegetarian.  Do I look that miserable?
B) She weighed more than I do so I'm not sure how that happens.
C) It's true that misery loves company.  Being a vegetarian is like being an alcoholic I guess.  When you're in it, you want to normalize it by trying to involve as many people around you in your misery because it normalizes your ridiculous behavior so you don't feel so alone.
Exhibit 'A':
If there's a better exhibit 'A' I'd like to see it.
Also if you a normal veggie, I apologize.  Wherever you are.