I've always hated those SoulCycle holier than thous. You know the type. They are better than you because they wake up at 5am on a weekday to PUSH IT TO THE LIMIT in front of 25 other sweating screaming humans.
Well according to the New York Post going hard on a bike isn't the only thing the instructors are PUSHING TO THE LIMIT.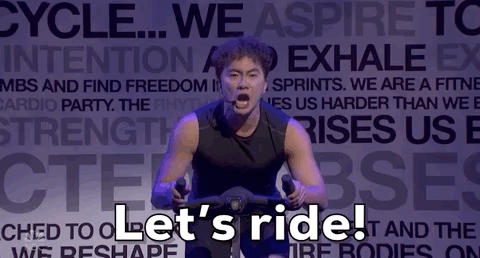 Via New York Post – Star instructors at SoulCycle allegedly made racist and homophobic comments on the job, had sex with clients, and fat shamed co-workers, according to a new investigative report.

But the popular spin studio chain allegedly brushed under the rug complaints about their top talent — who are referred to as "master instructors" — because they were considered moneymakers and core to the company's cult following, sources told Business Insider.

Kelly was also the subject of complaints about allegedly having sex with clients while teaching at the Greenwich, Connecticut, location, the outlet reported.

Several people said it was well known that he was sexually involved with a number of his riders — and a former high-senior employee said he texted nude photos of himself to clients.

"That became problematic because people's spouses were complaining, and then it caused a lot of infighting with riders as well," the employee said according to the report.
SPOUSES WERE COMPLAINING! Give me a break. You're just as much to blame in this. What kind of self absorbed idiot lets their husband/wife go to a SoulCycle class and doesn't expect them to want to fuck, or wind up fucking the INCREDIBLY IN SHAPE instructor? Hot people want to bang hot people. It's science.
SoulCycle doesn't seem to care either. They treat these instructors like gods. When really they are just insecure weirdos in bike shorts.
Homophobia? Yup.
In another incident, Cole reportedly used language that was deemed homophobic in 2017 when discussing the new manager of a Park Slope studio that was set to open.

Referring to the new manager, who was gay, she allegedly told another employee, "Well, they better not hire a bunch of twinks to work there."
Fat Shaming? Sure why not.
Last summer, Cole was reportedly accused of discrimination by a pregnant rider when she allegedly forced her to move at a Hamptons class from a reserved front-row bike — which are typically occupied by the most attractive people in the room, two people told the outlet.

"She was, like, 'Oh no, no, no — I need you to come sit here,' and put her in the back corner and moved a more fit, attractive person in front," said a former corporate staffer.

"She has taken photos of staffers who were maybe curvy and said, 'This is not on brand for my check-in. I don't want this at the front desk during my classes,'" the former manager told the outlet.
This one makes me laugh because look at their fake mission statement.
I hope all SoulCylces shuts down( which I know won't happen I am using hyperbole). Nothing good comes from it. LITERALLY NOTHING.
https://www.cbc.ca/news/canada/hamilton/spinco-outbreak-covid-1.5769810
COVID! I know it's also SpinCo, but same shit different pile. My advice, hop on a Pelaton and cycle in private, no one wants to hear you scream positivity or see your bulge.