It's been a long time coming and I've finally gotten to the point where I feel good enough to put this together. I got the idea of doing a reliever trust rankings early on in the season, when fans were still trying to get a good read on what the Toronto Blue Jays had in their bullpen. I wanted to rank the Jays' relief pitchers by how much trust I had in each one of them, ranging from the go-to arm the club should call upon to get out of a jam to the guys you should not touch in a high-leverage situation with a ten-foot pole.
Soon enough, I realized that nearly every single one of the guys in the bullpen at the beginning of the season fit the latter, and there went my idea. You can't tier guys by trust when you don't trust any of 'em. How was I supposed to tier Tyler Chatwood, Rafael Dolis, and Tommy Milone? They all SUCKED. Don't even get me started on Brad Hand. I couldn't have been more wrong about him. Those bozos are the reason why the Jays don't hold the top spot in the AL East.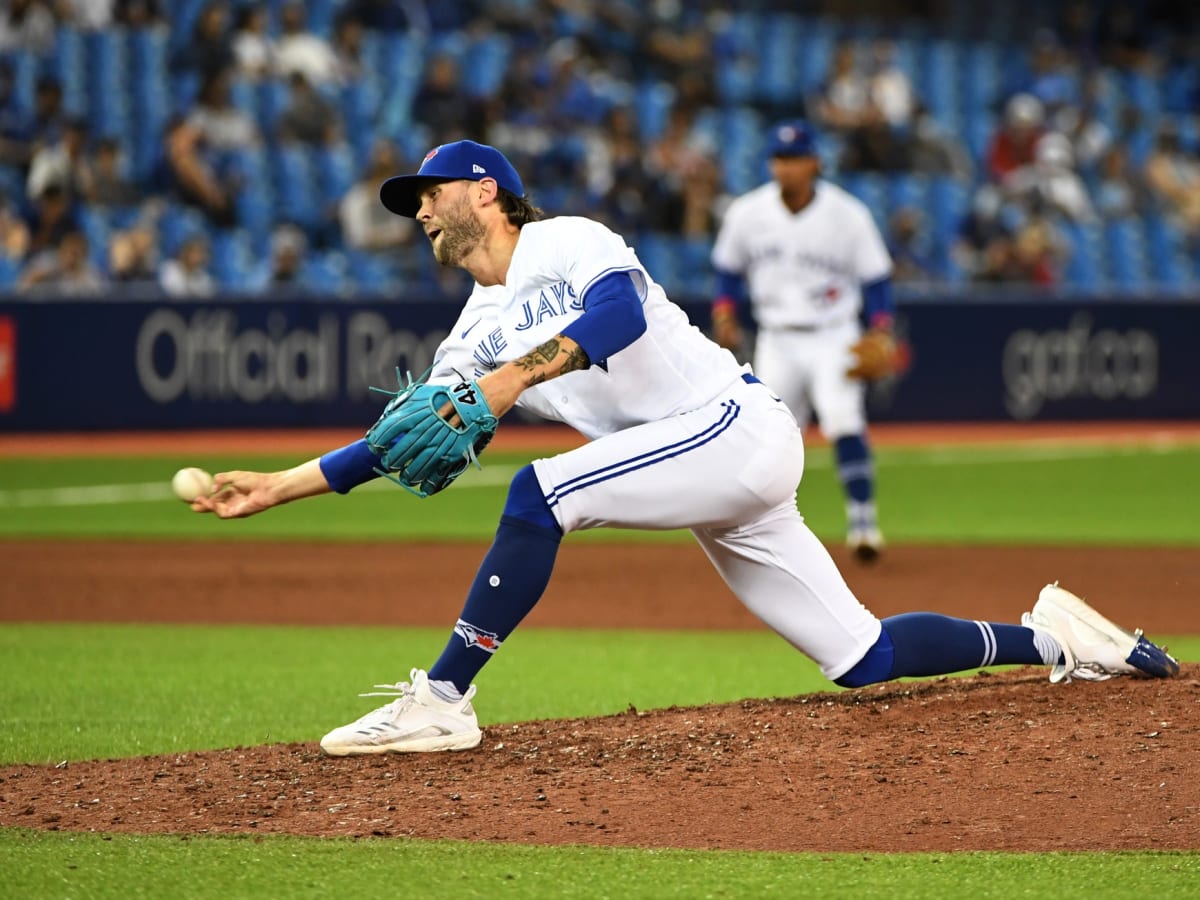 But finally, this team has a bullpen that doesn't make me cringe every time I see a guy trot out of from behind the left-field wall. Well, some guys more than others. The Jays are absolutely rolling and for once their 'pen is not completely setting them up for failure, and I couldn't be happier. It feels good to have some damn trust in your relief corps.
Tim was aMAYzing 🔥

Congrats to Mayza on his first Major League save! pic.twitter.com/Vitp26Cb0B

— Toronto Blue Jays (@BlueJays) August 29, 2021
These rankings will tell you exactly how much I trust the guys in this bullpen, and how much you should too. Because I'm sure there are a lot of you who care about relief pitching as much as I do. Why talk about Vladdy Jr. when you can dissect the least-paid players on the team.
Brace yourself
Joakim Soria
Trent Thornton
While the Jays have largely eradicated the number of relievers who give off the sweat-inducing, I'm-too-scared-to-look vibes for fans, every bullpen has their weak links. These aren't guys that find themselves pitching in important moments, but you can't always pitch your very best. When the Jays' top relievers are unavailable, that's when these guys come in.
Out of all the deadline acquisitions this club made, Soria is by far the least-flashiest. He was one of the league's best relievers in his prime, but at this point he's nothing but bullpen depth. Or at least that's what I call a guy who holds a 7.88 ERA across eight innings since he got here. The 37-year old caused Dean to panic when he got put into Wednesday's game and immediately gave up a two-run bomb, but he was handed a big lead which is when it's acceptable to put these guys in. That's the best you can hope for when Soria or Trent Thornton comes into a game.
There isn't really ever a time where I want to see Thornton come into a game, but as long as it's a super low-leverage situation I can't get too worked up about it. Doesn't mean my fists won't be clenched the whole time these guys are out there.
UHHH uh Oh
Julian Merryweather
Ryan Borucki
Julian Merryweather had the best 4.1 innings in franchise history for a relief pitcher at the start of the season. Those two saves to begin the season at Yankee Stadium? Fire. I was ready to put his name on the Rogers Centre Level of Excellence.
But then he got hurt, and we didn't see Merryweather for what felt like eons. He's back now, which is great, but the guy went five months without any big league action. Fortunately, the Blue Jays don't need to rely on him the way we so would've liked to during those dark days in May.
I'm glad to have Merryweather back, but I'm not ready to hand him the keys to the Ferrari just yet. His first appearance upon being activated off the IL was a sight for sore eyes, though I'm confident he'll be better from here on out. I'm just not sure how to assess him at this point. He can be good, he can be bad, you won't really know for certain. Ryan Borucki is in the same boat. Simply put, I don't feel great seeing these guys coming in to pitch. Unless the Jays have a fifteen-run lead.
The bags are already on the plane
Ross Stripling
Tayler Saucedo
When I say the bags are already on the plane, that could mean two completely different things. If one of these guys are in the game, the Blue Jays better be up by a touchdown or down by a touchdown. There's no other reason why these guys should be getting innings down the stretch unless it's in an absolute mop-up role. But it's always important to have one or two of those guys in your bullpen. Someone's gotta do it.
To be fair, Ross Stripling seems to me to be more of a "break glass in case of emergency" type of guy. He was only recently sent to the bullpen after returning from the IL, and came in to pick up Hyun Jin Ryu when he sucked in the first game of Saturday's doubleheader in Baltimore. I'm not sure how else the Jays plan on using him.
And for Tayler Saucedo, all I can say about him is that he has a good pun game. The last time I saw him pitch at a Jays game I went to his entrance song was "Too Much Sauce". I like his taste in music much more than I like his chances of pitching a clean inning when it matters.
Ehhhh, could be worse
Trevor Richards
Nate Pearson
Top @BlueJays pitching prospect Nate Pearson dials it up to 💯 to cap a 1-2-3 inning of relief for @BuffaloBisons. pic.twitter.com/CYYOo2aL9L

— MLB Pipeline (@MLBPipeline) August 19, 2021
I like these guys. I really do. I've been one of Trevor Richards' biggest fan since the Jays acquired him in exchange for Rowdy Tellez in July. He's been super solid and has allowed just one earned run in the last two weeks, and opponents are hitting just .122 off him in the past month. Pretty damn good if you ask me. That's why I have him in this tier. If Richards is coming into a game to protect the lead, I'm satisfied. It's a much more welcoming sight than any of the other arms I've already mentioned.
Putting Nate Pearson in this spot is my attempt to manifest this kid being a trustworthy fireballer over these last two weeks. The Blue Jays have other guys that are more reliable, but Pearson can be downright FILTHY when he's at his best. That's the guy I hope the Jays get the rest of the way. Pearson reminds me an awful lot of Aaron Sanchez when he was an eight-inning fiend during the Jays' run in 2015.
Why isn't HE pitching?
Adam Cimber is LIGHTS OUT. 🔥pic.twitter.com/NMeYvFpgeL

— Sportsnet 590 The FAN (@FAN590) August 11, 2021
That's what I yell at my TV when a reliever comes into the game in a jam and it isn't one of these guys. In a high leverage, potentially game-deciding spot before the ninth inning, Charlie Montoyo better be calling upon either Tim Mayza or Adam Cimber to see whether they can get the job done. No Thornton. Definitely no Soria. Give me either Mayza or Cimber.
These two are great because they each dominate against batters on their respective side of the plate. Left-handed hitters have just a .197 batting average against the southpaw Mayza, who has a 1.42 ERA against same-handed opponents. Cimber, meanwhile, has a 0.93 ERA against righties. That makes it nice and simple for Montoyo to decide who to call upon in a big moment, because both of these guys have been as reliable as a set-up man can be.
Game on the line – I want this guy on the mound
Romano gets Duran swinging as TOR wins in dramatic comeback fashion .. a gutting loss for BOS#RedSox 8 #BlueJays 9 F pic.twitter.com/vGL0t2FmcM

— Sports 24/7 (@B_R_R_D) August 8, 2021
The closer is the closer because he's the one you want on the mound to protect a three-run lead or less in the ninth inning, and you want to be able to have the utmost confidence that he can get it done and secure the dubya. Somehow, maybe out of destiny, Jordan Romano has been that guy for the Toronto Blue Jays.
The hometown kid has been a rock, converting 18 saves in 19 opportunities this season, which is everything you could ask for as a fan who's been burned by blown saves on several occasions throughout the year. Romano essentially only throws one pitch, but he manages to keep hitters guessing thanks to a fastball that lights up the radar gun and paints the corners like it's his day job. Thankfully it is, because Romano has been a shutdown fireman for the Blue Jays this season and he's undoubtedly the relief pitcher I trust the most in this bullpen. Let's hope him and the rest of the gang can keep up their stinginess down the stretch.