Whenever someone asks me what I want for Christmas or a birthday, my go-to answer is a baseball cap. You can never have too many nice ball caps, until you get to the point where you actually do have too many ball caps. I certainly fit in that category. I have so many that I've had to stop myself from getting any more of 'em. I say that now, but if the Blue Jays come out with a fresh new Spring Training lid all bets are off.
"Chosen 1"

Ja'Marr Chase came iced out ❄️ @Real10jayy__

(via @Bengals) pic.twitter.com/KX0K4HV3cZ

— ESPN (@espn) October 17, 2021
This Friday Five looks at the best Blue Jays ball caps ever issued for on-field use. That includes spring training, too. We really lucked out getting to cheer for the Jays because they have some of the best hats and apparel in all of professional sports. People who couldn't tell you how many home runs Vladdy Jr. hit this year still wear Jays stuff just because it's cool. Hopefully this list brings you inspiration if you know someone who could use a new Jays hat and you're a procrastinating holiday shopper.
5. Black Jays Home (2004-11)
While we can all agree that these black and blue jerseys are the worst this franchise has ever put out, the hats aren't so bad… right? As a uniform in its entirety, they're awful. But we only care about hats in this Friday Five, and I think when you separate the cap from the crap they might be kinda cool.
We'll get to a point far enough removed from this bad era of Blue Jays baseball that we might start liking these hats. There's definitely a bias among the fanbase when it comes to these uniforms, but in my opinion this is a cap that could look better on a fan who knows somewhat how to dress than it did on Jesse Litsch (sorry Jesse).
I'm probably gonna get some slack for putting this cap on here, but it doesn't deserve to be guilty by association.
4. Spring Training Maple Leaf (2014-15)
When I got this hat shortly after it dropped in time for Spring Training in 2014 I wore it every single day. You'll hardly ever catch me wearing any sports apparel where the primary logo is a maple leaf, but I was willing to make an exception when I saw this beauty. It was a clean, crisp, and simple way to represent Canada's lone MLB club.
What I LOVED about this Spring Training cap were the materials. New Era's Diamond Era caps are a super light, stretchy version of the typical 59/50, and they've been the official on-field cap for most Spring Trainings in recent years as well as some All-Star Games. Rob Manfred needs to find a way to release more Diamond Era hats because I'd cop them all.
3. Red Brims (1997-02)
I can't believe that the Jays ditched these uniforms for the black and silver ones. These are fire. And that hat? With the blue jay inside the maple leaf with the red brim? Unreal. This is a hat I'd love to find at some thrift store and give them a blank cheque for it.
2. New Blues (2020-present)
Recency bias aside, this is one of THE best Blue Jays caps in my humble opinion. Never before have we seen the Jays come out with color panelling for a hat anything similar to this one, and I think the navy with the powder is phenomenal.
The design is as clean as my personal New Blue hat once was before I wore it to every game this past season and nearly every day since. It's subtle enough that you can wear it with just about anything, whether you're walking your dog or dressing it up with some denim and a pair of University 4's. I hope the Jays keep wearing these because they're one of the best hats in the game right now.
1. The Classic white panel (1977-1993)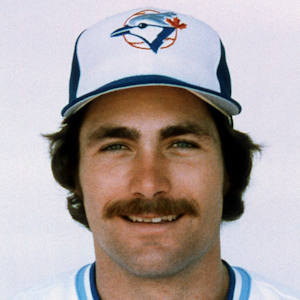 This isn't just the best on-field hat in Blue Jays history but one of the best in MLB history. The original rendition of the bird logo is elite and it looks INCREDIBLE with the lone white panel as the backdrop. The Jays have brought back this white front-panel cap with the updated bird, and while the current one is nice it doesn't hold a candle to the OG. A truly perfect lid.
If you were a Jays fan when these were their gamers you might point out that the date range for this specific cap isn't 100% accurate. As you can see here the undervisor flip flops between green and grey for a decade, which hardly matters anyway. I couldn't tell you why there was ever a time where green was the go-to colour for the undervisor on ballcaps. I don't know who thought that was a good idea. But the color of the undervisor doesn't take away from the legend status this cap has achieved.
I'd love to come across one of these in pristine condition somewhere one day because they have so much drip. Vintage is back, baby!