Imagine not being a sports fan? I honestly can't. I don't know what I'd do with myself if sports didn't exist. Would I educate myself on the fine arts? Get into gardening? Watch soccer? That's a hypothetical I wouldn't want to encounter in my worst nightmares. I'd rather become a Toronto Maple Leafs fan.
Sports fandom is just the best. There's nothing like the feeling of watching your team succeed. And even when they cause you pain, like when they miss the Wild Card spot by one game, or fail to make it out of the first round every single season, it could be a lot worse. What better way to distract yourself from the world's real problems than by fretting over who should be the third-line centre? I can't tell you how to save the environment or which bills should be passed by the House of Commons, but I'll sure give you my opinion on which reliever should be called upon with two on and two outs in the eighth. And I wouldn't want it any other way.
A lot of celebrities are just the same as us in that regard. They love making noise when the other team is shooting free throws, or waving a rally towel so hard you get tennis elbow. The only difference is that they have a bit more money and fame than the rest of us.
This edition of the Friday Five counts down the celebrities that are the biggest Toronto sports fans. There are a lot of great celebrity superfans in the States — Lil Wayne is my favourite as a hardcore Packers fan — but I don't think there are many cities whose sports fandom runs as deep among the stars as it does in the 6ix. The likability of some of these celebrities might be contentious, but there's no denying that their affiliation elevates the global recognition of Toronto's teams.
#5: geddy Lee
The number of times I've personally seen the lead singer of Rush at a Jays game can't be counted on two hands. I was in an elevator once with Geddy Lee at the Rogers Centre and he smelled like cigarettes and rock n' roll. Or at least the former. But all it took was one look at him to know he was a badass.
Lee is as passionate of a Jays fan as I've seen from a celebrity. He's got his quips about this ballclub like the rest of us. He couldn't stand it when Sportsnet announced that they'd be going with a simulcast in favour of a a true radio broadcast at the beginning of this season. Lee even sent a fax to the Toronto Star in response to an article they published in 1992 while he was on tour in Europe. That's a flex most Jays fans can't share with him, just like how he's always spotted sitting behind the catcher with the lovely Home Plate Lady.
#4: Mike Myers

Mike Myers is such a damn great Canadian. He's a huge hockey fan and makes it known on national television, including when he was on Saturday Night Live in 2015.
Mike Myers is always representing.

Lots of Leafs love on this week's "@ConanOBrien Needs A Friend" Podcast.

🎧 https://t.co/e4SDmQOEBH pic.twitter.com/gJyE3IYyGp

— Toronto Maple Leafs (@MapleLeafs) May 14, 2020
Austin Powers is one of the most diehard Leafs fans you'll come across, and made some decent coin off his fandom in the 2008 movie The Love Guru which he wrote, produced and starred in. I thought that movie was hilarious as a kid. Growing up in Scarborough I'm sure he'd find it groovy if the Leafs could win a playoff series.
#3: Justin Bieber
.@justinbieber showing the Leafs some love on the road 👀

(📷: @MapleLeafs) pic.twitter.com/YJkyD0r6c1

— BarDown (@BarDown) March 6, 2020
I don't really care for either the celebrity or the team here, but there's no denying that Bieber loves the Leafs. He's seen in private suites all the time at Scotiabank, and even got his own box at TD Garden in Boston when the Leafs were in town. Biebs even collab'ed with them to release a collection from his clothing brand Drewhouse, which surely sold out in seconds.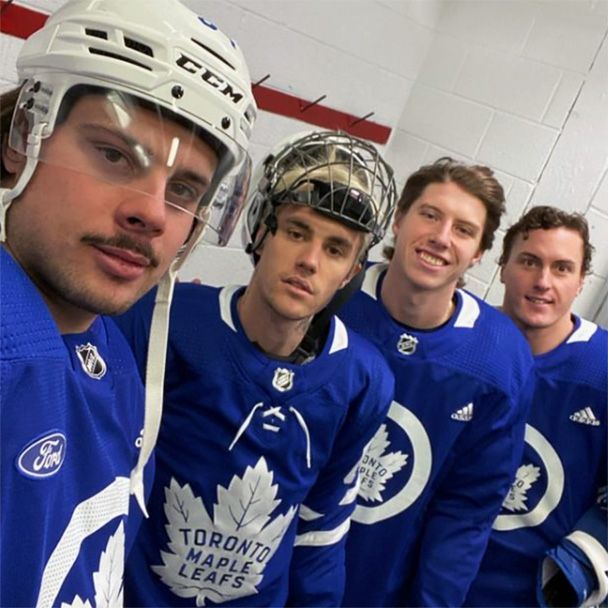 One of the coolest things about Bieber being such a big leafs fan is that he's gotten super tight with Auston Matthews. Him and Matts have been seen talking to each other post-game, going to UFC events, and even hitting the ice together. As a lifelong fan that would be so sick becoming bros with your team's superstar. I won't even mention that Biebs was wearing an incredibly fake Doug Gilmour jersey while filming a music video with DJ Khaled. This guy can do whatever he wants.
Biebs and DJ Khaled training for a Sandbagger? 👀

(📸: @justinbieber) pic.twitter.com/Ep17cYonwe

— Spittin' Chiclets (@spittinchiclets) May 3, 2021
#2: Drake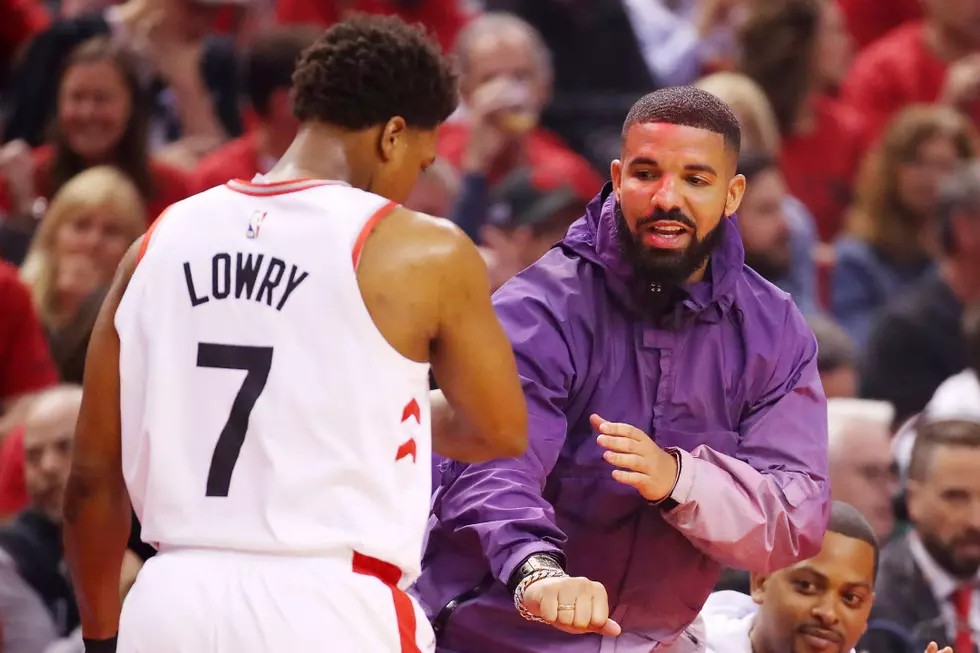 He's long been known to curse the teams he roots for, but Drake is hands down one of the most notorious celebrity sports fans in the world. I love how much Drake supports the Toronto Raptors. He's their global ambassador and has partnered with the team on various occasions through his brand October's Very Own. The Raptors even renamed their downtown training facility the OVO Athletic Centre.
Drake and Nick Nurse celebrate with a hug and massage 😂 pic.twitter.com/653LtePp3q

— SportsCenter (@SportsCenter) May 26, 2019
Drake's often sitting courtside, including at Monday night's preseason game Monday night, and he loves to stir shit up. He owned so much real estate in the heads of the Milwaukee Bucks during the Raps championship run, and it was hilarious. He loves dapping up our players and talking shit to guys on the other team. And hearing him make an appearance on the broadcast is always a treat.
What hasn't this guy done for Toronto's sports scene? He constantly shouts out the city and Raps players in his music, and released a disstrack that paid tribute to the Blue Jays' 92/93 World Series titles. But the Raptors are his team. I truly think Drake's done more for this sports franchise on an international scale than any other non-athlete ever. He's a billionaire fan who's put the Raptors on the map, and that's awesome.
#1: Nav Bhatia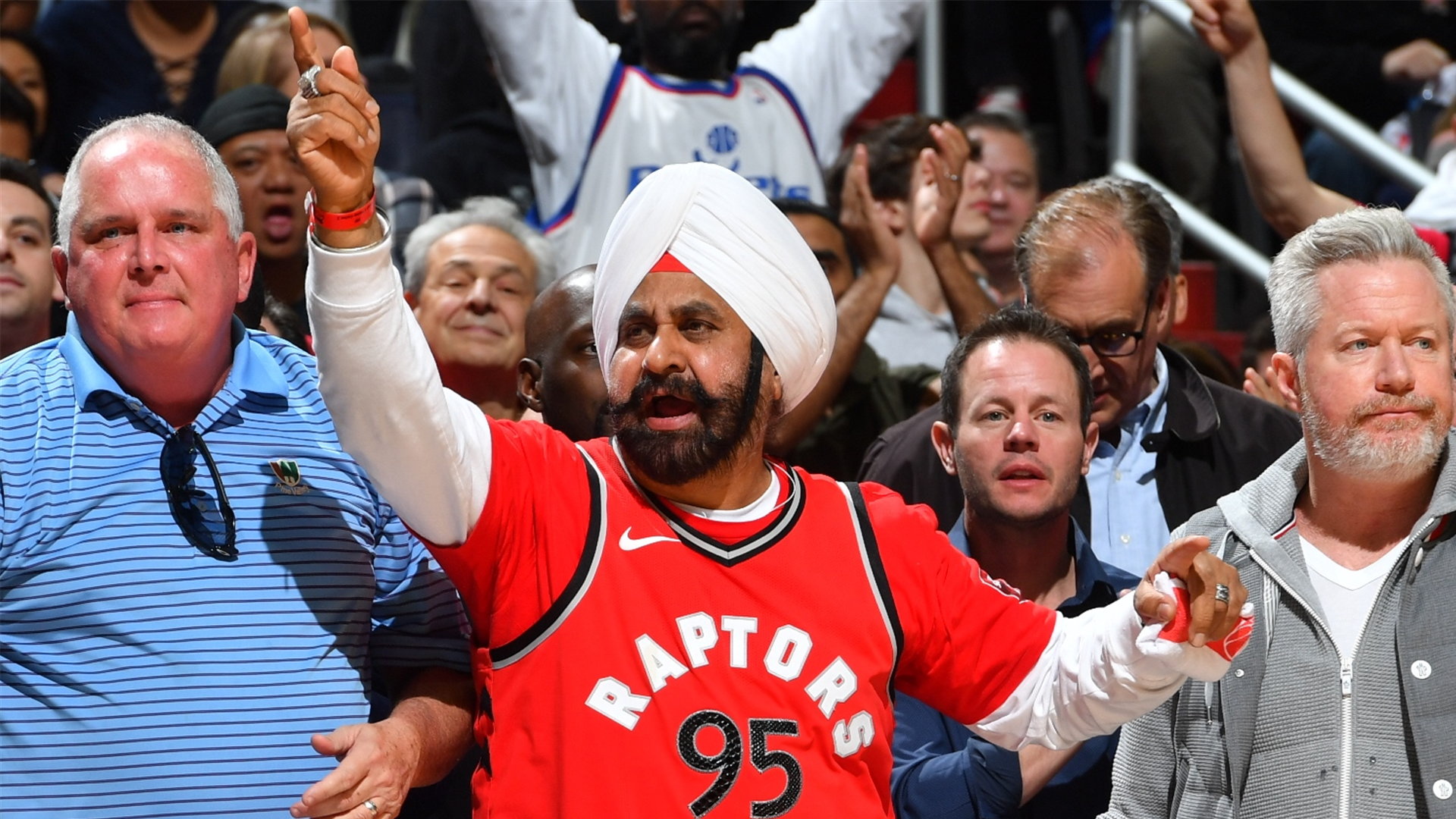 You had to know he was gonna hold the top spot. Nav Bhatia is the definition of a superfan. He's become a celebrity because of how much of a fan he is, and not many people can say that. Nav has gone to every Raptors game in Toronto. EVERY SINGLE ONE SINCE 1995. That is insane. He takes fandom to a whole new level.
Hahaha @Giannis_An34 love you like family before and after the game but during those 48 minutes I have to do whatever it takes to give my boys the edge! You have to know when you visit Toronto you get the 1-2 punch @Drake then the superfan 🙂 dinner on me next time #staysafe https://t.co/NVbwAtNVSJ

— Nav Bhatia Superfan (@superfan_nav) March 28, 2020
After death and taxes, seeing Nav Bhatia courtside is the third guarantee in life. You think Drake is a pest to opposing players? Try Nav, who according to Giannis is THE MOST ANNOYING FAN to play in front of because of how much trash he talks. That's GOAT status. The Toronto Raptors have recognized Nav as the team's "Superfan" since '98 and he became the first fan ever to get inducted into the Basketball Hall of Fame.
On top of that, he's tight with Drizzy and the franchise's all-time best players. He sits front row at Jays games. From having to escape his home country and come to Canada in the mid-80's Nav's done pretty damn good for himself. This guy's as recognizable as anyone at any game he goes to and an idol to someone who's as big of a sports fan as myself.
When it comes to celebrity sports fans, there's Nav and then there's everyone else. I can't wait to see this guy back in action when the Raps play their season opener on October 20th.