Update via the NY Post: Matt Kuchar will be paying up.The golfer has been taking heat for days after it was revealed he stiffed caddie David Giral Ortiz at the Mayakoba Classic in November, paying him just $5,000 following at $1.296 million victory. Ortiz asked for $50,000 after being a fill-in for the tournament in Mexico. Caddies are usually paid a percentage. On Friday, after his first round in the Genesis Open at the Riviera Country Club, Kuchar issued a statement saying he will pay Ortiz in full. "I let myself, my family, my partners and those close to me down, but I also let David down," Kuchar said. "I plan to call David tonight when I'm off the course to apologize for the situation he has been put in, and I have made sure he has received the full total that he has requested."
The internet wins again!!! Some of the best comments we could find on the cheapest golfer on tour.
Matt Kuchar can't understand why his 0.4% tip is causing an uproar.

— Gerry Dee (@gerrydee) February 15, 2019
In a crazy sequence of events Matt Kuchar just picked up a quarter Jon Rahm was using to mark his golf ball. When asked to put it back Kuchar threw down a nickel and walked away

— Ryan Whitney (@ryanwhitney6) February 15, 2019
Matt Kuchar is getting torched today, and rightfully so….Those adoring "Kuuuuuuuuuch" chants at #PGA events are gonna be turning into straight up "BOOOOOOOOOO" chants. Time to dust your wallet off Kuchar.

— Mike Commodore (@commie22) February 14, 2019
Here's our original take on Matt Kuchar and his dusty wallet:
You can almost see the disappointment in Ortiz's eyes while the other guy smiles like "my name's Matt Kuchar and I'm just happy to be here." PGA good guy Matt Kuchar is used to hearing "KUUUUUCH" as he strolls the course, well after his latest win, those chants could be changing to "Boooooooo". Let's dig into what happened here.
Source: It appears the saga of Matt Kuchar's substitute caddie at the Mayakoba Golf Classic, a local looper nicknamed El Tucan who helped guide Kuchar to his first PGA Tour win in more than four years, did not have a happy ending. The Mexican caddie, whose real name is David Giral Ortiz, made his first comments regarding the hotly debated issue of how he was compensated to Golf Magazine's Michael Bamberger. Ortiz confirmed a widely circulated rumor he had only received $5,000 following Kuchar's win in November—and that he wasn't satisfied."I am a humble man, who takes care of his family, and works hard. I am reaching out to you to see if you can facilitate me receiving a fair amount for my help with Matt winning $1,296,000," Ortiz wrote in an email obtained by Bamberger to Kuchar's agent, Mark Steinberg. "I am not looking to disparage Matt or give him a bad name. Fair is fair, and I feel like I was taken advantage of by placing my trust in Matt."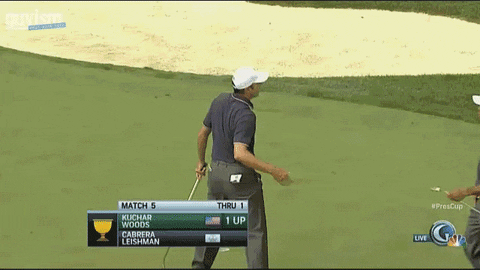 Lessons to be learned here, kids. When you know the first place prize is over a million bucks, don't agree to a $5000 payout regardless of the outcome. Also, if you are a millionaire and usually pay your caddie 10% of your winnings, get off your fucking wallet and do the same for your fill-in. Lastly, take the $5000 and run, don't ever give it back.  Let's snoop the tweet box to see what the world thinks about Matt Kuchar and his velcro wallet:
Matt Kuchar is getting torched today, and rightfully so….Those adoring "Kuuuuuuuuuch" chants at #PGA events are gonna be turning into straight up "BOOOOOOOOOO" chants. Time to dust your wallet off Kuchar.

— Mike Commodore (@commie22) February 14, 2019
Just reading about this Matt Kuchar story about only paying his caddie $3,000 after winning $1,296,000…. Thats barely 2% of the winnings. Tour caddies make upwards of 10% earnings… I liked Kuchar, but if this is all true I lost a lot of respect for him. That's not right.

— Thomas (@T_Baumann8) February 12, 2019
If you won $1.3 MILLION dollars in a PGA tournament using a fill in caddy, how much would you tip him? Customary is 10%. Keep in mind he bagged you for the win and it was your first win in 4 years.

Matt Kuchar thought a $5,000 tip was good enough. pic.twitter.com/IZH4zjMfl5

— BeatinTheBookie.com™ (@BeatinTheBookie) February 13, 2019
"No thank you. They can keep their money."

David Giral Ortiz, known as "El Tucan," breaks his silence on his winnings dispute after serving as Matt Kuchar's fill-in caddie at the Mayakoba Classic. https://t.co/sGes4uP7KQ pic.twitter.com/FyoEdsdSbt

— GOLF.com (@GOLF_com) February 12, 2019